Tour Championship Shows DJ is This Year's Dominant Player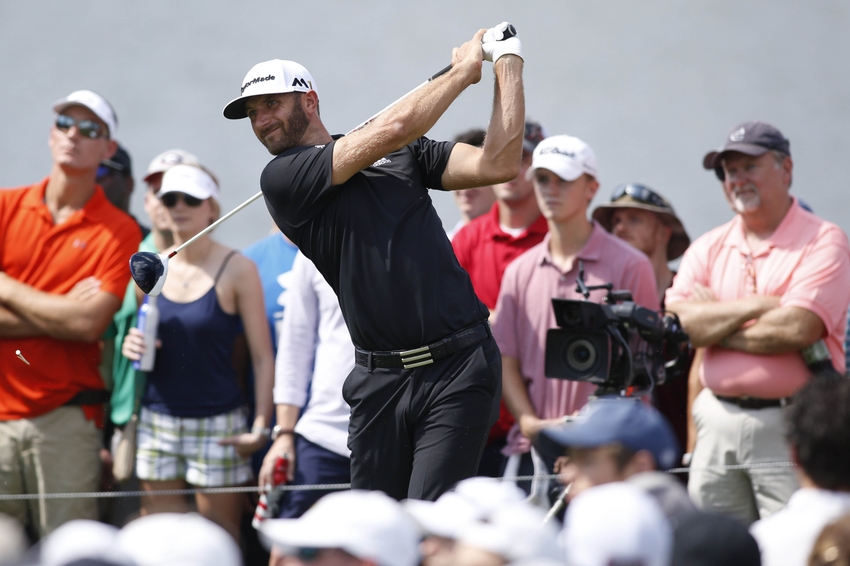 Dustin Johnson is tied for the lead through 54 holes at the Tour Championship, yet another testament to his superb play in 2016.
Despite an even par round that dropped him into a share of the lead at the Tour Championship, it's still apparent that Dustin Johnson has been this year's dominant player. He's making golf look easy at East Lake, taking it to the top players in the world — and they're not exactly slouches.
While Johnson makes it look easy with his loping stroll down the fairways and his seemingly nonexistent blood pressure, he's worked hard to get to where he is this year. He's changed his draw to a fade, a difficult task for any golfer. He's improved his wedge play. In short, he's become a professional who cares about his performance and his craft.
It didn't happen overnight. Phase one was the change from a draw to a cut.
"For me, I feel like I hit more fairways playing a cut, but that's on any golf course, not just this one," he admitted this week.
Get the FanSided App
He was only convinced that it was the right move to change his shot pattern after shooting consecutive low rounds during the offseason a couple of years ago.
"I just went out and — I was struggling a little bit, and so I just said, I'm going to just cut it. Started playing a cut just on every shot, just in the offseason, and I think a few days in a row I shot like 62 — 61, 62 or something, three days in a row, playing a cut shot, and I said, 'I guess it worked,'" he explained at the Tour Championship.
Phase two was improving his wedge play, and he admitted to the media earlier this week that his short game was the most improved part of his game this season. He said it was certainly a lot better than when he chunked a chip at the U.S. Open in 2010, almost laughing while recalling the memory. You could tell that it still stung a bit, even six years later. At least now he's got the trophy, and his wedge play is one reason.
The work ethic that some questioned early in Johnson's career is definitely there now.
"Every morning before I play, I work on it. Every day during practice rounds, I work on it," he said. "I work on the wedge game every day before I tee off."
That work has led him to his best-ever season, complete with victories at the U.S. Open, the WGC-Bridgestone, the BMW and perhaps a fourth at the Tour Championship. Should he win this week, he will capture the FedEx Cup with its $10 million prize. And, while it is of no monetary value, Johnson would then be a lock to be voted PGA Tour Player of the Year. The honor carries prestige, as well as the satisfaction of being recognized by one's fellow golfers.
If Johnson comes out on top and wins the FedEx Cup and the Tour Championship, the next goal will be overtaking the No. 1 spot in the world ranking.
"I would love to become world No. 1. Obviously, I need to finish off this weekend, and we'll see what happens," he said.
No In-Editor Preview for 120 Sports Videos
Video Details
ID: 202899130
Source: 120 Sports
What do you think: will DJ hold on to win the Tour Championship? Let us know on Facebook or Twitter, and keep it here at Pro Golf Now for more FedEx Cup updates.
This article originally appeared on