Tour Championship: Johnny Miller Predicted the Winner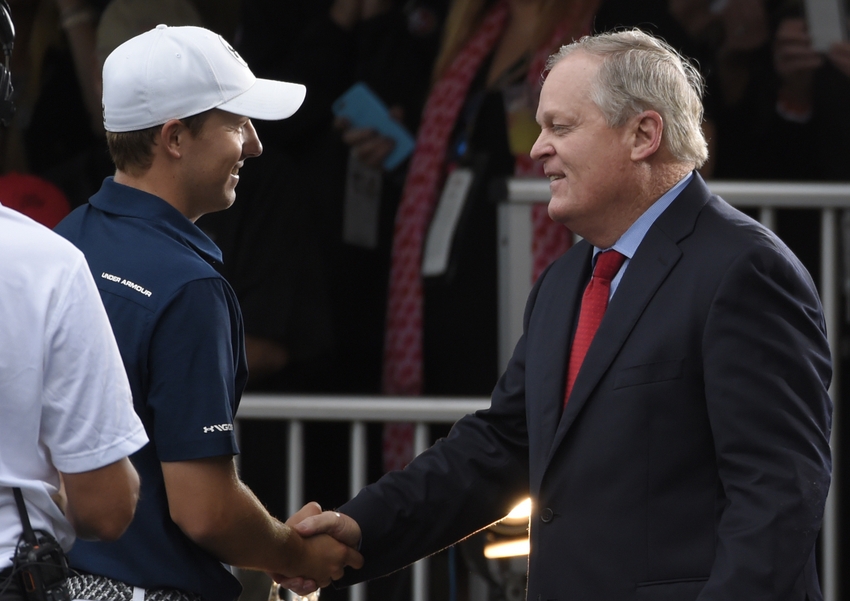 Rory McIlroy came out on top at the Tour Championship, and NBC's Johnny Miller was the man who saw it coming.
At the beginning of NBC's golf telecast of the Tour Championship on Sunday, Johnny Miller said of Rory McIlroy, "He might do what he did three weeks ago and charge ahead and win."
This is why they pay Miller the big bucks — he's often slightly clairvoyant. He gives new meaning to NB-See it.
At the outset of the day, a Dustin Johnson victory appeared to be a foregone conclusion. Johnson seemed to have both Superman's cape and Spiderman's webs this week, but, of course, his superpowers didn't hold up. At the end of regulation, there were three tied, but none were named Dustin Johnson — they were named Ryan Moore, Kevin Chappell and Rory McIlroy.
Moore, who was playing for a tournament victory and perhaps a place on the U.S. Ryder Cup team, had to listen to crowds chant, "Ole-ole-Ro-ry!"  as he walked down the 18th fairway in the playoff. But after McIlroy's victory, Moore was looking comfortable in his own skin, fielding texts from his friends and family.
His wife peeked into the media interview room before his press conference and took some photos, holding her phone in one hand and balancing a baby on the other hip: multitasking mom stuff. She was intent on capturing images of their son, a toddler, who was crawling around under the interview table.
Meanwhile, the media interview got down to business.
"Tell you what, in regulation, I thought I made my putt," Moore said about his chance to win it on the 18th. "The second I hit it, I really did not think it was going to miss on the right edge. I had my chance to close it out right there. Unfortunately, didn't, and we all know what happened from there."
He said he was not nervous.
"Honestly, I was having a blast out there today. Rory and I had a great time, really all around. Just it was back and forth all day," Moore explained. "I was actually kind of comfortable and just relaxing and playing golf, which to me is a great sign of where I'm at physically, mentally. I just feel better than I have in a while."
He said he did everything he could and gave 100 percent on each shot.
"I wasn't thinking about the Ryder Cup," he insisted. "I was just thinking about the one thing I could do today was win a golf tournament. So let's try and do that. It's pretty crazy to go out in the position I was and shoot 64 and then honestly not win. It was a great round of golf on this golf course. It was just a great battle. It was a great match."
Dustin Johnson was not pleased with his putting.
"I didn't roll it that good today. I felt like I hit some good putts. I just didn't make anything," he said. "I had a chance here at the end. If Rory didn't win, I would still win [the FedEx Cup], if Ryan or Kevin would have won. But it honestly wouldn't even have felt as good."
Johnson said McIlroy deserved the victory and the FedExCup title.
"He played great here on the weekend. I just couldn't get anything going," Johnson said.
Kevin Chappell, the first to fall in the playoff, admitted he was extremely nervous before the final round.
"I woke up and was quite nauseous, but excited and ready to go," he said. "I got in a good place before I teed off. I was very comfortable all day, even surprising myself. So proud of that. I can take that and move forward."
Johnson's next pro appearance will be at the CIMB Classic in Malaysia, though he'll be in Minnesota for the Ryder Cup this week.
Now, with all that Johnny Miller ESP working, you'd think he would have told us who Davis Love III's final Ryder Cup pick will be. Miller probably gets the big bucks to not spoil the surprise.
No In-Editor Preview for 120 Sports Videos
Video Details
ID: 203304108
Source: 120 Sports
What was your favorite moment from the Tour Championship? Let us know on Facebook or Twitter, and keep it here at Pro Golf Now for more PGA Tour updates.
This article originally appeared on