Golf is better without Tiger Woods (for now)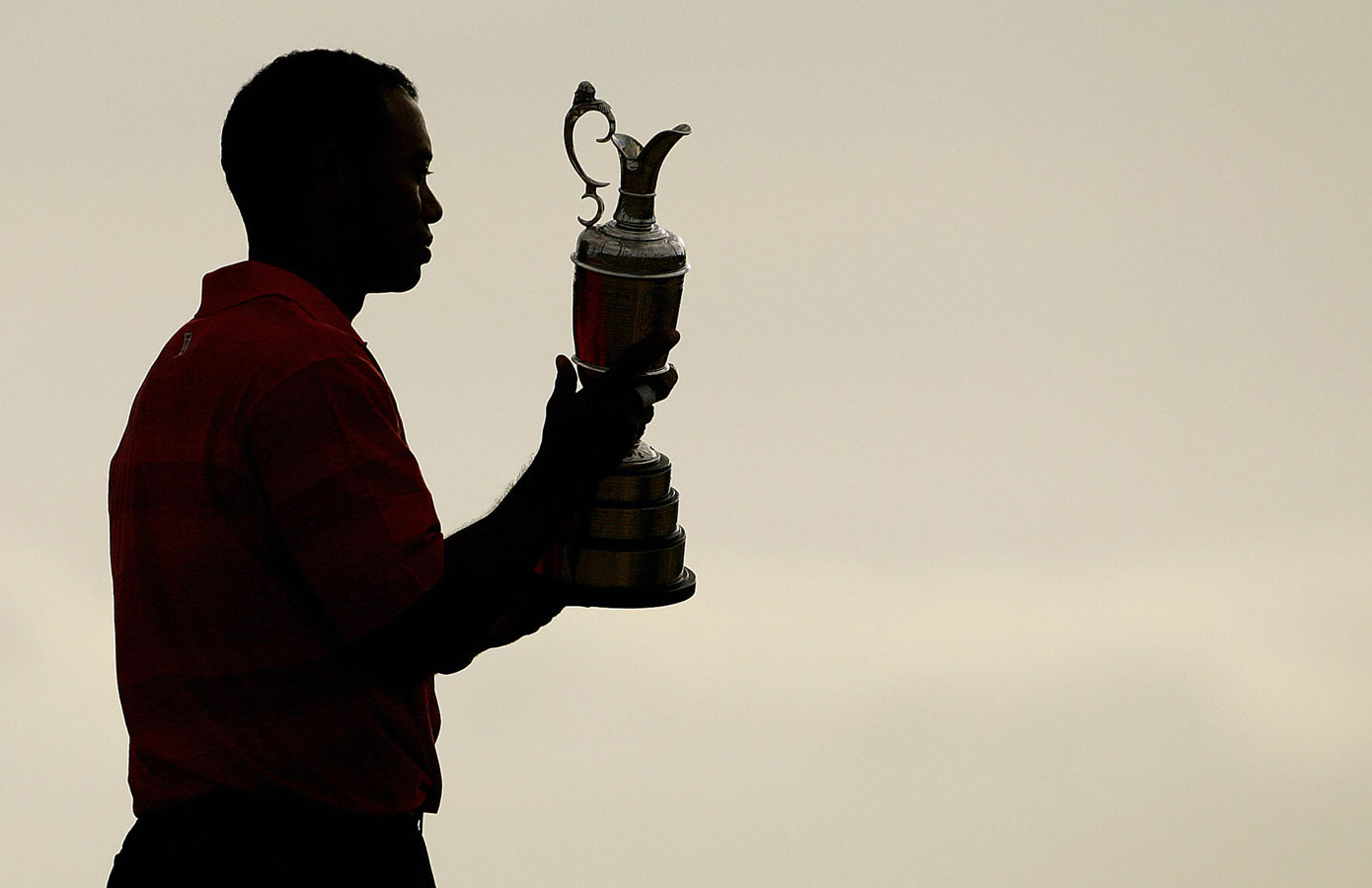 Tiger Woods hasn't picked up his sticks and played a golf tournament since August, a six-month injury break that will soon be the longest of his career. And in that time, despite Tiger being the most exciting, most talked about, most historic and most captivating golfer (and some could argue athlete) on the planet over the past two decades, the sport he helped revolutionize has, quite surprisingly, been better without him over the past year, and this season when he hasn't been around at all.
The past year has seen the most exciting emergences in golf since Tiger himself roared at the 1997 Masters and proceeded to put together one of the greatest five-year stretches in the history of sports. But in the past 12 months we've had Jordan Spieth make history of his own, Rory McIlroy continue to show he's poised to win many more majors in his career and Jason Day finally getting over that major hump to make a true golf Big Three (one that Dustin Johnson and Rickie Fowler are more than welcome to join). Golf is in good hands and a Sunday leaderboard with any of those five players, or Adam Scott or Sergio Garcia (like we had on Sunday), should be as good for the game as it was in 2004 and Tiger was lurking on every leaderboard, threatening to go on a run and send Tiger cheers ringing throughout a golf course. Give me seven over one any day.
This is new. It hasn't been this way. When Tiger has been hurt in the past, the biggest story heading into the big tournaments has been his absence. When he's struggling, the biggest story (at least for the first two days of said tournaments) is how bad he's playing. Tiger sucked up all the oxygen in the room, whether it was networks discussing his woes or still insisting on showing every shot even if he was 11 back of the leaders. That was never more evident than at last year's British Open when Jordan Spieth, halfway to a Slam, shot an opening-round 67 and the big story was Tiger chunking pitches en route to a 76.
All of that Tiger attention led to the unintentional consequence of making a tournament seem irrelevant if Tiger wasn't on the first page of the leaderboard. Focusing so much on him made everybody else's success feel hollow. The tacit implication was that winning golfers were simply beneficiaries of Tiger having an off weekend.
Now, with the 800-pound Tiger out of the way for a while, recovering from an injury from which even he can't prematurely rush back, golf can finally be about golf. A Sunday, such as the ones the past three weeks at Pebble, Riviera and PGA National, is about the guys on the leaderboard, not the one who isn't. That's the only way for a sport to begin the awkward transition of spanning generations.
Now, before we continue, let's give the caveat that none of this is for the true fans of golf. They never relied on Tiger's leaderboard presence to watch golf. They followed Jason Day's journey to becoming a major champion. They want Steve Stricker and Jim Furyk in the final group and will watch a third-tier tournament eagerly to see if, say, Geoff Ogilvey can break his half-decade winning drought. Like a football fan who will sit through an AFC South game on Thursday Night Football, the dedicated golf fan doesn't need stars. But these are not the fans that keep golf afloat and sponsors such as Honda, AT&T, John Deere, Cadillac and FedEx paying millions in sponsorships. Golf needs the common fan — the one who is going to watch the other 51 weeks when it's not The Masters. And a Tiger-less tour shows off how good the theater is every week on the PGA Tour.
Before, it was Tiger this, Tiger that. It still is, I suppose. When he releases a Facebook video of him hitting in an indoor simulator it's analyzed like a frame of the Zapruder Film. Jack Nicklaus says this week that he saw Tiger and proclaimed him in good shape, with Tiger saying he's chipping and putting. People went nuts, foregoing the usual calm and perspective of sports fans and instead choosing to take this as a sign Tiger will be winning majors by mid-summer. So it's not as if Tiger has completely fallen off the face of the earth (or the club). Nor should he. He's still Tiger Woods. But players and tournaments needed breathing room and now that they have it, because Tiger isn't there to dominate all attention, the specter of him always lurking.
That sort of misguided coverage is out, for the first half of this year (and maybe more). Every tournament week doesn't start with the "is Tiger going to play?" question. The press conferences at The Masters won't begin with journalists asking Phil Mickelson whether Tiger can snap a 10-year losing streak at Augusta. Jordan Spieth will be asked questions about Jordan Spieth for once and Tiger won't be topics A, B, C and D.
Focusing on Tiger was a reasonable thing to do, by the way. Ratings are higher with him. He's one of the three most famous athletes in the world. He moved the needle. So talking about him and worrying about his sports demise is only a natural. Every sport goes through the "who will fill the void of [player X] after he retired" and, you know what, someone else always steps up. In this case, it's been the young'ns. These things have a way of working themselves out. Golf just happened to get a head start, while Tiger is still active.
The sport simply doesn't need Tiger Woods right now and, frankly, it's relaxing. You don't have to wonder what he's doing and the networks (who, by the way, are only showing what the majority of fans want to see) don't have to follow him from hole-to-hole acting like he still matters. The game has grown as the greatest has gone away. It's a good thing — but not forever.
Because this theory about how Tiger being out of the game is good for golf? That's just for right now, for the 2016 season. The game still needs Tiger and nothing would be better for it if, in a year or two, once the young guns have a chance to fully establish themselves as the faces of the sport, that Tiger returns, as healthy as he's going to get, and starts playing well enough at Augusta or other big tournaments that we can see the Sunday star-on-star duel that we so rarely saw in his prime.
What's the most famous tournament in golf history? Jack Nicklaus winning the 1986 Masters. The man he beat that day, Greg Norman, was a charismatic Aussie who had only recently burst onto a scene that was desperate for a new star with Nicklaus and Tom Watson aging. He was the biggest star in the sport until the old man came roaring back to show him the real alpha dog, age be damned.
Now imagine that happening in, say, 2019 with Tiger and Spieth/Day/Rory. That will be the best thing for the sport, as those three should be approaching Tiger-like levels of fame right around then. It'll be tremendous for golf. For Tiger may be gone, but he's not done.