Tiger Woods: Major Watch Officially Underway For No. 15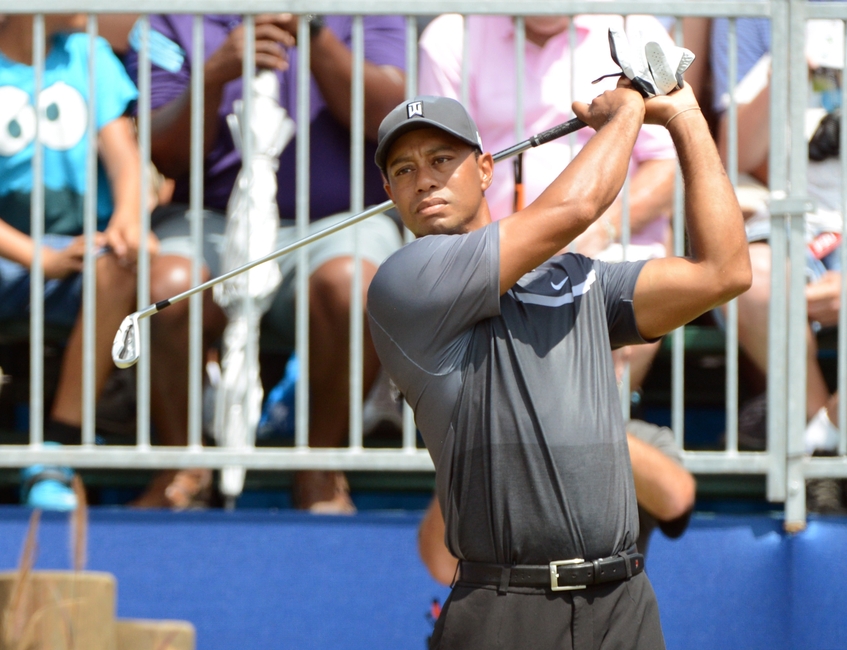 Tiger Woods returned to action last week and showed glimpses of his old self, as a result, the talk about a potential 15th major has already inevitably begun.
When Tiger Woods finished four rounds at the Hero World Challenge without being in pain – so far as we could tell – the Woods' Major Watch officially started.
No matter what anyone else says, take that to the bank. Everyone in and around golf will be paying attention. Even Mike Adams, director of instruction at Medalist GC said in an article for Golf.com that Woods will contend at Augusta.
Whether or not Adams' prediction is correct remains to play out, but we did see progress at the Hero World Challenge. While Woods made errors during the tournament, he also made more birdies than anyone else in the field as NBC announcers routinely pointed out during the Sunday telecast. Now he just needs to manage those misses.
"I made some poor decisions, missed the ball in some wrong spots, and quite frankly, you know, it feels a little weird not to play in a cart," Woods said to media after the final round. "This week was pretty cool because I felt like I made some birdies this week. I felt like I did really well in that regard, but I also made just some really silly mistakes. I played the par 4s, quite frankly, awful. I had two doubles today, a couple bogeys the other day. Played 18, I think, in probably about 25 over, so that pretty much sums up the week."
And as he readily admitted he had not felt the push of adrenaline and the flow of playing a competitive round in 15 months.
"I think that how well I got into the competitive flow of the rounds, that was something I was really worried about because I've come back of layoffs before and it's taken me four, five, six holes before I felt comfortable," Woods explained. "Here, last couple days it was on the first hole; the first day it was on the second hole. That's nice. That's how it should be."
Adrenaline changes the length he hits clubs, as it does for all golfers.
"I haven't had adrenaline in my system in a while and having that surge of adrenaline through my system, how much further is this ball going to be going?", he wondered before the tournament started. "I know it generally is a half a club, but is it going to be more than that because I haven't played or is it going to be less than that or be about that?"
Woods also noted that because he's been playing golf out of a cart, he had caddie Joe LaCava come to Florida to play walking rounds with him.  Both of them suffered from not being golf conditioned.
"Even Joey hadn't been on a golf course in a while. He rides at home in a cart. He carried the bag. His shoulder's sore, back's sore, hip's sore, ankles are sore,"  Woods said.
This is not uncommon for golfers who experience months of not playing, particularly golfers who have to wait out winter.
"No matter how much you work out, it's very different than being in playing shape," he added. "Nothing's quite the same as playing and the waiting and the grinding and the wind and getting the numbers right and camera phones going off and people moving, sounds. These are all different things that you can't simulate at home."
Several of those in the field think Woods will be back as a serious contender, including the Hero World Challenge winner, Hideki Matsuyama.
"You know, only Tiger could take a year and a half off and put up the numbers that he's putting up this week," Matsuyama said. "I don't care how many strokes I'm leading over him, he's still — I still worry about him, fear him and I'm just going to have to try my best tomorrow."
Matsuyama was not alone in believing that Woods still has game. Henrik Stenson agreed that a full comeback is possible.
"He's done some remarkable things throughout his career, and if there's someone that can jump right back up and play some great golf again, that would be him," Stenson said. "He's got all the experience, and it might take a bit of time and it might go quickly, you never know."
Stenson said Woods has the benefit of knowing all the things he's accomplished, knowing he's done it before, which should give Woods confidence.
"Your ability's not going to go away just because you're in a slump or you're not playing as well," he added. "If you're a winner of that caliber, that's still in there and that's never going to go away. What goes away is your form and your ability to bring that out."
In the next couple of weeks Woods will determine what will be his schedule for the spring.
"Would I like to play a full schedule every year for the next decade plus? Yeah, I would, that would be great. Can I? I don't know. We'll see," he said.
He expects to sit down with his team and assess what might work best for him going forward.
"I'm going to do everything I can. I miss it. I love competing out here and it's fun," he added. "That's what people probably don't quite understand. I love to compete, I love playing against these guys and I miss being out here."
Woods has no problem getting into tournaments because he has a lifetime exemption three times over for the PGA Tour. He can play where he wants to. But, if a person had to make a bet, an educated guess is that Woods will enter tournaments where he has a familiarity with the courses. He will know what he has to do to succeed at those events, even if succeed is making the cut.
That suggests Phoenix, San Diego, The Genesis at Riviera CC in Los Angeles, where his foundation is the host, and The Arnold Palmer Invitational for starters. Except for Riviera, Woods has had success at those courses.
In terms of walking difficulty, other than the 18th hole at Riviera, the 12th hole and 13th at Torrey Pines North and the 4th and 12th holes at Bay Hill, none of them require a great deal of hill climbing. However, for August National he will have to be in great walking condition and will need practice hitting off slopes. His biggest problem may be finding some hills in Florida so he can practice walking up and down and hitting on uneven lies.
This article originally appeared on