Tiger Woods Commits To Playing With Bridgestone Golf Ball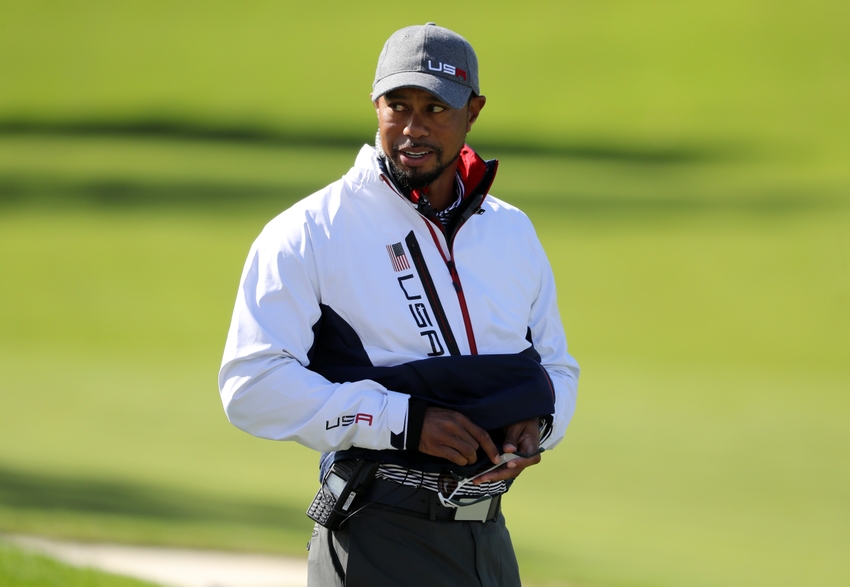 Tiger Woods will be playing with a new golf ball when he returns. If he plays well, then what does this mean for the growth of the company, and the true importance of a golf ball?
Tiger Woods will be returning to competitive golf this week at the Hero World Challenge, and off the course, he has continued to make headlines. He has decided to play with Bridgestone golf balls, after Nike shut down their golf equipment operations a couple of months ago.
According to Golf Digest, Woods said that he can "hit all of the shots now" after a practice session on a Bahamas driving range. It also appears that he has regained some of his vintage power as well, as he was reportedly hitting his drives over 300 yards.
Here's a good shot from USA Today's Steve DiMeglio of Woods hitting his irons:
He will also be using TaylorMade woods, at least for now, according to DiMeglio. However, the ball is likely a bigger deal, because Woods believes that the "golf ball is the most important club in the bag"
The change to Bridgestone golf balls is very interesting to say the least. They are terrific balls, but it still definitely makes you think "oh, wow" when you read about it.
Certainly, this will be a big win for Bridgestone, who, much like Titleist, prides themselves on making the best golf balls in the world. The popular tire company has built a strong representation of golf brand ambassadors, including Fred Couples and Matt Kuchar.
Popular golf broadcaster David Feherty has also had heavy involvement with advertisements for Bridgestone. In short, just because they aren't Titleist or TaylorMade, doesn't mean they aren't a golf powerhouse.
It seems like they get a little overlooked at times since they are more than just a golf company, as mentioned, they are known worldwide for their car tire services. Brands like Callaway, Titleist and TaylorMade are all golf, all the time.
Bridgestone golf is a great brand however, and it will be interesting to see how Woods fares with his shiny new golf balls. Who knows, maybe we will see him and Couples in a few humorous ads down the road.
But, there is no doubt that more people will probably be using Bridgestone balls more often since Woods is using them. And, for the record, who doesn't like those dope hats with the "B" on them?
So, what are your thoughts on Tiger Woods' new golf balls? Shocking? Not surprised? Did you think he would go with one of the "big dogs" like Titleist? Let us know in the comments section below or you can let me know personally on Twitter @ChiGolfRadio.
More from Pro Golf Now
This article originally appeared on