Ryder Cup: Key Takeaways from Europe's Day 2 Play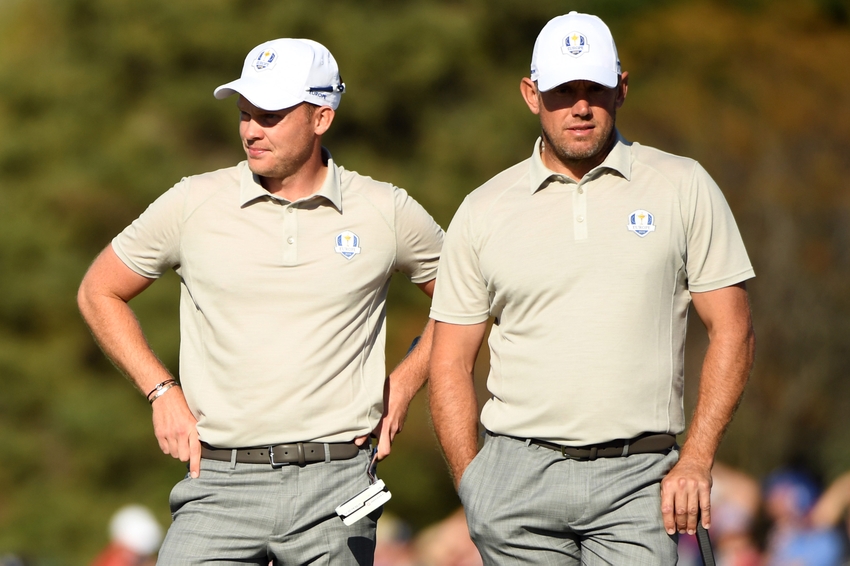 Team Europe had the momentum for much of the day, but a late afternoon surge extended the USA's lead heading into Sunday at the Ryder Cup.
Inching closer and closer, the tide finally crested for the Europeans on Saturday at the Ryder Cup. After falling victim to an American clean sweep in Friday morning's alternate shot session, the resilient road team chipped away for three points in the afternoon and two-and-a-half more on Saturday morning, capped off by the Spanish Armada of Sergio Garcia and Rafael Cabrera-Bello erasing a 3-down deficit to earn a critical half point in the final match of alternate shot.
The Europeans managed to eke out just one more point on a typical up-and-down Ryder Cup Saturday, but with 12 of the 28 points still up for grabs and memories of their four-point comeback in 2012, the Europeans won't go down without a battle.
Let's look at five quick hits that break down Europe's effort leading up to Sunday singles.
McIlroy and Pieters bomb their way to a 3-0 record
Friday saw Rory McIlroy depart the course with bows to the crowd after a match-ending eagle putt on No. 15. Those theatrics were only the beginning, as the power couple of McIlroy and Ryder Cup rookie Thomas Pieters kept rolling on Saturday.
The duo has yet to play the 18th hole this week, winning in relatively pain-free fashion thrice to account for nearly half of the team's 6.5 points.
Facing the tandem of Rickie Fowler and Phil Mickelson, which rallied to defeat McIlroy and Andy Sullivan on Friday morning, the fireworks began early on in the match with a lengthy birdie putt from Fowler on No. 1. The Americans were off to a quick start, but Pieters soon restored order.
Taking a page out Patrick Reed's playbook from Gleneagles in 2014, he followed up a clutch birdie putt from just off the green to halve the hole with a "shhh" finger motion. The large American contingent behind the ropes did not oblige Pieters' request to quiet things down, but that did not derail the European efforts.
The European duo's confidence, as well as their ability to bail each other out, played a part in stemming a mid-round rally from the Americans to win 4 & 2, setting the tone for a 2.5 to 1.5 European triumph in the morning.
Perhaps showing fatigue from the busy week, as well as playing four tournaments in five weeks in the run up to the Ryder Cup, McIlroy wasn't his sharpest in his fourth match of the week. The four-ball format allowed Pieters, also playing his fourth match, to pick up the slack by accounting for five of Europe's seven hole wins in a 3 & 1 victory over a rested Dustin Johnson and a red-hot Brooks Koepka in the afternoon.
The Americans were strong on the back nine, but Europe's 4-up advantage at the turn proved large enough to weather the storm.
The two stalwarts, who won three matches together this week, can further aid the comeback by performing well in Sunday singles, but Darren Clarke will surely miss the luxury of a virtual guaranteed point from these bombers.
Stellar Spanish duo earns 1.5 points
In interviews and press conferences, Sergio Garcia often handles questions about his lack of a major championship with poise and calmness. But when heckling American fans remind him of that fact, a little more emotion is stirred within the fiery Spaniard.
Asked to take on arguably the Americans' top pairing in Patrick Reed and Jordan Spieth on Saturday morning, Garcia and rookie partner Rafa Cabrera-Bello appeared dead in the water — down three with just four to play.
But wayward tee balls and burned edges on the greens for the Americans left the door ajar for the newest version of the Spanish Armada. Garcia, motivated to quiet the naysayers, became a ball-striking machine. It was his playing partner, however, who stole the spotlight on No. 17 with a career-highlighting moment. The Americans were in with a par when Cabrera-Bello cooly sunk a mid-range putt from just off the green to knot up the match, which ended with a surprise half-point.
Banking on a somewhat unproven player like Cabrera-Bello to produce in a third consecutive match in the afternoon may have been a lot for captain Clarke to ask, but he could now be questioning his decision to separate the Spaniards. Garcia could not lift a struggling Martin Kaymer in a 2 & 1 four-ball loss to Phil Mickelson and Matt Kuchar.
The European veteran captain's picks, Lee Westwood and Martin Kaymer, are 0-5. Somewhere, Russell Knox lets out a sarcastic laugh #RyderCup

— Joel Beall (@JoelMBeall) October 2, 2016
Lee Westwood and Martin Kaymer have a combined 0-5 record through the first four sessions
As the cliche goes, hindsight is 20-20. Few had major gripes with Darren Clarke's captain's pick selections leading up to the Ryder Cup, but now that Lee Westwood and Martin Kaymer have limped out to a combined 0-5 record, there are concerns about their contributions.
The third captain's pick, Thomas Pieters, is the unlikely exception to the rule, playing solidly en route to a 3-1 record in team play.
Westwood requested to sit out the Friday afternoon session to iron out his game, and he was held out of Saturday morning's alternate shot as well. Rested and recharged, the Englishman looked like his old Ryder Cup self in recording three consecutive birdies on the fifth, sixth and seventh holes to bolster teammate Danny Willett against the pairing of J.B. Holmes and Ryan Moore, a duo that struggled against Garcia and Cabrera-Bello the day before.
The Europeans maintained a 1-up lead for much of the match, but Westwood's putter failed him under the pressure of the closing holes. Willett didn't provide much help.
A missed five-footer on No. 17 allowed Holmes and Moore to square things up. On No. 18, facing a four-footer to halve the match, Westwood was poised to be partially forgiven for that mishap as soon as the near-guaranteed putt fell in. It didn't.
Left stunned, a precious opportunity was squandered on the last green.
Martin Kaymer has yet to even see that green in competition. The hero from Medinah in 2012 has been anything but heroic in 2016. He's 0-3, playing twice with Garcia and once with Willett.
Friday afternoon's session did not see Kaymer win on his own ball for the entire front nine, a cold streak that persisted for much of Saturday, too. Fortunately for Kaymer backers, Sunday is historically a kind day to the German. He's twice closed out major championships and is 2-1 in Ryder Cup singles, a run that includes the famous clinching putt against Steve Stricker at Medinah in 2012.
Westwood will look for revenge in Sunday's seventh match against Moore, a Ryder Cup rookie but a successful match play competitor dating back to his 2004 U.S. Amateur and U.S. Publinks wins. More recently, Moore owns a quarterfinals appearance at the WGC-Dell Match Play this spring.
If the Europeans are to mount a comeback, Kaymer may be counted on for more necessary heroics. He will face Matt Kuchar in the penultimate match, a player with a 2-1 record this week but a 1-2 career record in singles.
McIlroy will be first out for Europe on Sunday
Likely sensing the urgency of Sunday's singles session, which will require his team to take at least 7.5 out of 12 points to retain the cup, Darren Clarke will be pushing his chips to the center early.
No stranger to the big moment, Rory McIlroy will kick things off at 11:04 a.m. against Patrick Reed in what could be the match of the day. Henrik Stenson and Thomas Pieters will be right behind, aiming to take down Jordan Spieth and J.B. Holmes, respectively. Stenson has gone just 1-3 and is nursing an injured knee, but the steely Swede still remains one of Europe's tougher outs.
Veteran Justin Rose will bat cleanup before a few rookies are sprinkled in midway, but it seems the Europeans will need to muster at least 2.5 points from those four to avoid relying on a sextet of players who have combined for just one point this week: Westwood, Sullivan, Wood, Willett, Kaymer and Fitzpatrick.
USA captain Davis Love III opted to spread out his talent, kicking things off with Reed and Spieth while saving stalwarts Brandt Snedeker, Dustin Johnson and Brooks Koepka for eighth, ninth and tenth, respectively.
Who's your pick to win tomorrow: Team USA or Team Europe? Let us know in the comments, and keep it here at Pro Golf Now for more updates from the Ryder Cup.
This article originally appeared on