Ryder Cup: First Look At Complete European Team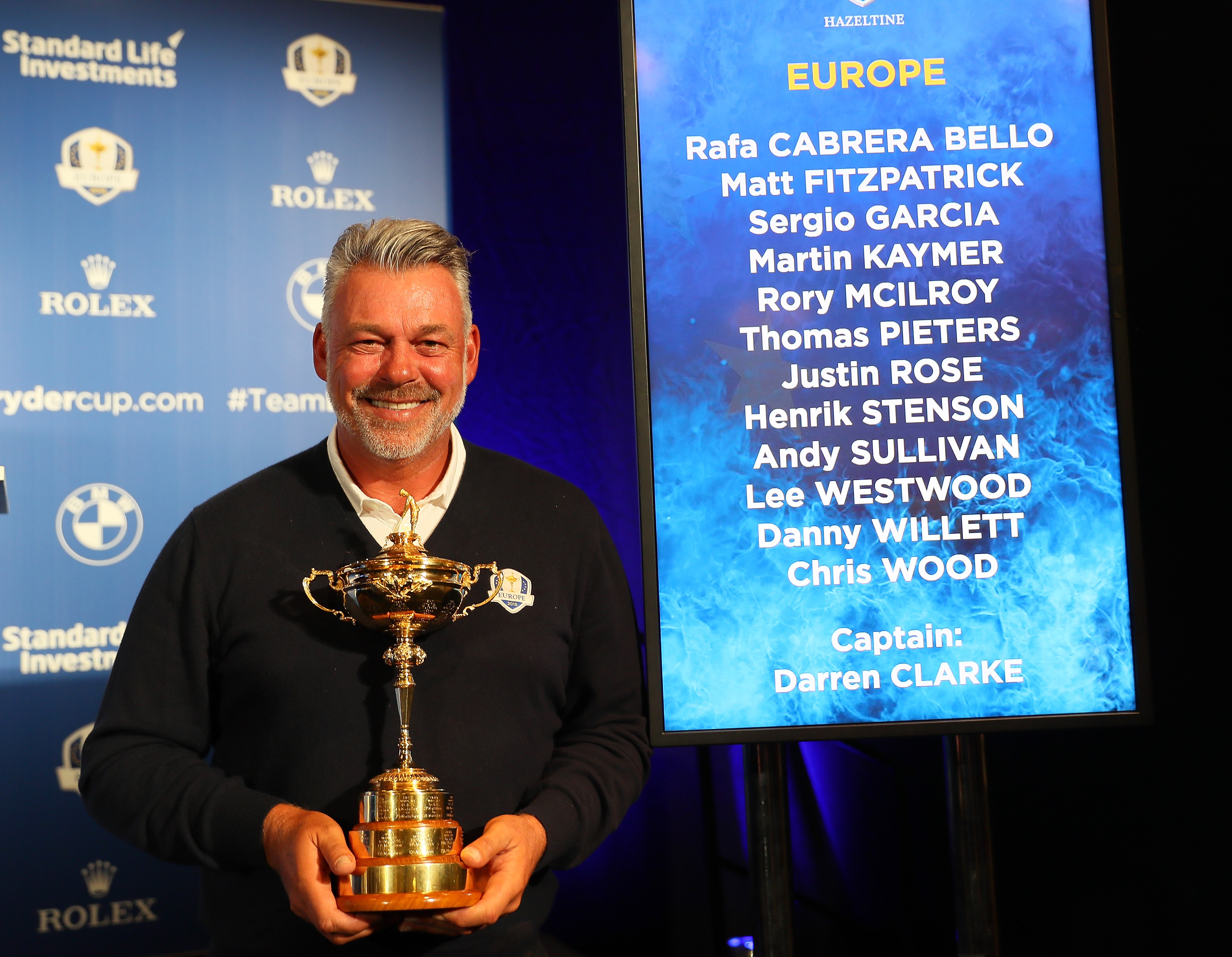 With the European team finalized for the Ryder Cup, let's run through the 12 men who'll be competing in blue at Hazeltine and highlight what you need to know.
The countdown is now well and truly on.
With Darren Clarke's announcement of his wildcard picks on Tuesday morning, the European team for the Ryder Cup is officially finalized, and the excitement for the event can start to build.
The Europeans have thrived during a historic run of eight wins in the last 10 Ryder Cup matches, but heading into this year's playing at Hazeltine there will be a number of new faces matching up with their American opponents.
Team Europe includes an even split of six rookies and six veterans, leaving many doubting their ability to retain the Samuel Ryder trophy against what will be an incredibly talented US squad.
Still, with the experience of over 120 Ryder Cup matches, eight major championships and two Olympic medals accumulated between the vets who are on the European team, they're not a group to be taken lightly.
Without further ado, let's take a closer look at the completed European team set to go out at Hazeltine at the end of September.
Rafa Cabrera Bello (32) – Spain
Ryder Cup Record: Rookie
A two-time winner on the European Tour, Cabrera Bello has emerged in 2016 to be one of the most consistent performers in the global game.
In 16 starts on the European Tour this season, Cabrera Bello has never finished outside of the top-50, and he's missed just one cut on the PGA Tour.
With seven worldwide top-five finishes to his name for the season, Cabrera Bello has shot up into the top 30 of the world ranking and positioned himself right at the forefront of the international game.
Cabrera Bello has tasted team golf before, representing Spain at the Eisenhower Trophy as an amateur and later at the World Cup of Golf in 2013. Cabrera Bello also played for Spain at the Olympic Games, finishing in fifth place.
Although he's a rookie, Cabrera Bello has been around for a while and is unlikely to be fazed by the Ryder Cup experience. If he can follow in the footsteps of Spanish greats like Seve Ballesteros, Jose Maria Olazabal, Miguel Angel Jimenez and Sergio Garcia, he'll take to the Ryder Cup like a duck to water.
Matthew Fitzpatrick (21) – England
Ryder Cup Record: Rookie
The youngest player on the European team, Fitzpatrick has already made quite the impression in his short golfing career to date.
Having won the Boys Amateur Championship in 2012 and then the US Amateur in 2013, Fitzpatrick entered the pro ranks as a former amateur world no.1 with an already glittering career behind him.
Having turned professional midway through the 2014 season, Fitzpatrick earned full playing privileges in Europe for 2015 and would pick up his first win at the British Masters later in that season. Picking up his second pro win at the Nordea Masters earlier this season, Fitzpatrick has wasted no time adjusting to the pro game.
The young Englishman has already got some good team experience under his belt too. Fitzpatrick was the top-ranked player on the Great Britain and Ireland team at the 2013 Walker Cup, and although the US prevailed as resounding winners overall, Fitzpatrick could stand tall behind a 3-1 record of his own.
More recently, Fitzpatrick played under Darren Clarke's captaincy at last year's EurAsia Cup. Fitzpatrick helped Europe to victory with a 2-1 record that included a dominant foursomes win alongside Lee Westwood.
Sergio Garcia (36) – Spain
Ryder Cup Record: 18-9-5
Like so many of his fellow countrymen down the years, the Ryder Cup brings the very best out of Sergio Garcia. He's easily the most experienced player on the team behind Lee Westwood.
Seemingly free of the putting woes that have plagued him over the years in his pursuit of major glory, the Spaniard thrives in the hotbed of emotion that is the Ryder Cup atmosphere and is certainly well-served by having a less emotional teammate on hand to restore equilibrium to the pairing.
With a 64.5 percent win rate in Ryder Cup matchups, Garcia is second only to Jose Maria Olazabal in European history in terms of winning percentage, while he also ranks seventh on the all-time European points list.
A winner at the Byron Nelson earlier this year, Garcia comes into this year's event having shown good form in many of the events that really mattered in 2016. The Spaniard finished tied for fifth at both the U.S. Open and The Open Championship before notching a tied T8 finish at the Olympic Games, too.
Set to play in his eighth Ryder Cup with his first appearance coming all the way back at Brookline in 1999, there will be no man on the course at Hazeltine more motivated for the challenge than Sergio Garcia will be.
Martin Kaymer (31) – Germany
Ryder Cup Record: 4-3-3
It says a lot about the prodigious talent Kaymer possessed when he first came on tour, and everything that he's managed to achieve since, that at the still relatively young age of 31 he's a true veteran of Ryder Cup play.
When Kaymer tees it at up Hazeltine, it will be his fourth appearance in the event. He's never been on the losing side at the matches, so Kaymer will be hoping to continue to build upon a reputation as something of a lucky charm for Europe.
Although Kaymer required a wildcard pick from captain Darren Clarke to work his way onto the team, he will come into this year's event on the back of a solid run of form.
With an inconsistent game that's fallen off on a couple of occasions in his career, 2016 has marked a return to consistent play for the German at the very least. Kaymer has made the cut in every event he's played since March, recording six top 10 finishes along the way.
Having made the decisive putt at Medinah in 2012, Kaymer knows just how sweet Ryder Cup glory can taste and will be hoping to experience it again this time out.
Rory McIlroy (27) – Northern Ireland
Ryder Cup Record: 6-4-4
Much like Martin Kaymer, McIlroy enters his fourth Ryder Cup having only experienced a winning feeling at the event. If that's to continue at the conclusion of this year's playing, this European team will certainly need to see the best the Ulsterman has to offer.
Although he has a solid Ryder Cup record to his name overall, there's little doubting that for his talent, McIlroy hasn't generally performed to his potential in team events.
A dominant force in singles with a record of 2-0-1, McIlroy has a losing record in team formats in his three previous appearance. Additionally, some of the wins he's picked up in that regard have been largely attributable to his partners, such as Ian Poulter's heroics on Saturday at Medinah in 2012.
All in all, this could spell danger for the US team, as Rory McIlroy enters the 2016 Ryder Cup with a real point to prove.
Not only will McIlroy be looking to step up and seize control of a Ryder Cup match like never before, but unless the FedEx Cup provides him with some glory in the coming weeks, the 27-year-old will be wrapping up a season with only one win, which by his sky-high standards is not really good enough. It really could be a case of "beware the wounded animal" at Hazeltine.
Thomas Pieters (24) – Belgium
Ryder Cup Record: Rookie
Although it took a captain's pick for him to ultimately book his ticket to Hazeltine, make no mistake about it: Thomas Pieters has played his way onto this Ryder Cup team with an outstanding three weeks of play.
There's a real chance that if you had asked Darren Clarke for five names he was considering for a pick as recently as one month ago, Pieters' name would not have been one of the first to come to mind for the European captain.
Over the last few weeks, though, Pieters has put together an excellent run, including a fourth-place finish at the Olympics, a second at the Czech Masters and a win at the Made In Denmark. In truth, if it wasn't for a disastrous Saturday in Rio and a low-key Sunday in Prague, Pieters could have won in every one of his recent starts.
Pieters has incredible confidence, which bodes well for his prospects of making an impact as a rookie, and as one of the longest hitters in the world and someone who is also adept at scrambling, the Belgian is going to be positioned with a chance to get something out of every hole he plays.
This experience might be new for Pieters, but having been a member of winning teams as an amateur in the Jacques Leglise Trophy and Palmer Cup, he understands how to play team golf.
Justin Rose (36) – England
Ryder Cup Record: 9-3-2
Between two teams packed with major champions, Justin Rose's Olympic gold medal gives the European team something that their American peers can't quite match up to. Beyond that, Rose is one of the most skilled and experienced players on either team, too.
Since turning professional as something of a wunderkind back in 1998, Rose has gone on to be a consistent winner on both the European and PGA Tours.
Perhaps even more importantly, as evident from his Olympic success, U.S. Open win and exemplary record at past Ryder Cups, Rose has a real appetite for performing his best on the biggest stages.
Over the years, Rose has formed a couple of formidable partnerships on the European team. Playing alongside Ian Poulter in 2008 and 2012, Rose was incredibly difficult to beat. Having gone 3-0 alongside Henrik Stenson in 2014 as well, the U.S. will be hard pressed to take points away from Rose at Hazeltine.
Whether Rose and Stenson get to continue that partnership this year remains to be seen, as both men may be required to mentor some of Europe's rookies. Either way, Rose's record suggests he'll find a way to win no matter who his partner is.
Henrik Stenson (40) – Sweden
Ryder Cup Record: 5-4-2
Heading into the Ryder Cup off the back of the best year of his career, Henrik Stenson will be looking to give his best performance at the event to date to cap off a glittering season.
The big-hitting Swede is set to make his fourth appearance at the event, and with the combination of his skill and talent, it would be no surprise if Darren Clarke turns to the 40-year-old to play in every session.
A proven winner worldwide who has dominated on both sides of the pond, Stenson has put together a glittering summer of golf that will be remembered for a long time. His final round duels with Phil Mickelson and Justin Rose at The Open Championship and the Olympics, respectively, were instant classics.
Although prone to bouts of inconsistency, Stenson has never been short on confidence, and fueled by his maiden major success at The Open, he has taken his game to new heights.
The Ryder Cup hasn't always seen the best of the Swede, but in 2014 a more mature Stenson put in his best performance at the event yet. Don't be surprised if he goes out and tops that again this time out.
Andy Sullivan (29) – England
Ryder Cup Record: Rookie
After an impressive 18 months, Andy Sullivan has sort of backed his way into Darren Clarke's team in recent weeks, just hanging on to an automatic qualifying spot that once looked guaranteed.
Having charged up the world rankings thanks to three wins on the European Tour in 2015, Sullivan continued his good form into this season, in spite of his failure to add to his trophy collection.
Outside of a runner-up finish at the Dubai Desert Classic, Sullivan's season was a little thin on truly dazzling results. However, he did play well for three key weeks in July, when he never finished worse than 12th between the French Open, Scottish Open and Open Championship.
Recent missed cuts at both the Czech Masters and Made In Denmark mean that the Englishman won't be at peak confidence, and he'll likely be desperate to find his form in the coming weeks.
As a rookie, Sullivan won't be expected to lead out the European team in all five sessions, but when he is called upon, Darren Clarke at least has a crew of steady veterans ready to assist him.
Lee Westwood (43) – England
Ryder Cup Record: 20-15-6
In need of more steady, experienced presences, not just on the course but in the locker room, it was no real surprise that Darren Clarke opted to extend a captain's pick to his good friend Lee Westwood.
Having been one of the most consistent players on the planet for the better part of a decade, Westwood has had a challenging 2016 season, meaning there are still some doubts over the state of his game heading into Hazeltine.
Westwood has only competed in 13 events worldwide in 2016, and with just three top 10s, it hasn't been his best year.
Westwood tied for second at the Masters, so Clarke will have confidence that the big occasion can help Westwood turn things around. At any rate, the 43-year-old has already left a big mark on Ryder Cup history.
Set for his 10th appearance, Westwood has a whole host of European records firmly within his sights and would seem like the perfect mentor for a team packed with young, English rookies.
Danny Willett (28) – England
Ryder Cup Record: Rookie
A former Walker Cup player, it won't surprise many who've been following Danny Willett's career to see him representing Europe on the biggest stage in the game.
Having shown a taste for the big events in his European Tour career, this season signaled the moment that Willett managed to take a dramatic step forward.
With top five finishes at events with top-quality fields such as the WGC-HSBC Champions, WGC-Cadillac Championship, Nedbank Challenge and the BMW PGA Championship, along with wins at the Dubai Desert Classic and, of course, the Masters, the 28-year-old Englishman has surged into the upper echelons of the world game.
Having played alongside Rory McIlroy in the 2007 Walker Cup and as yet another member of Darren Clarke's victorious EurAsia Cup team at the start of the year, Willett is no stranger to team golf.
Unlike some of his rookie teammates, Willett is very much battle-tested and has been winning as a professional for a number of years, so don't be surprised to see him play in a number of sessions next month.
Chris Wood (28) – England
Ryder Cup Record: Rookie
Having finished 2015 strongly with top 10s and major paydays on the European Tour in five events from October onwards, Wood's qualification was built on steady if unspectacular play throughout the entirety of the qualifying period.
Perhaps best known for strong finishes as an amateur and in his early pro days at The Open Championship, Wood has since developed into one of the more consistent players in Europe.
Wood sealed his spot on Darren Clarke's team at the end of May when he picked up his third career win on the European Tour and arguably his biggest to date: the cash and Ryder Cup points-rich BMW PGA Championship.
Since that win, Wood's play hasn't been the greatest, and much like Andy Sullivan, it wouldn't be a big surprise to see him try to play his way into a bit of form in the coming weeks.
The 28-year-old is another who isn't likely to be relied upon too heavily, but he certainly has the ability to come up with some points if the opportunity presents itself.
Be sure to stick with us at Pro Golf Now, as we'll have all the Ryder Cup buildup you need over the coming weeks.
This article originally appeared on