Masters power rankings: 10 favorites to win the green jacket
In exactly four weeks, you'll hear birds at Augusta chirping, see azaleas blooming and be friends with Jim Nantz once more. In four weeks, the first major of 2016 kicks off, some 235 days since Jason Day was seen hoisting the Wanamaker Trophy and an epic 2015 major season wrapped up.
Golf has plenty of returns, depending on your interest. If you're a die-hard, it never really goes away, less a couple of late weeks in December. If you pay decent attention, it's over when the FedEx Cup ends, and maybe if you're just a sports fan who pays attention to the biggest events, it's the final round of the PGA Championship that ties the bow for you.
But everyone — every single person that has ever seen the word "golf" and not made a disgusting sound — gets excited for the Masters. It's a special week on the golf calendar, alongside the other majors and either the Ryder or Presidents Cup, and it's benefited by the fact that it's the first major each season, and the end of the longest wait between majors.
And as we sit with just the Valspar Championship, Bay Hill and the Match Play between us and pimento cheese and the sweet sound of Dave Loggins, it's time to start thinking of the favorites.
Each Thursday until Arnie, Jack and Gary get us going at Augusta, we will be updating our 10 favorites to snag a green jacket this year, and we begin right now. (Current Vegas odds on the players courtesy of golfodds.com will be in parenthesis next to each name.)
10. Sergio Garcia (60-to-1)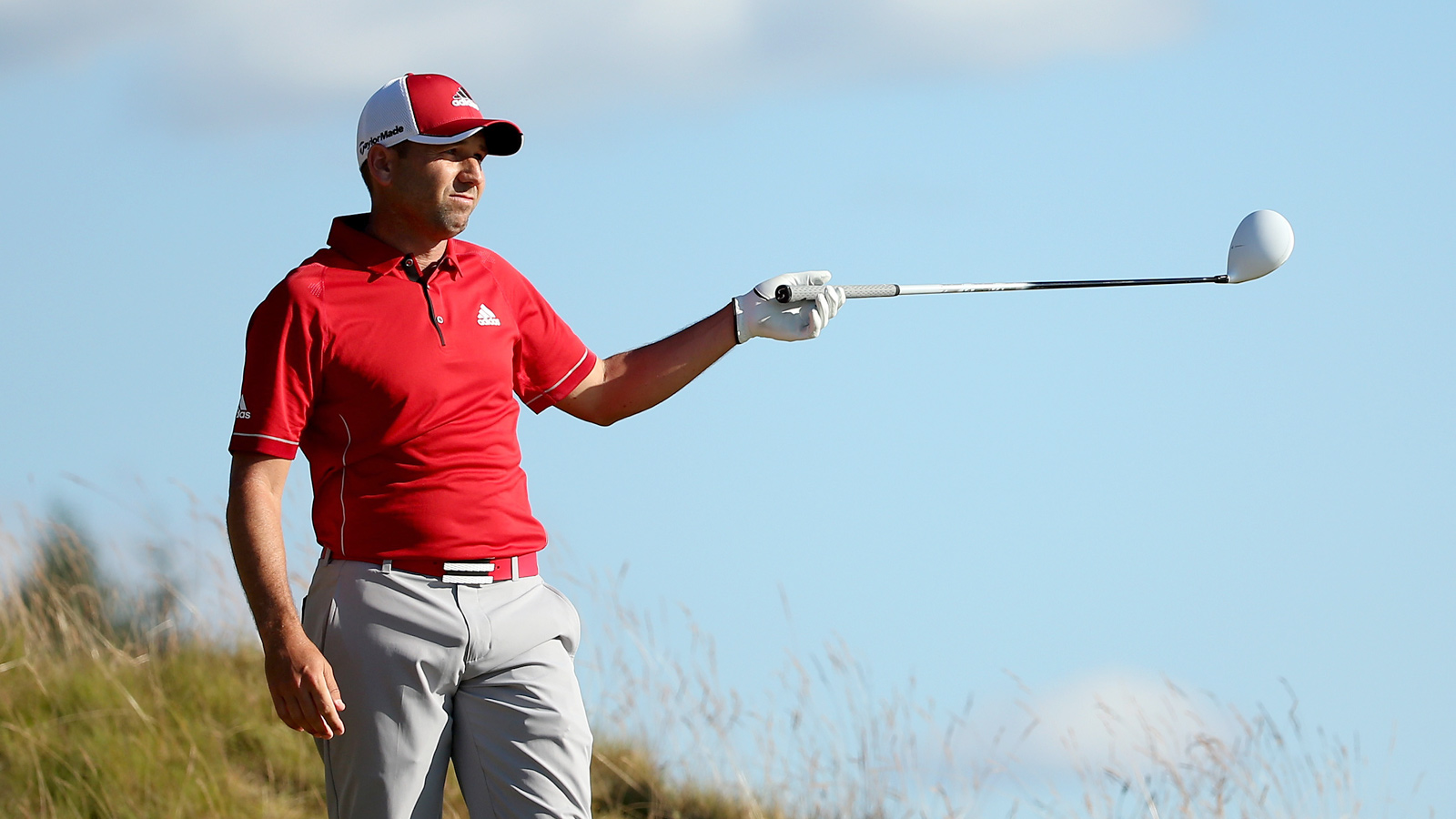 Toss out the fact that Sergio is 36 and has never won a major, has admitted at times that he isn't sure he's capable of winning a major, and in 2013, after opening with a 66 at Augusta National to tie for the lead, followed it up with three rounds in the 70s to finish T-8 and was never really a factor in the discussion. Toss ALL THAT OUT, and I still think Sergio Garcia is going to win a major championship before it's all said and done. I do. It will eventually happen.
Since Nov. 1, Sergio has played in eight worldwide golf events, and has finished in the top-11 in seven of them, including a win at the Ho Tram Open — which isn't exactly the Open Championship at St. Andrews but it's still a win, and the feelings are still positive. In his last four Masters, Sergio has finished T-17 or better three times, and has always seemed like the guy that can take advantage of his ball-striking around Augusta and put up a score. In 2016, Garcia is third overall in strokes gained tee to green and seventh overall in strokes gained, and despite a constant battle with the flat-stick (the biggest concern of anyone at the Masters), it just takes four decent days with the putter for someone like Sergio to at least be in the final two or three groups with a chance. Also, with all this talk of a youth movement, we've only had two champions in 2016 that were in their 20s, so maybe it's the year of the 30-something.
9. Jason Day (12-to-1)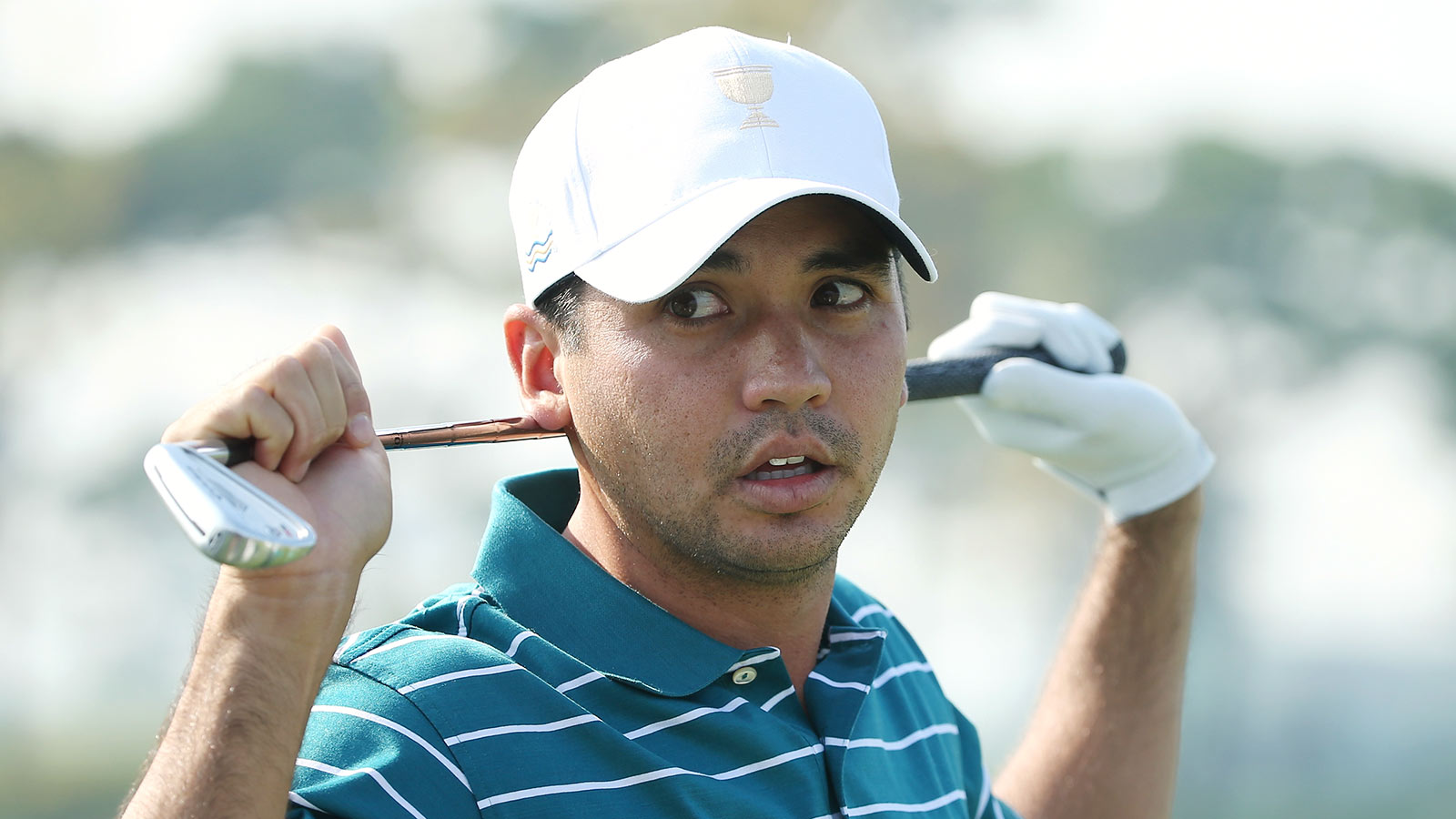 He will move his way up these rankings the more events he gets under his white belt as we approach the Masters, but as of now, the No. 3 player in the world has teed it up in four events in 2016, finishing in the top 10 just once. Day has two top-three finishes at the Masters in his career, and is coming off a first major win at the PGA, so his resume lands him a spot on this list more than his play of late.
8. Justin Rose (25-to-1)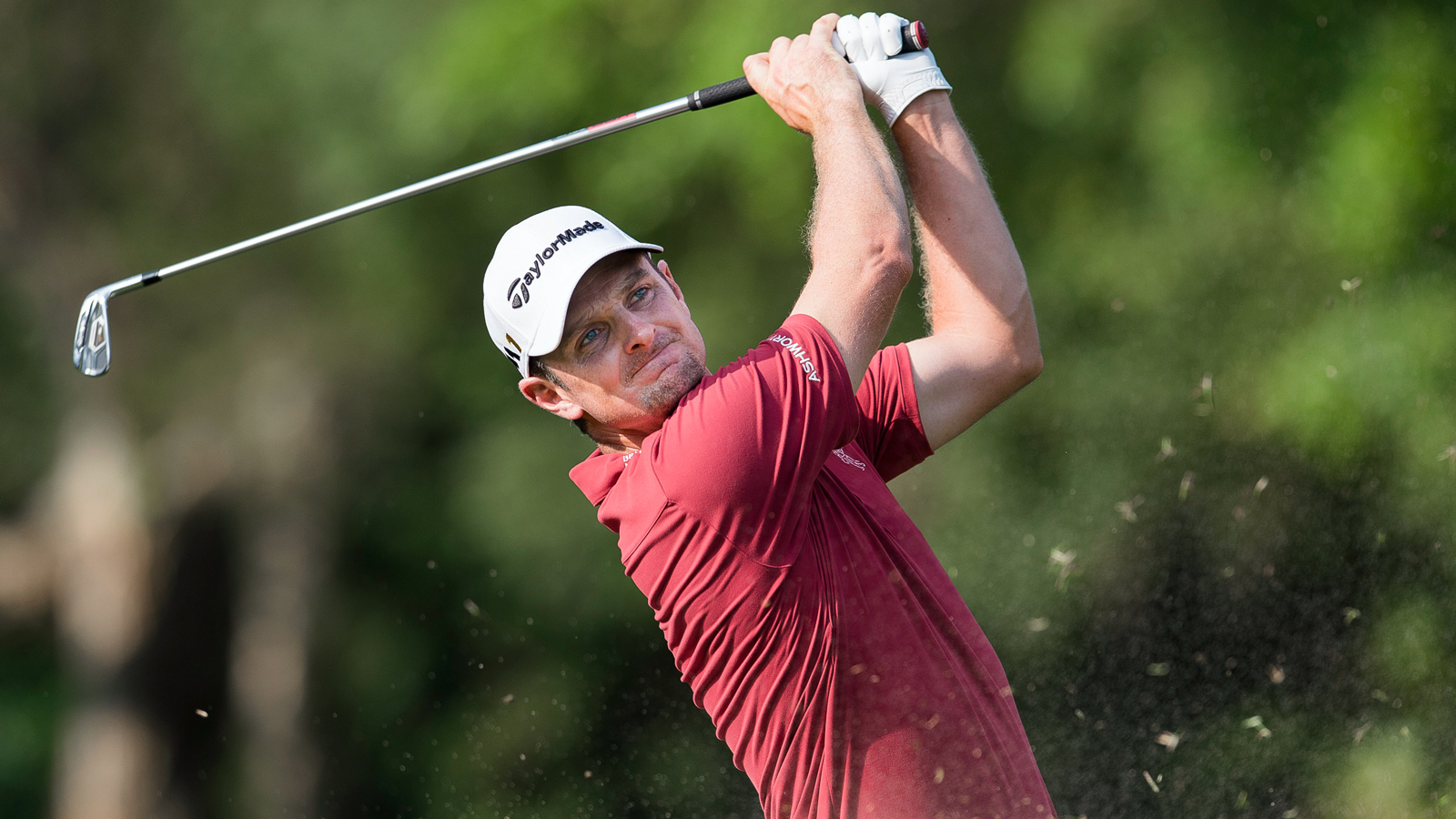 A great final round in tough conditions at Doral on Sunday jumped Rose up a busy leaderboard and allowed the 35-year-old to card his third straight top-17 finish on the PGA Tour. Couple that with his five straight top-25s at the Masters, including an appearance in the final group on Sunday a year ago, and it's obvious why Rose has earned himself a spot on this list. The one issue with Rose, and one that Augusta can expose, is his proximity to the hole stats. We all know how important it is to get the ball in the right quadrant on the brutal Augusta greens, and Rose is currently ranked 176th on the PGA Tour in proximity, so he will simply have to hit the ball closer in four weeks if he wants a chance to compete again.
Also, of the one-hit major winners of this generation, Rose, Adam Scott and Day seem to be the most likely to break through and win a second, so putting him here makes sense.
7. Rory McIlroy (13-to-2)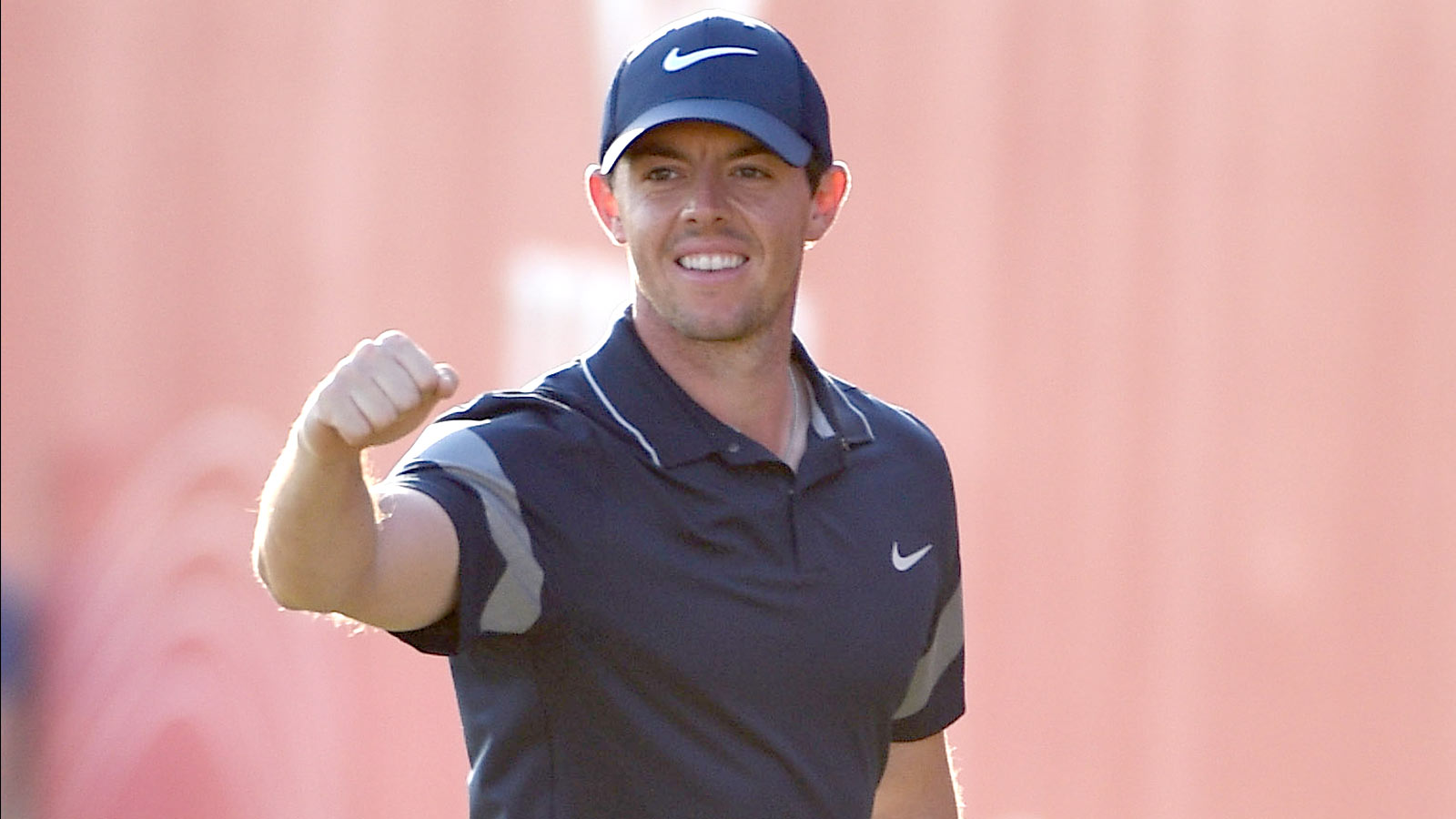 The bottom line: Rory has to show us something on a Sunday when he's in the hunt before I bump him ahead of those names in front of him. It's that simple.
Do I think Rory can win the Masters by eight shots? Absolutely. Do I think Rory is still the most talented player on the planet when it's clicking? Yep, no doubt in my mind. Do I think Rory has a mental block going right now on Sundays? It's hard for me to say no to this one.
A reminder, at the Northern Trust Open, Rory eagled the opening hole of the final round to tie for the lead, and then played his next 17 holes at 6 over par. At Doral two weeks later, Rory made just one bogey over his second and third rounds on a golf course that saw one player fail to break 80 all week, but made three over his first 13 holes on Sunday to drop out of the conversation, adding a lone birdie to his final-round card when he was already an afterthought.
We are four weeks away, and we will see Rory at least two more times before the Masters, so he has plenty of time to figure out what's happening during final rounds, but so far in 2016 he's been a 54-hole champion, not a 72-hole one, and majors expose your flaws more than any other event.
Sharpen up his Sundays, and Rory will be in my top 3 by April.
6. Louis Oosthuizen (40-to-1)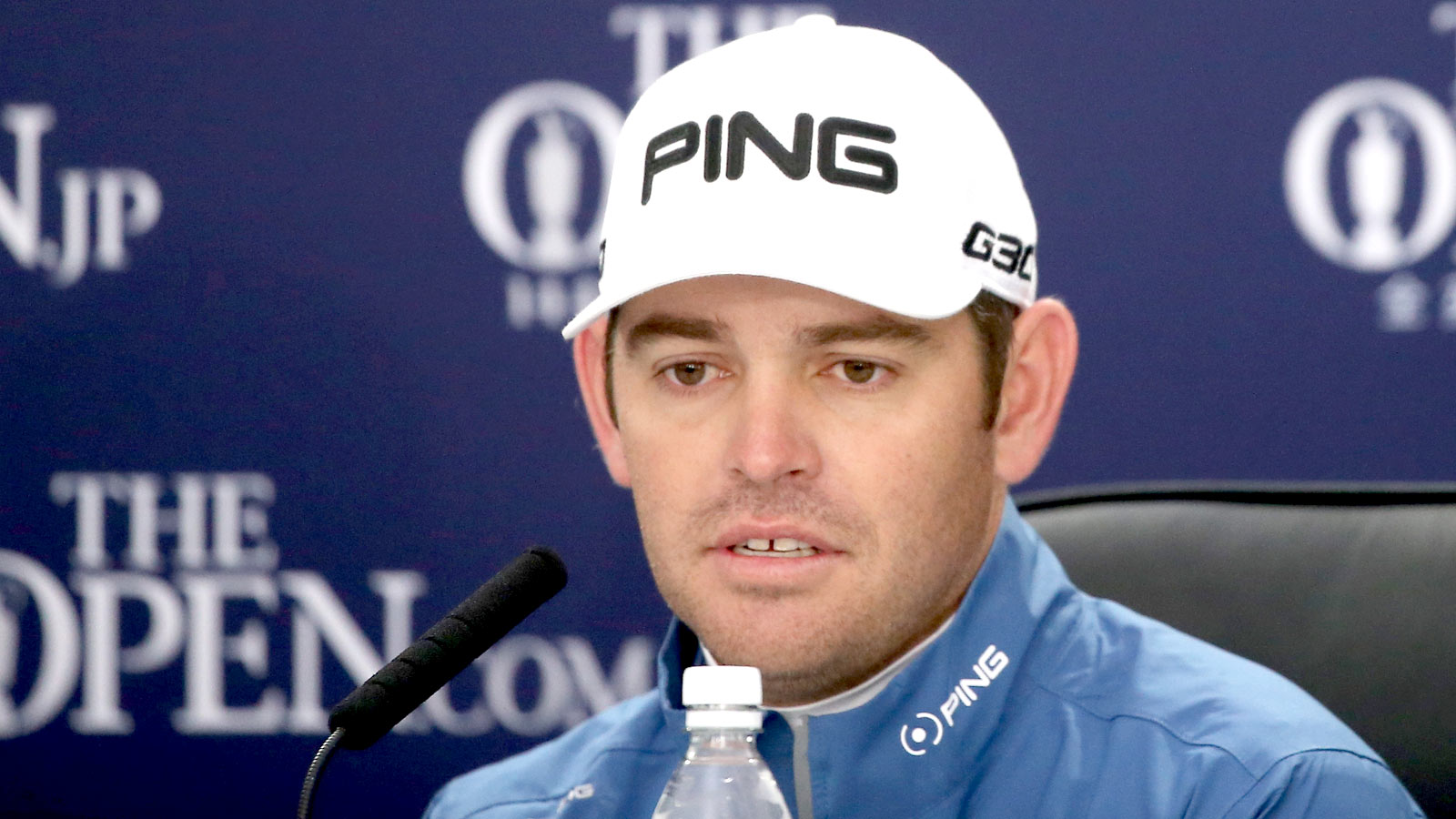 His lone top-10 at the Masters came in that playoff loss to Bubba Watson in 2012, but we've seen Oosthuizen's ability to play any golf course when things are clicking (a T-2 at both Chambers Bay and St. Andrews in '15).
He won the ISPS Handa Perth International on the Asian Tour at the end of February, followed that up with a T-14 at Doral in his first event of the year on American soil, and is trending in the right direction as we inch closer to Augusta.
5. Rickie Fowler (12-to-1)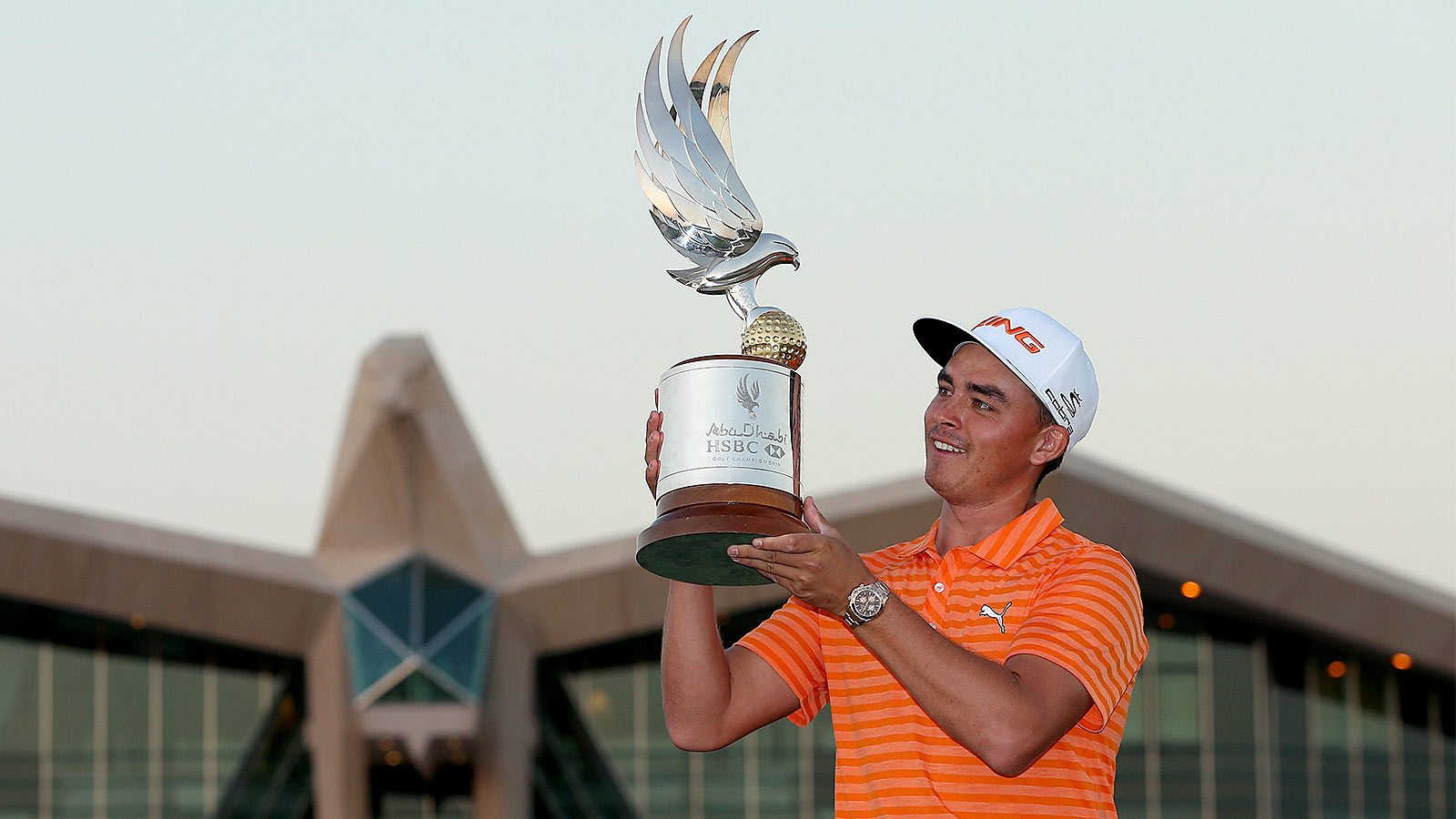 One of only two names on this list that has never won a major championship, Fowler has had an excellent season so far and deserves to be in the top-five of favorites at this year's Masters.
Since Fowler's win at the Abu Dhabi HSBC Championship in late January (and a missed cut at the Farmers most can chalk up to being a bit out of sorts because of travel), it's been a playoff loss in Phoenix, a T-6 at the Honda and a T-8 at the Cadillac Championship (where, without a brutal Friday-Saturday stretch on the par-4 third hole where Fowler went double bogey-quadruple bogey, he would have been right there within a shot on Sunday).
How impressive has Fowler been this season? He is seventh on tour in strokes gained, tee to green, and 16th in strokes gained putting, meaning he is third overall in strokes gained and is 15th on tour in greens in regulation. When your ball-striking and putting are both this impressive, wins are going to come simply because you're going to make a lot of birdies and few mistakes. That's the key to a green jacket, and we might be a month away from Fowler picking up major No. 1.
4. Phil Mickelson (15-to-1)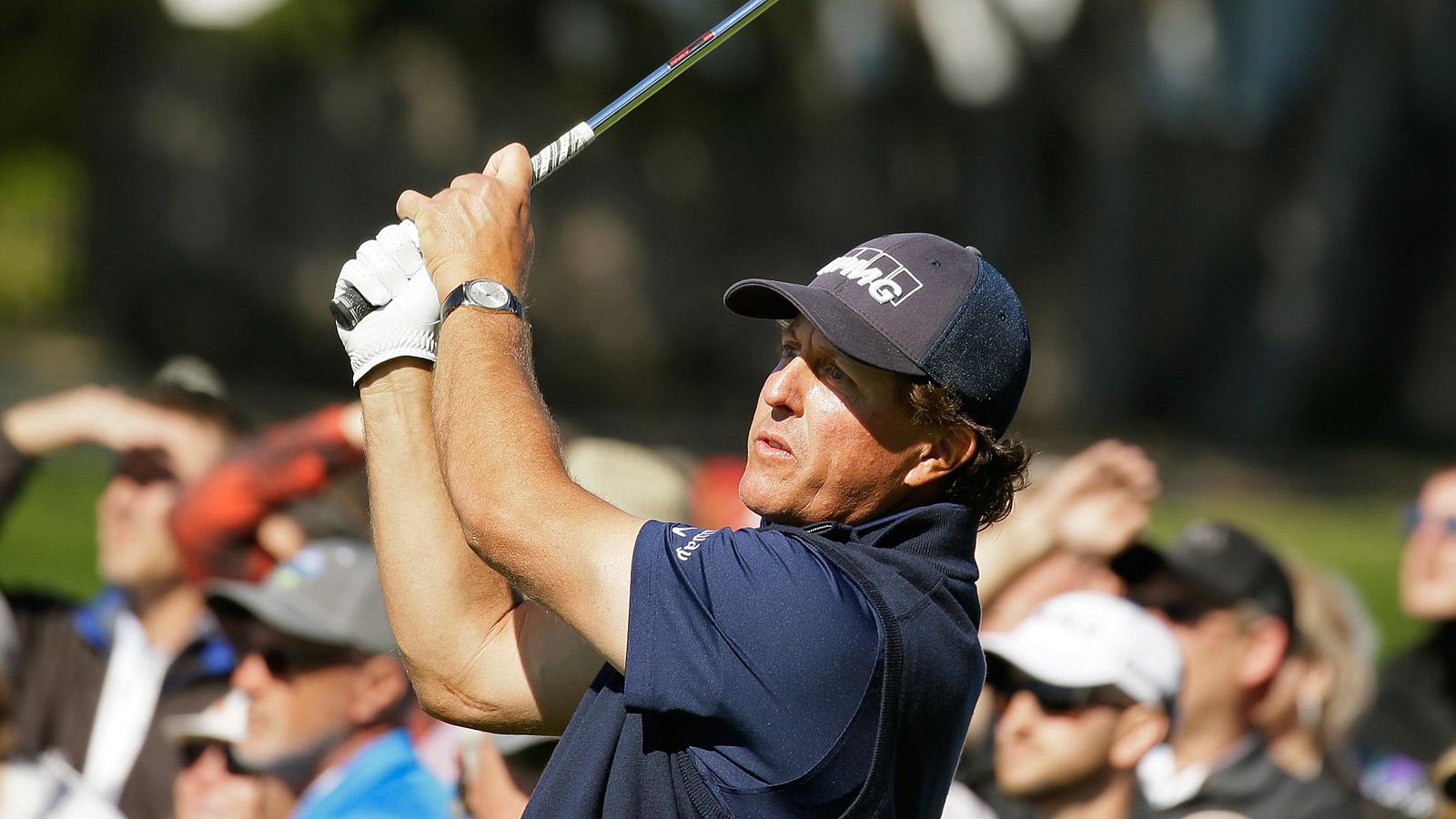 It is my opinion that Augusta National is the best example of a "horse for course" type of situation in all the world, and I think Phil Mickelson is this generation's thoroughbred. We've seen Jack do it, we saw Faldo do it, and now we're seeing Phil do it.
Here is how Phil has played the Masters since 1999:
17 starts
14 top-10s
9 top-3s
3 wins
It's insane how good he is at Augusta, and the difference in this year as opposed to the last couple of seasons is that Mickelson is actually playing great golf going in. A T-3 at the CareerBuilders, T-11 at the Waste Management, a second at Pebble Beach, a fifth place finish at Doral, it all seems to be trending in a very, very positive direction for Phil.
Why is it working better this year for Phil? Well, because he's making the game easier. Check out this quote from Phil following his second round at Doral:
"I just know that it's the best I've driven the ball, the easiest I've driven the ball. Misses are minuscule. Speed is back. Iron game is sharp. And I'm hitting fades, draws, high, low, everything at will without much thought. It's becoming much more instinctive. Game's starting to be instinctive; I think that's probably the best way to say it, where I don't have to think about the technique or the mechanics of anything. I just kind of look and react."
What could hold Phil back? The king of Team Tinkerer has been going between a claw grip and a standard grip on putts depending on length, and those types of things always scare me on greens like the ones at Augusta. Still, I love Mickelson's chances at a fourth green jacket in a month.
3. Adam Scott (10-to-1)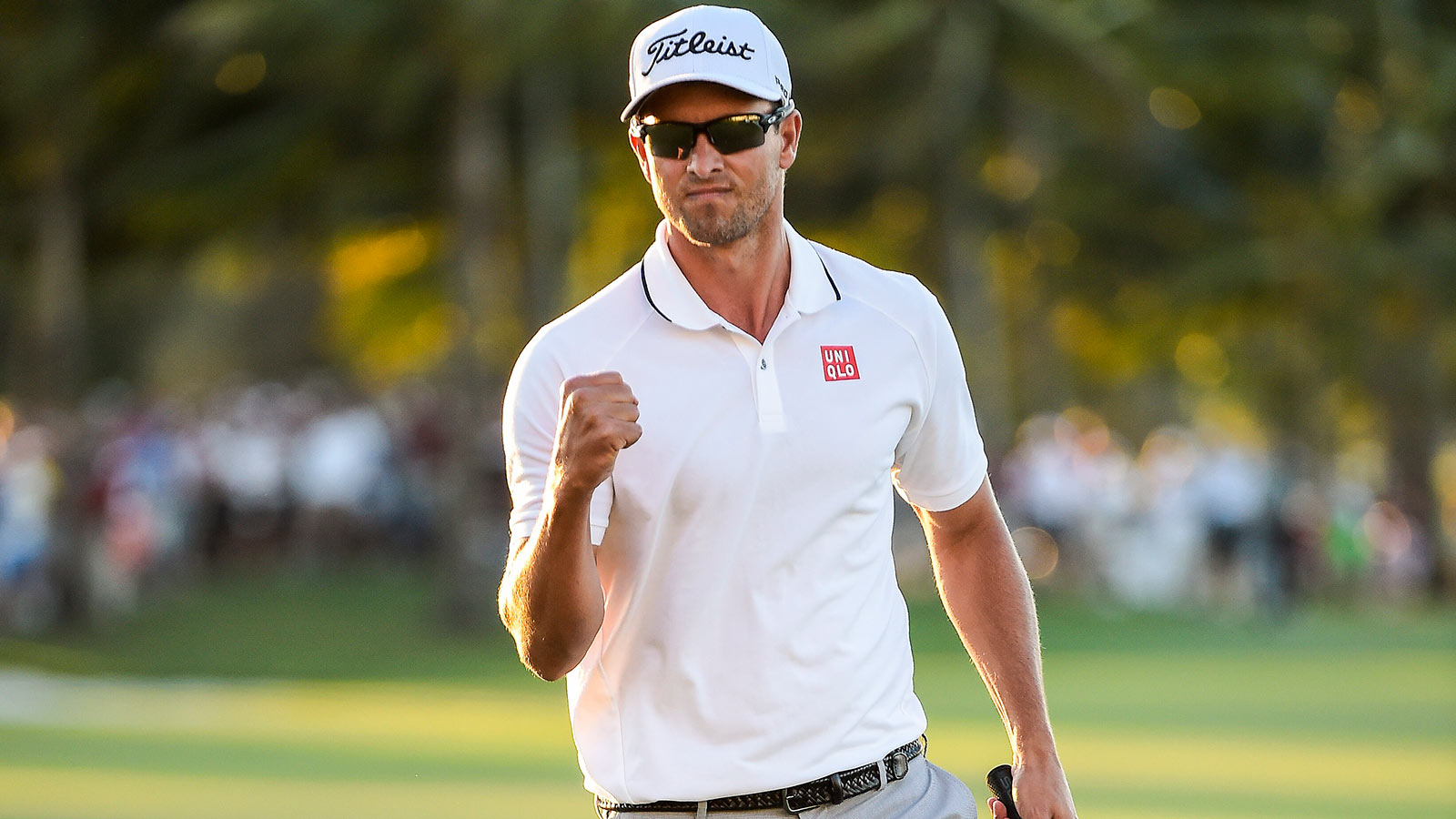 If you're at work looking at the guy that has just won back-to-back tournaments on the PGA Tour and thinking, "Why are two guys ahead of him?!," trust me, I understand the confusion.
Scott is everything you want in a Masters favorite, from a former champion to currently playing red-hot golf. He's leading the tour in total strokes gained, fourth on tour in birdie average and second in scoring.
But, I still wonder about the putter. I know it sounds cliche when talking about Scott, but I wonder on the Augusta greens, with that amount of pressure, if it's possible for the No. 6-ranked player in the world and the short putter to hold up.
I definitely think it is, otherwise he wouldn't be in my top three, but that is the lone reason two names are currently above him. Scott ranks 128th on Tour in total putting, a surprising stat really when you think that Scott has finished T-2, WIN, WIN his last three starts.
2. Jordan Spieth (13-to-2)
Spieth is here because it's Augusta, and that's the only reason. Spieth is here because he has played two Masters in his career and has been beaten by exactly one person. Spieth is here because I think, much like Phil Mickelson, when he and his team (the trademarked "we") drive down Magnolia Lane, all the other noise ceases and everything before that moment fades.
I think it's fair to say that since Spieth returned from his world tour following the Singapore Open, his golf game has been abysmal, but I also know he has at least two more starts to figure it out before Augusta, and one is this week at the Valspar Championship, where he's the defending champion.
I see Spieth having a record at this event like Phil. I think he will be a top-10 and top-five machine each season at Augusta simply because it brings out the best in his golf game, and I think that in four weeks, it'll be another solid four days for Jordan.
Why isn't he the favorite? Because there is one man still standing that can overpower Augusta National the likes of which we've never seen in the history of the tournament.
1. Bubba Watson (12-to-1)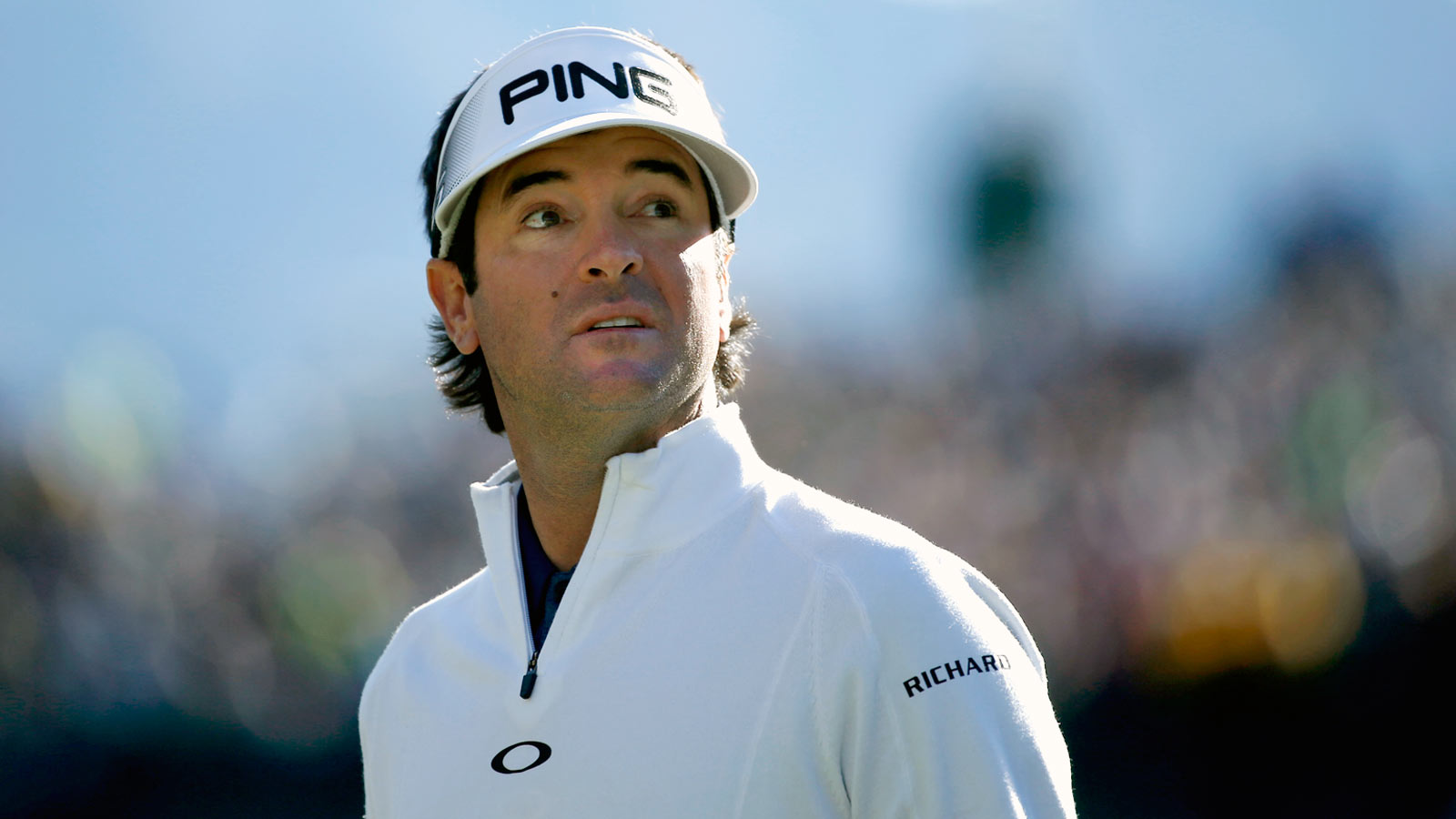 Bubba is my favorite right now to win a third green jacket, and not because it's an even year, much like his other wins at the Masters in '12 and '14.
Bubba is the favorite because he was amazing at Riviera and was a clump of thick rough away from finding himself in a playoff at Doral (and possibly winning if Scott's ball does bounce in the pond and he doesn't make a five).
Do you know that so far in this wraparound season Bubba is perfect from three feet and in (190-of-190)? Do you know that he's third on Tour in greens in regulation, surprising considering all anyone ever talks about is his length off the tee?
On top of all that, it's Augusta National, and Bubba is as close to a perfect prototype of golfer to build if you wanted to make a robot to be successful on this golf course. He loves working the ball, he can hit it a mile, and he takes lines on holes that even birds would find frightening.
The par-5s are par-4s to Bubba, and if he can keep it somewhat consistent between his ears for four days, he will have a good chance at winning.
Bubba is the favorite. That could change in a week.