Johnny Miller On Stopping Slow Play: "I Should Be Commissioner"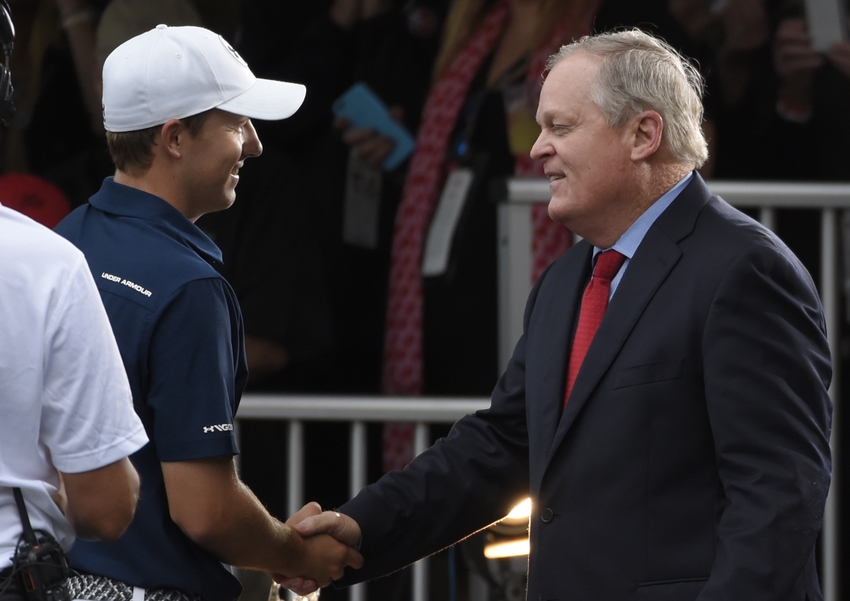 Johnny Miller is known for his hot takes in the booth during golf coverage on TV. He took the same approach away from the cameras, and made an interesting comment.
Johnny Miller is one of the most popular broadcasters in not only golf, but maybe in all of sports for his controversial style behind the mic. Well, Miller didn't disappoint outside the booth either when he was being interviewed by NBC/Golf Channel's Mark Rolfing during a Western Golf Association event in Chicago.
Rolfing asked Miller what he should do about slow play in golf. His answer is totally Johnny Miller-like indeed.
"To start with I think I should be Commissioner. That would help," said Miller according to Golf Digest. "Guys would be given penalty shots after one warning, I'll tell you that. Right now the tour officials want to be best buddies with the players—that's more important than enforcing the rules. I'd like to see these guys play quicker."
Pace of play has been one of the bigger topics in the game. Basketball legend Michael Jordan even said he was going to have his own, private course built to avoid slow play.
Although pace of play can always be improved, I think there's something different that can fix this issue. Promote and build more nine hole or par-3 courses.
I'm an absolute sucker for a great short track. Having learned the game and played plenty of rounds on my beloved Acorn Course at Randall Oaks GC, the solution seems so obvious.
Even the great Gary Player (happy belated birthday) thinks short courses are great. He retweeted a piece by GolfPunk Magazine about the short tracks a year ago.
When you play shorter courses, the pace of play automatically speeds up. Especially when it's a par-3 course.
Golf was originally a shorter sport anyway. Then the holes expanded to 18 which is too much, but a lot of people believe that is how the game has always been and it's not true.
As I may have mentioned before, golf was invented in the streets, then it became a 10-hole game, and finally, bursting into a a sport of 18 fairways and greens.
So, if there is one way to fix the pace of play, it is simply stronger promotion of nine hole rounds and par-3 courses. It's not rocket science.
I understand there are more 18 hole courses out there than nine holers. However, the beauty is, most 18 hole tracks allow you to play nine which is fantastic. That way, you aren't forced into playing the whole thing if you can't do it.
As I also might have mentioned before; we are all pretty selfish.
I say this because, there are a lot of traditionalists who say playing short courses isn't "real golf". More than likely, these same people play numerous 18 hole rounds a year.
If they can do it, they seem to think everyone should be able to, and it's just not true. That's how our minds operate at times.
The classic "if I can do it, you can do it too" mentality, but in a more negative light rather than the typical positive nature of the quote.
But, to those of you who want to play shorter courses, then absolutely go for it. you most certainly won't regret it, and it won't take you almost seven hours to play.
If you want to play the full 18 holes, but don't have time for it, then play the front nine one day, and play the back nine another day. It's really that simple. So go out there and enjoy this wonderful sport in a timely and fun manner.
As for the PGA Tour, as Miller mentioned, more officials will have to start penalizing guys for slow play. If anything, it would make things more interesting, as golfers have to think faster.
Kind of like me on the course. I stare down the flag, get on my knees and pray to the golf gods and take my swing. Sometimes it works, sometimes it doesn't (sadly, my prayers don't get answered all the time).
More nine hole tournaments on the PGA Tour would be great too. Because as we know, TV can control the mind at times, and if fans see Tour pros playing in a nine hole tourney, then they may begin to show interest in short tracks.
But, when it comes to big events like the majors or the Players Championship, there just needs to be more pressure put on players. In college basketball, there was no shot clock. But after players would stall and hold the ball for a million years, that's when the clock was implemented.
Maybe this needs to be something to consider for the PGA Tour. Honestly, having a shot clock wouldn't hurt. It's not gimmicky either, it's just basically saying "hey, this your punishment for slow play. Sorry fellas".
The only problem is, how would players know how much time is left on the clock? It's not like a basketball court where the shot clock is practically right in front of your face.
But, it's become one of golf's big wonders. Having a clock seems logical, it's just that, you would need to know where to put it and how would you know when time is up?
People at home will know thanks to TV coverage, but it would be tough for the players.
That's just a general thought though. In the meantime, you can only hope that pace of play improves, and maybe we don't have to have these discussions.
Not sure about Johnny Miller being the commissioner though. That would be….interesting. He'd probably ban tight shirts for his first rule.
So, what are your thoughts on Johnny Miller's comments in regards to slow play? Does he have a point? What are your thoughts on slow play and how to improve it? Leave your comments in the section below and keep it locked right here for more golf news. 
This article originally appeared on