ISPS Handa World Cup of Golf: Key Takeaways From Day 3
Denmark leads the pack by four after a solid 70 in Saturday's alternate shot at the ISPS Handa World Cup of Golf.
With one day remaining, team Denmark has extended its lead from three to four after Saturday's alternate shot format. Thorbjørn Olesen and Søren Kjeldsen combined for a two-under-par 70, which stood up well on a relatively difficult day for scoring. Only Canada and the USA could muster anything lower among the 28 teams in the field, each posting three-under-par 69s.
Canada is 10 shots adrift, but the Americans posted their third straight sub-par round to make a date with Denmark in the final group on Sunday. The USA (70-67-69) sits at 10-under, while Denmark (72-62-70) at 14-under thanks to a sensational 62 during Friday's best ball session.
Team China (70-65-72) is very much in the mix at nine-under and three other teams have an outside shot at seven-under. The Americans have played solid golf and believe they can pounce in the final round, while the Danes could take the title with probably half as good of a best ball round they put together earlier.
To dig a little deeper, let's look at a few of the takeaways after three days at Kingston Heath in Melbourne, Australia.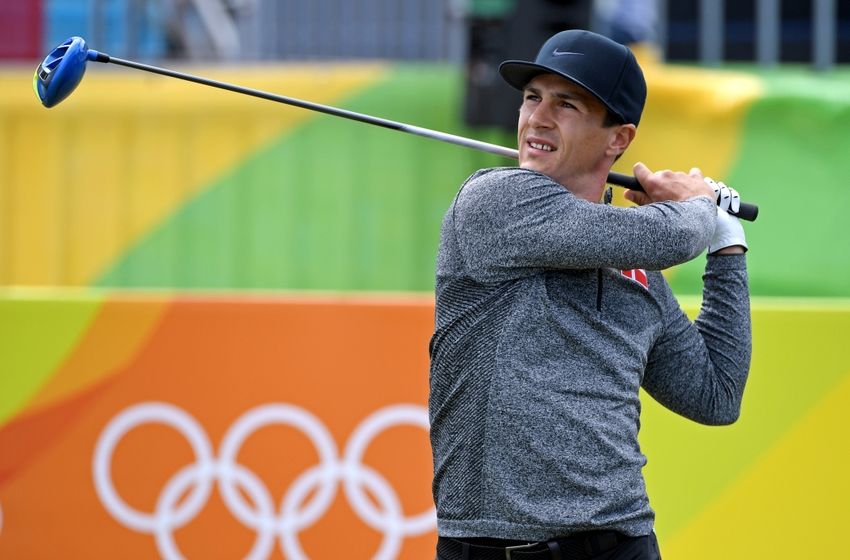 Team Denmark knows there's plenty of tournament left
If anyone knows a multi-stroke lead is never safe until the tournament is closed out, it's Thørbjorn Olesen. Olesen owns the 2016 European Tour record for the largest 54-hole lead when he led the Turkish Airlines Open by seven. Suffice it to say, he didn't parlay that into the largest margin of victory.
"I had a seven-shot lead in Turkey and it got down to one," Olesen told the media on Saturday of his eventual three-stroke win. "So, I know how easy it can slip away. A four-shot lead is nice, but it's not going to be easy."
Him and Kjeldsen appear to have great chemistry and should be freed up to come out firing on Sunday, and why not? The pair scraped by to go two-under-par in the two alternate shot rounds on Thursday and Saturday, but were on fire in the first four ball session. They made two eagles on the front nine and started the back with five straight birdies en route to a 12-under-par 60. No other team could go lower than 64.
Kjeldsen is hoping to dial up more of the same on Sunday.
"It's about attack for sure and it has been even in the foursomes," said Kjeldsen, "We try to take shots on, we try to keep pushing and certainly in the four ball even more so."
The Sunday pressure and pin placements will render another scorchingly 60 unlikely, but a benign weather forecast could open the door for low scores. The Danes' playing partners are of the belief that one of those low scores could still propel them to victory.
The Americans are ready to attack after solid, consistent efforts in the first three days
If there was an award handed out for consistency, the Americans would be in line for it so far. The duo of Rickie Fowler and Jimmy Walker have been close to error-free in conjuring rounds of 70 and 69 in alternate shot (tops in the field) and 67 in four ball. That effort has them in the final group, right where they want to be.
"It would be nice to be out front or a little closer, but with where we were coming into today, just putting up a solid round of golf was what we wanted to do," Fowler said. "We did that and we gave ourselves a chance going into tomorrow. It's going to take some good golf and some birdies, obviously, but it will be nice being in that final group to know exactly where we stand."
The Americans gained one stroke on the day with a three-under 69, including a bogey-free back nine, to tie David Hearn and Adam Hadwin of Canada for low score of the day. The 17th hole was a big one as the Americans were able to make birdie. Two groups later, Denmark squandered a chance to lead by six or more after they made bogey.
Swings like this could happen on any hole and the battle-tested Americans have to think they're very much in the hunt. They wouldn't mind having one more photo op like they had at the Ryder Cup in the photo above.
A similar performance to the Danes' Friday 60 may be needed for chasers positioned several strokes back
It'd be difficult to bet the farm on any team other than Denmark or USA to seal the deal, but a few other teams could still certainly make a run to the top. The Chinese have been fun to watch as somewhat of a surprise this week. Wu Ashun and rookie Li Haotong have each won on the European Tour this season, but a win this week over some of the world's best would do wonders to ingratiate themselves in the golf's public eye.
Saturday could have been disastrous for the Chinese after a three-over-par start through just two holes, but they whittled it back to even-par on the day to land in the penultimate group five strokes adrift. Four ball looks to be more of their cup of tea; they posted a 65 on Friday.
A talented trio of teams also lurks seven back at seven-under. Hideki Matsuyama has been playing as well as anyone lately and could carry his Japanese playing partner, Ryo Ishikawa, to the finish line with a similar performance that has helped him win individually twice in four weeks. The 65 they posted in the first four ball session will likely be replicated, if not topped, to have a chance on Sunday evening.
Team Spain featuring Jon Rahm and Rafael Cabrera Bello could have really been in the mix but sputtered with just two birdies on Saturday en route to a 73, which tied for the worst round of any team inside the top 14.
Lastly, France's Victor Dubuisson and Romain Langasque got themselves to seven-under with a closing birdie on Saturday. Dubuisson squandered a 54-hole lead at last week's DP World Tour Championship and might be content to be the chaser this week. It will be interesting to see how Langasque holds up. The 21-year-old has yet to get in the mix individually on the European Tour and may be leaning on Dubuisson to get through the day.
ISPS Handa World Cup of Golf – Day 3 Leaderboard
1 – Denmark (Olesen/Kjeldsen) — 70 (-14)
2- USA (Fowler/Walker) — 69 (-10)
3 – China (Wu/Li) — 72 (-9)
T4 – Japan (Matsuyama/Ishikawa) — 71 (-7)
T4- Spain (Cabrera Bello/Rahm) — 73 (-7)
T4 – France (Dubuisson/Langasque) — 72 (-7)
7 – Italy (F. Molinari/Manassero) — 73 (-6)
T8 – Ireland (Lowry/McDowell) — 70 (-5)
T8 – New Zealand (Lee/Fox) — 72 (-5)
T8 – Sweden (Noren/Lingmerth) — 73 (-5)
Check back with us tomorrow as we'll have all the key takeaways from the final round of the ISPS Handa World Cup of Golf.
This article originally appeared on