Hall of Fame: Love, Mallon, Ochoa, Woosnam and Longhurst Named 2017 Inductees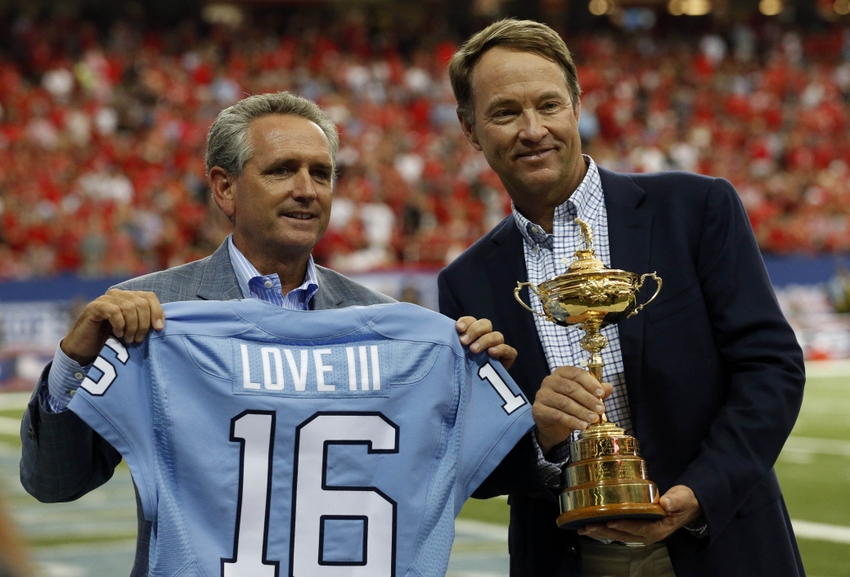 Davis Love III among notable World Golf Hall Of Fame inductees for 2017.
The World Golf Hall of Fame announced the 2017 Induction Class which includes PGA Tour player Davis Love, III, former LPGA players Meg Mallon and Lorena Ochoa, former European Tour player and current PGA Tour Champions player Ian Woosnam and the late Henry Longhurst, long time voice of BBC golf.
Love has played on the PGA Tour since 1986 and has 37 worldwide professional victories, 22 on the PGA Tour. His crowning achievements were titles at the 1997 PGA Championship and the 1992 and 2003 PLAYERS Championships. Love earned spots on six U.S. Ryder Cup teams and six Presidents Cup teams. He has captained both squads, most recently in 2016 at Hazeltine. He has also been on the PGA Tour policy board and has won the Payne Stewart and Bob Jones Awards.
"Davis is a fixture on the PGA TOUR and has been for decades. He has contributed so much to the image of the game because of who he is, and the way he handles himself," said PGA Tour Commissioner Tim Finchem. "It makes us all smile to see him get the recognition he deserves and be inducted into the World Golf Hall of Fame."
Mallon won 18 times on the LPGA Tour. Four of those were major championships including the Women's PGA ( formerly the LPGA Championship) in 1991, the U.S. Women's Open in 1991 and 2004, and the duMaurier Classic in 2000. Mallon was on eight Solheim Cup teams and was chosen as captain for 2013. She was voted the Golf Writers Association of America Female Player of the Year in 1991.
"Meg Mallon has been a great player and a great contributor. She has been involved heavily in the game of golf," said Jack Nicklaus.
Ochoa won 27 times in just eight years on the LPGA Tour including ANA Inspiration (formerly the Nabisco Dinah Shore) in 2008 and the Women's British Open in 2007. She retired in 2010. She was LPGA Player of the year in 2006, 2007, 2008 and 2009, won the Vare Trophy for low scoring average in 2006, 2007, 2008 and 2009 and was leading money winner in 2006, 2007, and 2008. She won 44 national events in Mexico. After retirement she started the Lorena Ochoa Invitational event which is a part of the LPGA schedule. She is the first Mexican-born golfer to enter into the World Golf Hall of Fame.
"Being Mexican myself but being born in the United States, I've always been very proud of Lorena Ochoa, what she's accomplished and the way she's accomplished it with class and style. She is a role model for Mexican children," said Nancy Lopez.
"Lorena's record speaks for itself," said Annika Sorenstam. "She has so many awards, which just shows how much she contributed to the game. She has reached a demographic that we didn't see before."
Woosnam is perhaps less familiar to U.S. golf fans than he should be, given his record. He won the 1991 Masters and has 52 professional victories worldwide, 29 of them on the European Tour. He played at a time when European golf was being dominated by Colin Montgomerie, Nick Faldo, Bernhard Langer, Seve Ballesteros and Jose Maria Olazabal, which makes his European victory total more impressive. He was world No. 1 for 50 weeks in 1991 and 1992 and represented Europe in eight Ryder Cups. Woosnam is tied 1st with Jose Maria Olazabal in fourball matches won with 10 ½. He is tied 3rd for most fourball matches played. He is tied 7th in matches played with 31, and h e is 9th in points won with 16 ½. He was European Player of the Year in 1987 and 1990 and received the Order of the British Empire from Queen Elizabeth in 2006.
"Woosie got a lot out of his game. He was a great competitor and handled himself very well. He's been a great contributor to golf from the European side, and I'm delighted to have him inducted into the World Golf Hall of Fame," said Jack Nicklaus
Longhurst was a weekly columnist for the London Sunday Times for four decades. He also announced BBC golf as well as telecasts at the Masters and select CBS tournaments from the 1950s until his death in 1978.
"Henry Longhurst did something that no other journalist has done," said John Hopkins golf correspondent for The Times. "He proved to be as apt, succinct, colorful, informative and compelling to listen to as he had been to read. He captivated people. He has influenced golf in the same way as many Hall of Fame members. I'm really pleased that we have recognized his achievements."
According to the World Golf Hall of fame, the group of five was elected by the Hall of Fame's Selection Commission, which debated a group of 16 Finalists. The five members of the Class of 2017 had to receive 75% of votes by the committee of 16. The Selection Commission is co-chaired by Nancy Lopez, Jack Nicklaus, Gary Player and Annika Sorenstam and includes the Members of the World Golf Foundation Board of Directors as well as individuals selected by the committee for their knowledge of golfers and golf.
Candidates were:
Susie Berning
Johnny Farrell
Max Faulkner
Peggy Kirk Bell
Catherine Lacoste
Henry Longhurst
Davis Love III
Meg Mallon
Graham Marsh
Lorena Ochoa
Sandra Palmer
Calvin Peete
Samuel Ryder
Macdonald Smith
Jan Stephenson
Ian Woosnam
New members will be inducted Tuesday, September 26, 2017. There are now 155 members of the World Golf Hall of Fame.
More from Pro Golf Now
This article originally appeared on