Franklin Templeton Shootout: Stricker/Kelly To Team Up Again In 2017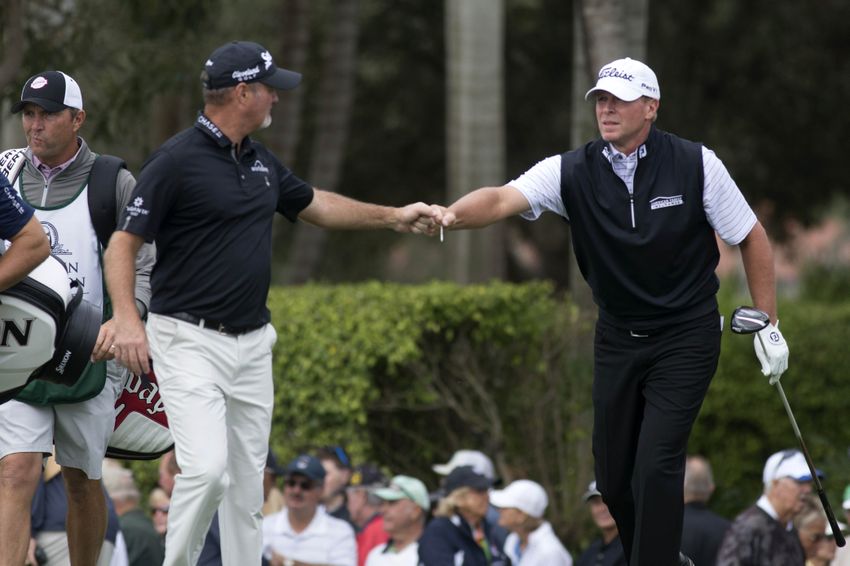 One of the more successful pairings at the Franklin Templeton Shootout over the years, Steve Stricker and Jerry Kelly intend on playing more team golf in 2017.
Steve Stricker and Jerry Kelly have teamed up eight times at the event now known as the Franklin Templeton Shootout, winning once. They were both in their early 40s when they began playing in the event together, and now both can play the Champions Tour in 2017 if they want to.
The good news for their fans is, despite aging up, they will keep the team together.
"We're going to play a couple more team events," Stricker said to media after the first round of the Shootout. "The Zurich Classic, I think we're going to team up together, and then out on the Champions Tour with the Bass Pro Shops. We're going to try to pull off the trifecta."
There's good reason for their excellent ham and egg teamwork in December because they are typically in Wisconsin with cold weather threatening every year before the Franklin Templeton Shootout.
"He was shaming me into it a little bit," Kelly admitted. "Normally I'm the one, C'mon, let's go."
This year Stricker was the early arrival, the Wednesday before the tournament, and Kelly waited until Sunday. Of course, the weather in the upper Midwest has not been particularly cold until ten days ago.
"I hit a few balls on Sunday and then we did the Monday, Tuesday, Wednesday thing," Kelly added. "I was happy to get a little extra work. I think I needed it, so it was good."
In their first round, they shot 56 in the scramble. They had so many birdies that they didn't even recount them in the post round interviews. The 56 was one off the tournament record of 55 shot by Jason Day and Cameron Tringale in 2014.
"We know everybody's going to get in the fairway and get on the green in this format, so it's really rolling in the putts," Kelly said about their excellent start. "I just need to do my job and hit solid putts so he can see where the line is and make it like he does."
"We both kept the pedal down all the way around, we never let up," Stricker said. "Usually we have little hiccups here and there or a little lull period and today that never happened. We just continued that good play every hole really."
In the final round, they were tied for the lead until Harris English made an eagle at the 17th hole to put the team of English and Matt Kuchar one ahead. So, for two who are almost ready to make the move to the PGA Tour Champions circuit, they acquitted themselves nicely.
They were asked about their ages compared to the rest of the field, too. Their combined ages this weekend were 98, while the ages of youngsters Bryson DeChambeau and Lexi Thompson total 44.
"We've made that joke with a bunch of the amateur guys that there's a couple of tandems here that their ages don't add up to either one of our ages," Kelly said. "Trust me, it's nothing we haven't already thought about."
In fact, they've played golf together since their junior golf days. Kelly's mother has the scrapbooks to prove it.
"I was going through one from way back," Kelly admitted, adding that he now can't recall what he was looking for in the scrapbook. There were pictures of both of them.
"I told him, it was him holding the trophy and me looking up at him," Kelly added. "It's back to junior golf days."
"It's very easy playing with Jerry," Stricker noted. "We know one another, we've played a lot of this event together and we know what to expect from one another. It's always fun, I always enjoy coming here and playing with him."
Stricker said there should probably be more teams beating them, because of their ages, but because they are compatible, they seem to do well.
"When you get along with your partner and enjoy being out there with him, it usually adds up to better scores," he concluded.
This article originally appeared on