Why LPGA players shouldn't be upset over Paulina Gretzky's cover shoot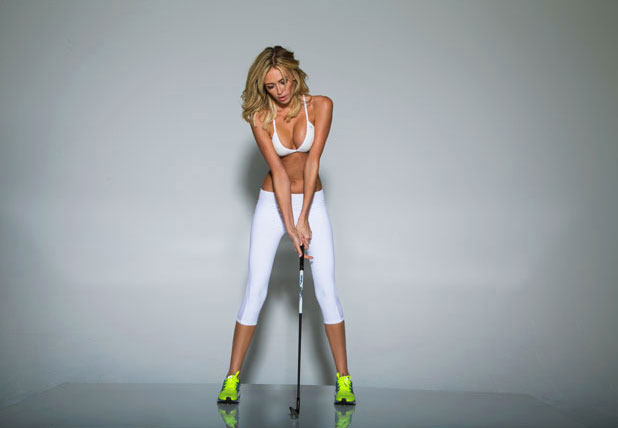 The first thing you'll notice is her grip. It's a tad on the strong side, which might lead to shots that are low and pulled to the left.
If you can get past that, you might also notice the white tights, the bikini top and the abs that roll about a 13 on the Stimpmeter.
Actually, millions of people have noticed things other than Paulina Gretzky's grip. Her photos and a cover shot grace the upcoming issue of Golf Digest. Like clockwork, the cheesecake has triggered "outrage and frustration."
That's how a host on "Good Morning America" put it Friday. Commentators have tisk-tisked over the fact Gretzky is not currently member of the LPGA Tour. But she has watched Caddyshack 12 times.
"It's frustrating for female golfers," Tour player Stacy Lewis told The New York Times. "We don't get the respect for being the golfers that we are."
Everybody needs to get to the nearest 19th hole and relax. There is definitely something wrong with these pictures, but that doesn't mean Martha Burk should revive her campaign and have Golf Digest banned from Augusta National.
On the outraged side, walk a mile in Lewis's spikes. You bust your butt, rise to the top of your profession and the sport's Bible puts a Paris Hilton clone on the cover?
It would be nice if we lived in a world where looks didn't matter. Nobody's had it worse than female golfers.
"The prototype image in the public's mind of a female athlete is not a pretty one," Lewis said. "This element is being shattered by our dressing better and appearing as feminine as possible at all times."
That's what an unnamed LPGA member said at a players meeting in 1961, according to the book Golf in America. Please note: there are attractive female golfers. But more than a half-century later, the image battle goes on.
"It's frustrating because it's Golf Digest; it's not Sports Illustrated's swimsuit issue," Juli Inkster said.
She hasn't picked up the magazine lately. There's still plenty of technical stuff like how to fix your slice. Those words have been on almost every cover since 1950. After billions of dollars of research, we're still no closer to a cure.
But Golf Digest has been re-styling itself to appeal to a younger audience. Or at least what advertisers think appeals to that demographic.
There are sleeker graphics and visual concepts. The April edition had six pages of swing tips from LPGA golfer Jessica Korda. The photos were a moody black-and-white that kids these days apparently like.
You wouldn't have seen that kind of spread in your father's Golf Digest. And there sure wasn't an annual Fitness issue, which served as a good excuse to stick a club in Gretzky's nimble hands.
"Sports figures, celebrities and models have appeared on Golf Digest covers since the magazine's beginning," Editor-in-Chief Jerry Tarde said. "Paulina ranks at the high end of the golf celebrity scene today, and she has a compelling story to tell. She might also get some new people interested in the game."
The game sure needs them. It has over-expanded but not really grown. Everybody in the industry worries what will happen when the Tiger Woods bubble bursts.
Call me a pig, but I'd rather see Wayne Gretzky's daughter on the cover than John Daly. And it's not as if she knows nothing about the sport. Paulina Gretzky is engaged to Dustin Johnson.
Okay, that's a reach. But nobody complained when Golf Digest put Jack Nicholson on the cover. Thankfully, he wasn't wearing white spandex tights.
Golf Digest denies it's just trying to sell magazines, but what if it was? Isn't that what magazines are supposed to do?
One thing it has accomplished is getting golf into the mainstream conversation. USA Today ran one of the Gretzky photos on its websiteFriday morning. It called Golf Digest later in the day asking for more.
No doubt, readers just wanted to get a closer look at her grip.