Woodshed Top 20 college football rankings: Week 10
Oh my, it took only one week to prove the playoff committee isn't thinking clearly, right?
Stop giving the SEC so much love! I mean, is there anyone other than the kids at Gatsby's in College Station who thinks the Aggies deserve a spot in college playoffs? TAMU lost to Mississippi State this weekend, and that is all the talk I want to hear about the SEC.
It's Alabama on its own level, then everyone else. I know, the SEC fans think that there should be two SEC teams in the playoff, but the truth is this is a down year for the SEC, and the Big Ten and ACC are better this year.
Now, if you're going to put a one-loss team into the playoff ahead of Washington, it should be Louisville. But if you're going to go on resume, it should be Ohio State, because of its wins over Oklahoma, Wisconsin and Nebraska, all ranked opponents. I have seen enough football to say Alabama, Michigan, Clemson, Louisville, Washington and Ohio State are the best teams in the country. Everybody else is just playing for a nice bowl trip.
I would love to expand the playoffs to six teams. We already know the top two teams, but three through six are pretty close. I'd rather see them duke it out to play the No. 1 and 2 seeds.
I know the talk this week in the office is a bit somber. Didn't every Gators fan know going into the brawl with Arkansas that Bret Bielema wins in November?
And since we're talking coaches who are on the hot seat, how about Navy beating Notre Dame? The Irish may want to fire Brian Kelly, but before they do that, who is available to save them? Nobody.
Just think if Notre Dame were in the Big Ten West Division with Wisconsin and Nebraska, then they would still have something to play for.
1. ALABAMA
The game of the week was a heavyweight bout in Death Valley with LSU, and the game did not disappoint. Alabama may have the best defense ever assembled, they are that dominant right now. The Tide prevented the 13th-ranked Tigers from getting inside the 30-yard line all day. Talk about playing lights out, that's when you just start punting on third down to get field position. That's what Jim Tressel would have done in a game like that.
LSU's Leonard Fournette was held to 35 yards on 17 carries, and his longest run of the day was 9 yards. The Tigers were held to 125 yards of offense. And for some reason, Fournette went on a media blackout before and after the game. But let's be honest, LSU is playing with a quarterback from Purdue. Somehow, I don't think that's going to get it done.
I've said all along that Alabama can be beaten, all you have to do is shut down the run and force Jalen Hurts to pass. Hurts finally broke through for the game's only touchdown on a 21-yard scamper. Hurts was the leading rusher with 114 yards, which seems like a quiet day for Hurts. LSU's defense has the athletes to compete, which made this game a fight all night long.
The only other teams with the defenses that can stop Alabama are in the Big Ten — Michigan and Ohio State. An interesting scenario here: it's possible both TAMU and LSU could lose more games, therefore leaving the Tide with zero signature wins. Lucky for them they pass the eye test.
2. MICHIGAN
I will say this, Michigan is playing lights out. Didn't you see the 59-3 drubbing of Maryland? But if you're just watching the scoreboard, you should know that the scores are being run up on purpose to fool your vote. The "fack" is that Jim Harbaugh is playing for that playoff committee vote against teams that are not very strong. This was the most boring 59 points on the board I think I've ever seen. It was too easy for UM.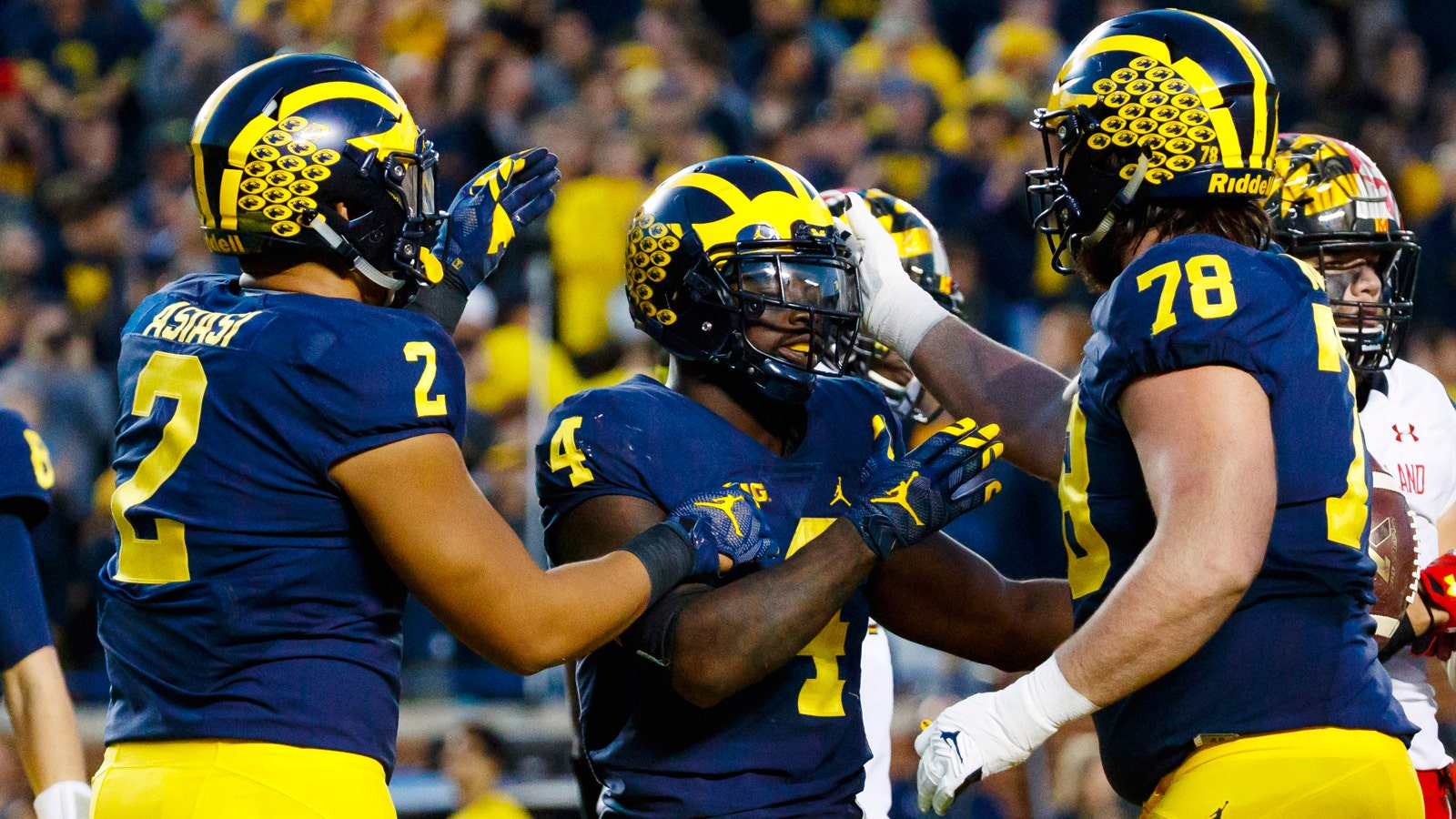 Jake Butt is the best receiving tight end in the country. Butt, who loved the Buckeyes growing up, has found his place in Michigan history as the school's all-time leading receiver at the position with 1,521 yards.
The play-by-play announcers are saying this is the type of offense to run in college these days? Is it? Jim Harbaugh is the savior to football offenses? I know I'm in the minority when I say this, but Michigan's only impressive victory is over Wisconsin, and that was 14-7 at home. Harbaugh is actually saying that his quarterback, Wilton Speight, is a Heisman candidate because he threw for 362 yards and three touchdowns against Maryland? Really? Cris Carter coined the perfect phrase, "C'mon Man." I can buy the Jabrill Peppers campaign, that kid has you looking for his number every time he walks onto the field. If you're on the field, you hold your breath when he touches the ball.
All you need to know is Michigan's season is going to come down to THE GAME in Columbus at the end of the year. It's been decades since this game meant something as far as the Big Ten crown and playoffs are concerned. Only five of the 12 teams in the Big Ten have competed in the title game, and Michigan isn't one of them. Ohio State can play the ultimate spoiler by beating the Wolverines and make them watch the title game and playoffs with one loss, the role the Spartans played the year before with OSU. Oh, the Wolverines head for the pink locker rooms of Iowa this week.
3. CLEMSON
The Tigers are rolling along in very similar fashion to last year. Deshaun Watson was effective while he was on the field against Syracuse, throwing for two touchdowns before missing the rest of the game with a bruised shoulder. He won't win the Heisman because his numbers aren't there, but Watson is the guy I want when November comes calling. The Tigers pounced on the Syracuse Orange by the score of 54-0. Everybody wants style points now a days. What was more impressive was the defense throwing up the goose egg. Syracuse's QB Eric Dungey was leading the ACC in passing yards before getting knocked out of the game by Clemson's Dorian O'Daniel. The bottom line is that Clemson is in unless North Carolina creates chaos in the ACC title game.
4. OHIO STATE
Ever since the Penn State loss, I was totally suspect on the Buckeyes offense. I believe they found some offense with 590 yards. I have the Buckeyes ranked back in the top four for one reason. RESUME! See below! The Buckeyes smoked the Cornhuskers 62-3. Those are what you call style points, especially when the Huskers were ranked 10th in the nation. If the committee wants to be in love with a one-loss team over the Washington Huskies, then it should be Ohio State, whose one loss came in front of 107,000 fans at State College. And don't look now, but Penn State is ranked 12th according to the AP. OSU's offense was in question going into the Nebraska game under the lights. No, those throwback uniforms were not as cool as Nike hoped, but what was cool was that OSU never punted and it seems that J.T. Barrett can throw the ball when called upon. OSU's defense set a record for defensive touchdowns in a season as well. The Buckeyes returned two more interceptions for touchdowns. By the way, I'm OK with alternate throwback uniforms, but stop messing with the iconic helmet. Did somebody mention iconic helmets? OSU gets Maryland this week after their beat down in Ann Arbor. It's a great time to be a Terps fan!
5. LOUISVILLE
Lamar "Action" Jackson is just flat out balling against the ACC competition. The victim this week was Boston College. Super Lamar ran for three touchdowns and threw for four more in just three quarters of action. It's a good thing I don't have one of those shows where I tell people that they are going to lose. Lamar Jackson is the soon-to-be Heisman winner if they win out. He has 26 touchdowns thus far, and his highlight reel is Superman like. The Cards host Wake Forest this week. Their last three games are better tests than they've had since Clemson, so we'll get to see more explosive numbers and scores from the Jackson show. The Cards better hope the Gators don't beat the Seminoles at the end of the year, or else they may be looking at a terrible resume.
6. WASHINGTON
I know they are unbeaten and ranked higher in the AP poll. But the fact is Washington has only beaten one ranked team — Utah. And if you correct me by saying Stanford was ranked, that doesn't count because I go by where the teams are ranked now, not at the beginning of the season. Let's face it, the committee feels the same way as I do. Washington is good, I just don't know how good. The Huskies' Jake Browning threw for 373 yards and six touchdowns last weekend on the road at California and might creep into the Heisman race. The Bears were giving up over 500 yards and 41 points per game, so don't be surprised by the 66-27 outcome. The Huskies host the USC Trojans this week. USC may have the talent to play with them, but I am suspect on whether or not they have the coaching. November is the month you win championships. The Huskies have four more games to see if they can remain perfect.
7. WISCONSIN
The Badgers win over LSU has them ranked this high for a reason. Wisconsin's only losses are to No. 2 Michigan and No. 5 Ohio State. Wisky beat Northwestern 21-7 in Evanston where they had not won in their previous four tries. The Badgers are the best 7-2 team out there right now. Bucky Badger is past the tough part of the schedule, so they should win out and be in Indianapolis awaiting the winner of Ohio State vs. Michigan.
8. AUBURN
Vanderbilt gave Auburn quite the spook on Saturday, with the Tigers prevailing 23-16. It's OK Auburn fans, Vanderbilt gave Florida the same scare. The Commodores have been close to winning for three weeks now. Down 13-10 at the half, enter Auburn's Sean White in the hero role. White had been sitting out due to nagging injuries, but was called upon to get his team the victory. The Tigers go to Georgia this week. We will see if Auburn has truly turned their season around for the better. This victory wasn't sexy by any means, if anything, it has tainted the SEC waters when it comes to polls and committee votes.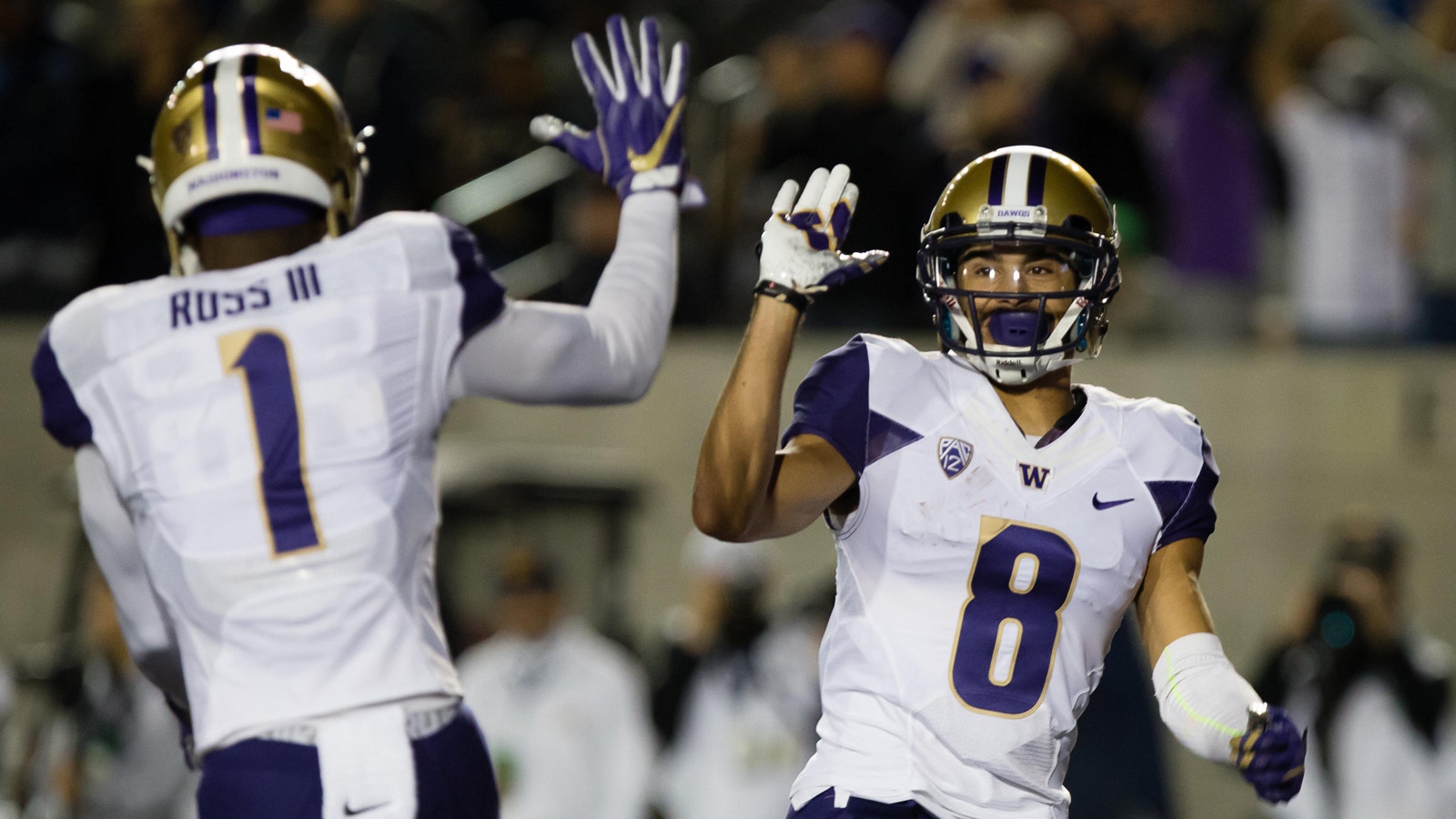 9. OKLAHOMA
The Sooners quietly just keep winning ball games in the Big 12. The final three games for Bob Stoops' team are Baylor, West Virginia and Oklahoma State. The bottom line for Baylor is that their season is over. I know Baylor fans want to think they are better than they are, but the fact is they just lost to Texas and TCU, both teams Oklahoma took care of earlier in the season. If I can steal a phrase often heard during interviews, "Like I said," Oklahoma is the only team in the Big 12 worth talking about. The Sooners will be playing in a nice bowl. Just pray they get to line up against a Pac-12 team so they can have a shot at winning.
10. PENN STATE
Don't look now, but the Nittany Lions are in the thick of the Big Ten East Division Title race. If both Penn State and Ohio State win out and tie Michigan in the division, the Buckeyes go to the Big Ten title game, not Penn State because of overall record. If Michigan were to somehow lose two, then it would be Penn State because the tiebreaker would be head to head. Either way, does it matter? Penn State has had a great season. Man, if they didn't have that loss to those Pitt Panthers, they'd be sitting just fine.
11. UTAH
I'm not a fan of the Pac-12. I'm suspect on whether the Utes can rebound from their loss to Washington. The fact is, Utah doesn't have any signature victories. The best they can say is they took the Huskies to the final quarter before faltering. The loss to Cal killed their playoff hopes.
12. NORTH CAROLINA
The Tar Heels are doing what they can to play spoiler in the ACC title game vs. Clemson. UNC smacked Georgia Tech around 48-20 in Chapel Hill this past weekend. Carolina Blue collected 636 yards of offense. It helps when Elijah Hood is healthy and able to run the ball. Hood ran for 168 yards and three touchdowns. Mitch Trubisky who at one time was being recruited by Urban Meyer, had another 300-yard passing performance. Next up are those Blue Devils from across town for a Thursday night tilt.
13. COLORADO
I don't know if the Buffaloes are really this good. It seems that the Pac-12 isn't very competitive, so it's really hard to measure. They have not beaten anybody of substance this year, so I'm more than suspect with rating them so high. Basically from this point on, does it really matter? Colorado faces Utah in three weeks for the Pac-12 South division title. That's if they can beat Arizona this week in Tucson. Rich Rodriguez is always good for a one doozy a year.
14. TEXAS A&M
The Aggies have fallen on hard times, losing to Mississippi State 35-28 on Saturday. Aggies QB Trevor Knight was knocked out of the game in the second quarter with a shoulder injury. It wasn't the only beating going on — 6-foot-5, 230-pound Bulldogs quarterback Nick Fitzgerald punished the Aggies on the ground. The Bulldog attack had 365 yards rushing. The game-winning touchdown came on 14-play drive that included 10 straight running plays. I wouldn't be surprised to see TAMU fold the tent on the season. Texas A&M has two tough games remaining in Ole Miss and LSU; both teams have better offenses than MSU. I'd be settling up to the bar at Gatsby's if I were a fan. It's going to be a long three weeks.
15. LSU
Where did Leonard Fournette disappear to? He didn't talk to the media the week of or after the game, and he didn't let his game do the talking either. It's not his fault. Alabama was just that much better; the defense swallowed him whole. The Tigers defense played out of their minds. To hold the Tide to a zero-zero score going into the fourth quarter is a consolation prize like one found in a Cracker Jack box. It's alright Tigers fans, did you really think you'd be able to win with a Purdue quarterback not named Drew Brees? If the Tigers had better quarterback play, defenses wouldn't stack the box like they did for Fournette. And if you're Fournette, you're going to get the same treatment in the NFL. Just ask Adrian Peterson. You will have to find a way to deal with it.
16. NEBRASKA
Even Urban Meyer himself didn't see that result coming on Saturday night. If you're a Cornhuskers fan, you just have to wonder if your program will ever be as elite as OSU or Michigan. In the 62-3 loss, both Tommy Armstrong Jr. and backup QB Ryker Fyfe threw pick sixes. That's why the score got out of hand. Ohio State dominated like they dominated Oklahoma earlier in the year. Tommy Armstrong Jr. had a scare when he was knocked out after hitting the ground on a run near the Nebraska sideline. It was a scary moment for everybody watching on television and for those in the stadium. Tommy is Nebraska's warrior, and for him to go down like that, you can see why the score can get out of hand pretty quickly. Nebraska has plenty to play for as it battles Wisconsin for the right to play in Indianapolis. Wouldn't it be nice if there were an Oklahoma or Notre Dame to compete for that western Big Ten division title?
17. WESTERN MICHIGAN
Just because a team is unbeaten doesn't mean they're a top 10 team. I know everybody wants to keep putting the Broncos up higher in the polls, but let's put the brakes on. Do you really think they can compete with LSU or Florida State? The Broncos pounded Ball State 52-20 last week. They will have to do the same if they want to get themselves into a nicer bowl game. At least WMU played the toughest schedule it could find and did what it had to do by winning.
18. FLORIDA STATE
It doesn't matter how many losses Jimbo Fisher collects the rest of the way. The Seminoles are still the best team in the state of Florida. I know Gators fans won't want to listen to this fact, or watch Showtime for that matter, but it's true. The Gators have a loss coming at the hands of the 'Noles in a couple weeks. It's better you just accept it now, so you can enjoy your Thanksgiving dinner. Despite the three losses, the 'Noles can beat anybody who's not in the top 10. I actually would like to see Florida State vs. Louisiana State in a bowl game.
19. FLORIDA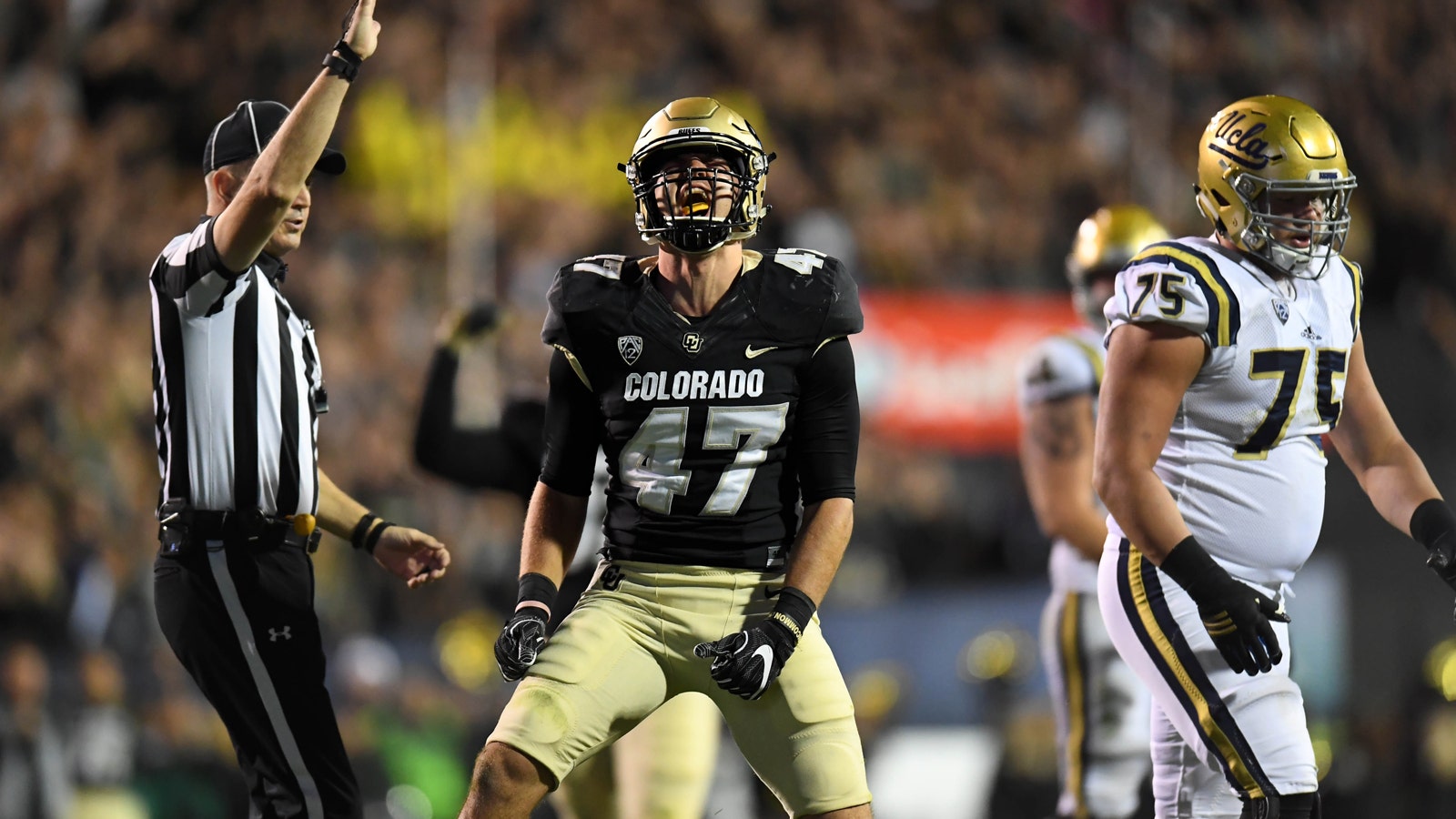 Do you remember when Gators fans were hurting their brains about how they could sneak into Atlanta and play for the SEC title? Now that Hurricane Matthew rescheduling looks like Death Valley may be the place where Florida's East title hopes go to RIP. Listen, I told you to look out for Bret Bielema in November, he is just bound to win when he has to. But let's not kid ourselves here, the Gators are average at best with elite talent at some positions. The Gators can't look past South Carolina in the Muschamp Bowl or else ATL is bye-bye. By the way, the Kentucky Wildcats are on top of the East. WHAAAAAT? Please let that sink in a bit. Kentucky football. Yawn.
20. WEST VIRGINIA
I ran into my Mountaineers friend this weekend who is just tickled pink that they still haven't fallen off of the map. West Virginia just hasn't played the big boys in the Big 12 yet. The boys in Morgantown face Texas and Oklahoma these next two weeks. I don't want to be a Debbie Downer here, but there's a 90 percent chance they lose both of those games. I hope I'm wrong, because Mountaineers fans are the best.