Watch IMG Academy vs. Godby on Aug. 23 live on Sun Sports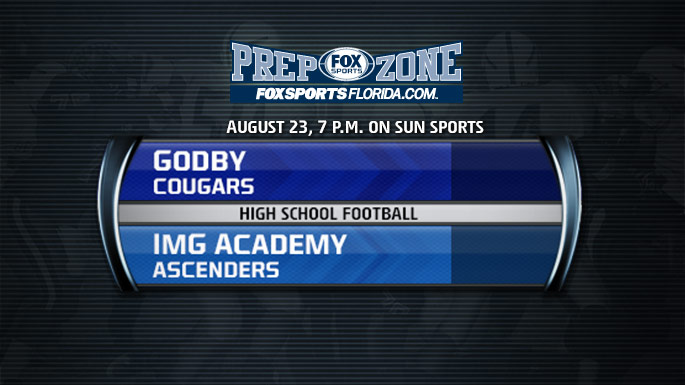 TAMPA, Fla. — Sun Sports announced today they will be televising the second annual FOX Sports Florida Kickoff Classic at IMG Academy Stadium statewide on the network on Saturday, Aug. 23, at 7:00 p.m.
Prep Zone will be in Manatee County for a preseason showdown between Tallahassee's Godby and host IMG Academy. This is the second year of the Classic being held in the Tampa region. Veteran sportscaster Dave Reynolds will call the game, alongside color commentator John Kaleo, with Roxanne Wilder reporting from the sidelines.
The 2012 Class 5A state champion Godby Cougars were shocked in the opening round of last season's state playoffs and are determined to put that disappointing finish to rest in 2014. Godby lost a significant amount of talent to graduation, but will be keyed on offense by 5-foot-9 speedster Jaylin Hayward (Florida State, LSU, Miami), who will take over the reins at running back after averaging 10.1 yards per carry and scoring eight touchdowns in limited carries last season. Massive 6-foot-6, 282-pound senior offensive lineman Brendan Loftus (Miami) will anchor the front line. Defensively, 6-foot-2, 220-pound senior linebacker Danny Thomas (South Florida) will provide leadership for a young unit.
The independent Ascenders, coached by former Florida State and NFL quarterback Chris Weinke, have a multitude of top recruits, led by 6-foot-2,195-pound dual threat quarterback Deondre Francois (Florida State). IMG also boasts an excellent offensive line with four top commits: 6-foot-5, 305-pound Tyree St. Louis (Miami); 6-foot-5, 278-pound Mirko Jurkovic (Nebraska); 6-foot-5, 315-pound Evan Mallory (Cincinnati); and 6-foot-4, 295-pound Miki Fifita (Oregon State). Defensively, the Ascenders are just as formidable up front with 6-foot-4, 292-pound tackle Hjalte Froholdt (Arkansas) and 6-foot-5, 237-pound end Scott Patchan (Miami).
Additional details and ticket information can be found at: www.imgacademy.com
About FOX Sports Florida / FOX's Sun Sports
FOX Sports Florida and Sun Sports are the regional television homes of the Orlando Magic, Tampa Bay Rays, Miami HEAT, Miami Marlins, Tampa Bay Lightning and the Florida Panthers. The regional sports networks are available in more than 6.5 million cable & satellite homes across the state. FOX Sports Florida and Sun Sports are committed to making a positive impact in the communities we serve by engaging our audiences and providing award winning TV and web coverage of Florida's hometown sports teams. For more information, channel listings and how you can get involved with FOX Sports Florida / Sun Sports, visit www.FOXSportsFlorida.com
About OUR TEAM
OUR TEAM Management Group, LLC is a Tampa-based sports marketing agency that specializes in high school programming, content development, television and live stream production, event management, and sponsorship sales. The primary focus of OUR TEAM's high school content is celebrating the athletes and the community organizations that support them. For more information, visit www.ourteamhq.com