Tampa Bay Lightning midseason review: Among the NHL's best
TAMPA, Fla. — They knew there would be no surprises. They knew they would no longer lurk as an unknown, with the NHL well aware of what the Tampa Bay Lightning can do after their run to the Stanley Cup Playoffs last spring.
They knew this season would be different. They knew they had to evolve and learn to thrive as the hunted instead of the one poised to attack.
They came, they saw, they adjusted. So far, they've been good.
Now the largest question of all: Can their momentum continue?
The Lightning have reached the season's halfway point in strong shape. Their 54 points place them in a tie with the Montreal Canadiens atop the Eastern Conference. Only the Anaheim Ducks have more with 58. These Lightning aren't perfect. But they've excelled at home (15-4-1), and they've fared well on the road (10-8-3). They've won with flash and with grit. They've proven to be versatile.
Their challenge, in many ways, has only begun. Nothing is guaranteed through 41 games, and the trek ahead can prove as hard as the footsteps left behind. Ben Bishop must stay healthy. The electric line of Tyler Johnson, Ondrej Palat and Nikita Kucherov must stay charged. Steven Stamkos must assert himself as one of the league's most elite names. There can be no sustained skids or valuable ground gained will be lost.
But it's worth looking back at what has been done. Who can forget Johnson's contributions? Or Kucherov's emergence? Who can forget the piercing roar at Amalie Arena when Tampa Bay toppled an old franchise face, Marty St. Louis? Or the buzz that came with Jonathan Drouin's arrival?
More memories will be created, more lessons learned, more obstacles formed to overcome. But already, there's plenty etched in the mind.
Here's a glance back at the season's first half …
MIDSEASON MVP
Tyler Johnson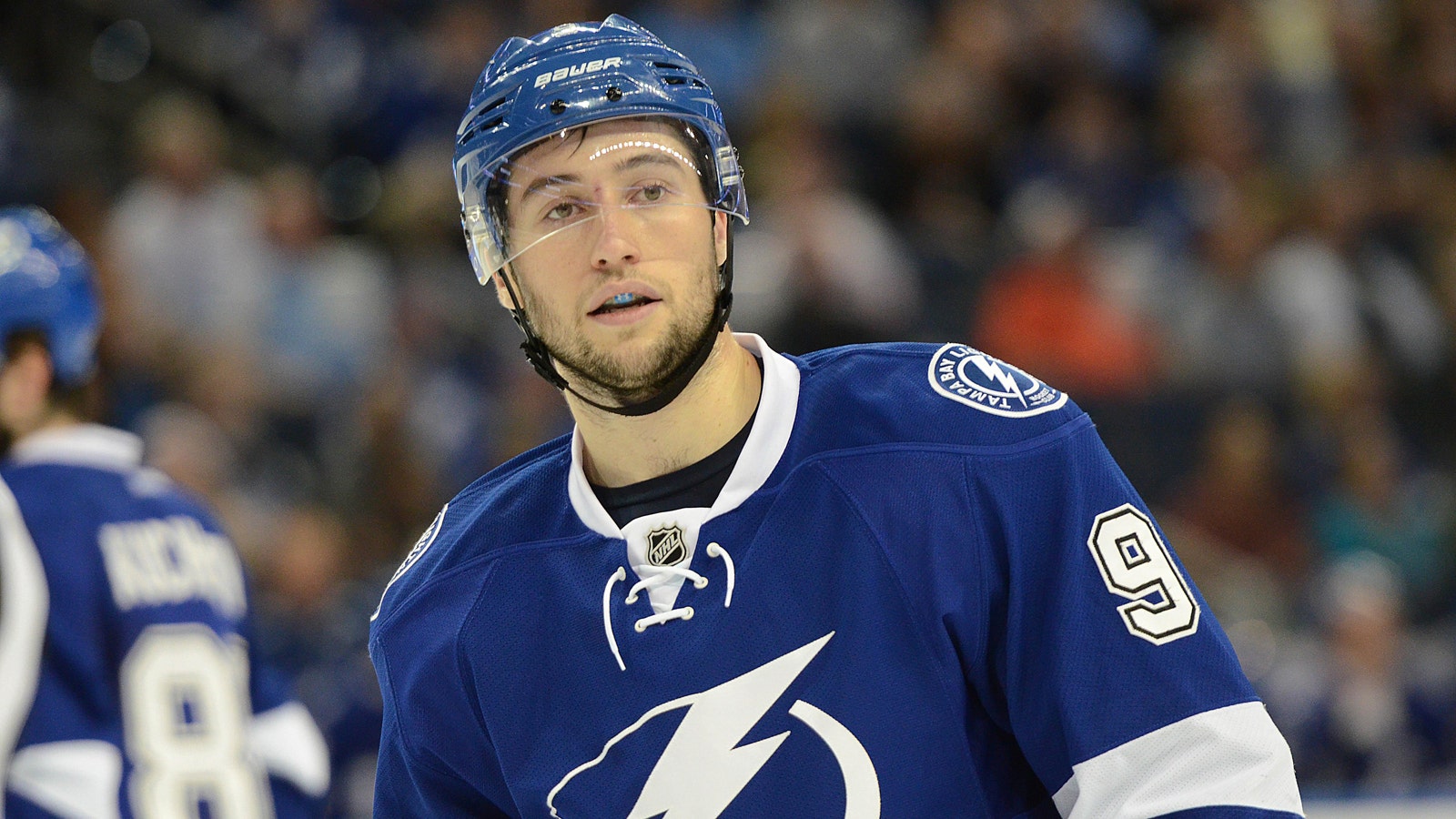 A Calder Trophy finalist in 2013-14, Johnson continues to impress.
He leads the Lightning in points (43) and assists (28) in 40 games played. He has starred within a dynamic line that includes Kucherov and Palat, another Calder Trophy from last season, to give Tampa Bay a spark often. Outside of Stamkos, who has a team-high 21 goals, Johnson has become the most likely to threaten an opponent's net. Stamkos leads Tampa Bay with 136 shot attempts, but Johnson follows with 107.
At 24 years old, Johnson is still growing as an NHL player, and it's enticing to consider what he can become. He has passed the 26 assists he totaled last season, and with 15 goals this campaign, he needs nine more to tie the total from his rookie year.
BIGGEST SURPRISE
Nikita Kucherov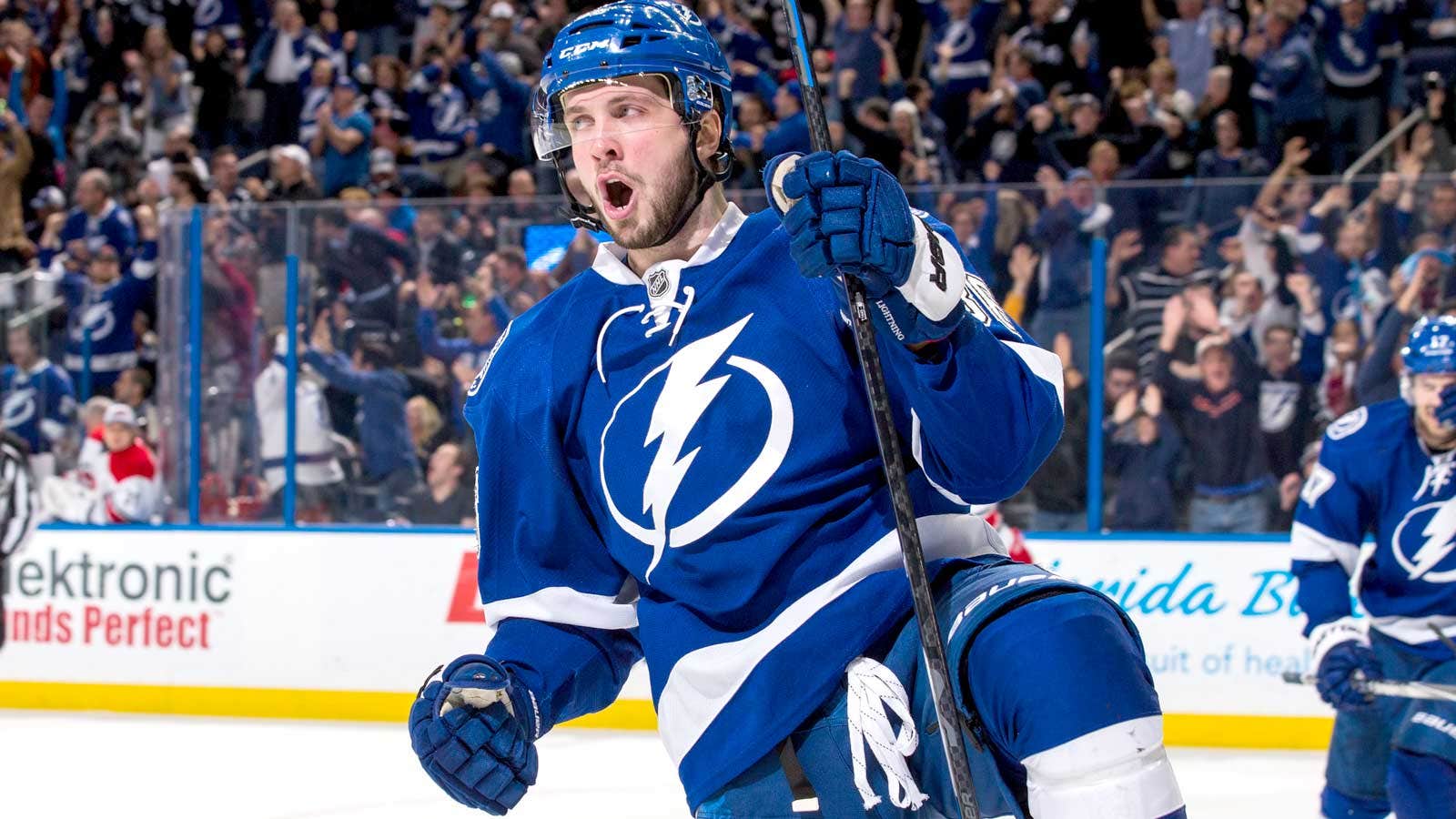 Talk about making himself known. Kucherov stands second on the Lightning in goals scored (17), assists (22) and points (39).
In 41 games played, the Moscow native already has passed the nine goals and nine assists he totaled in 52 games in the 2013-14 season. A major reason for the rise is that Kucherov has become more aggressive with the puck. He has 91 shots on goal, a total that's just 11 fewer than he produced all of the previous campaign.
It's clear playing with Johnson and Palat has made him more confident, and at 21 years old, Kucherov's youthful energy is a plus. The best part: He should become even better with time.
BEST MOMENT
Beating the New York Rangers in Marty St. Louis' return to Tampa on Nov. 26
This was a red-letter day, one that was anticipated since the former Lightning captain demanded a trade to the Rangers last March.
St. Louis, who spent 13 seasons with Tampa Bay, was the headline attraction at Amalie Arena as he was greeted with a mix of cheers and boos. But Ryan Callahan, a former Rangers captain, was the one who stole the show. He had two goals and one assist to help lift the Lightning to a 4-3 victory within a charged environment.
An odd moment in Tampa Bay history was, at last, placed in the past for good. There was some semblance of closure for all parties involved, and as night gave way to the early morning hours, St. Louis and his former team parted ways once again.
TOP ROOKIE
Jonathan Drouin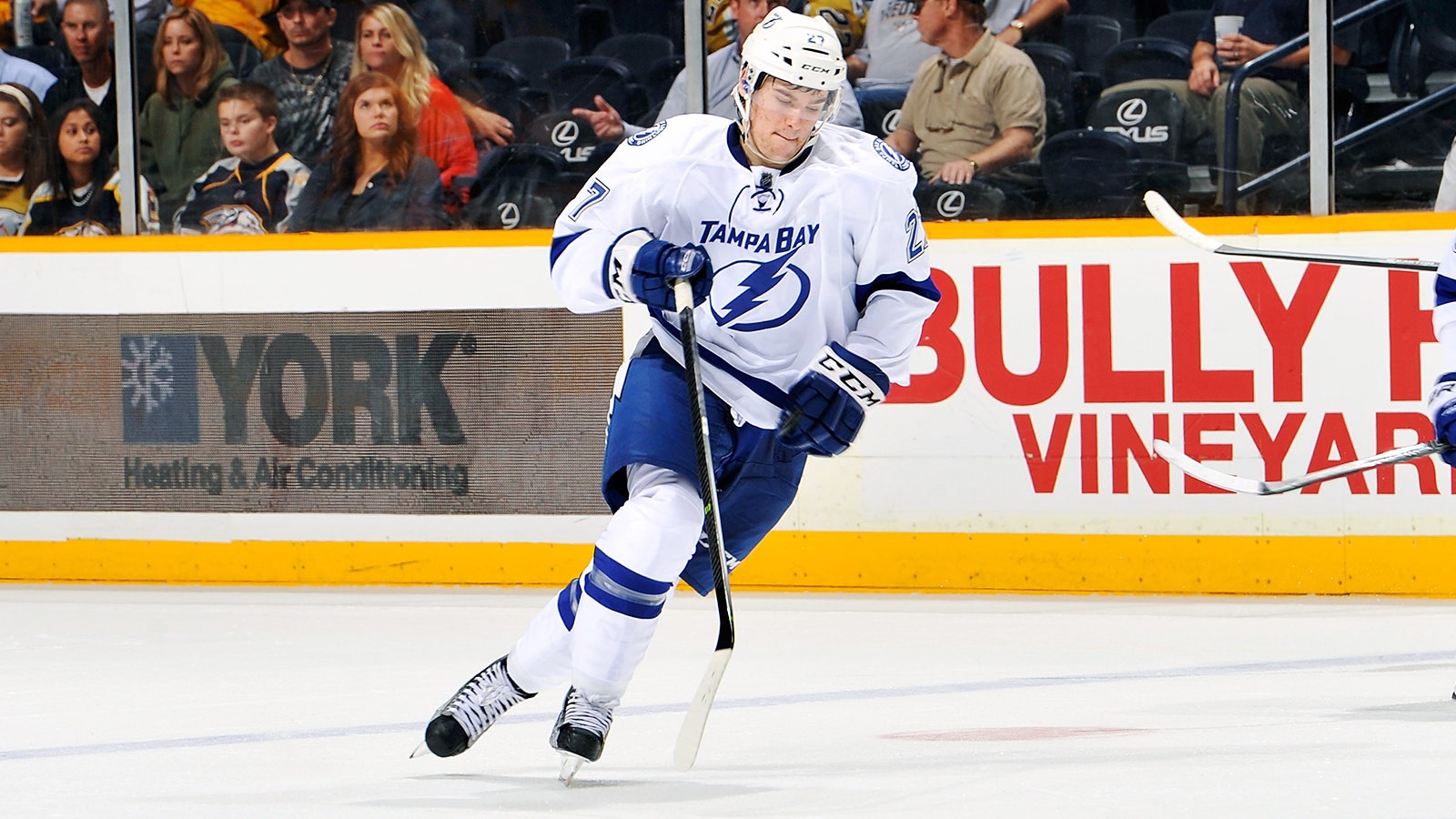 He hasn't been as much of a difference-maker as expected, but there's time for Drouin to mature into a complementary piece in Tampa Bay's push for the playoffs.
He has two goals and 13 assists in 31 games played this season. His assist total ranks fourth among NHL rookies — 10 behind the leader — the Nashville Predators' Filip Forsberg. Drouin must become more aggressive in the corners, and though much attention was paid to his early healthy scratches, there's nothing wrong with allowing him to receive a different perspective of the action to help him grow as an NHL player.
Drouin, with the early hype behind him, should feel less pressure in the second half.
KEEP AN EYE ON
Ben Bishop's health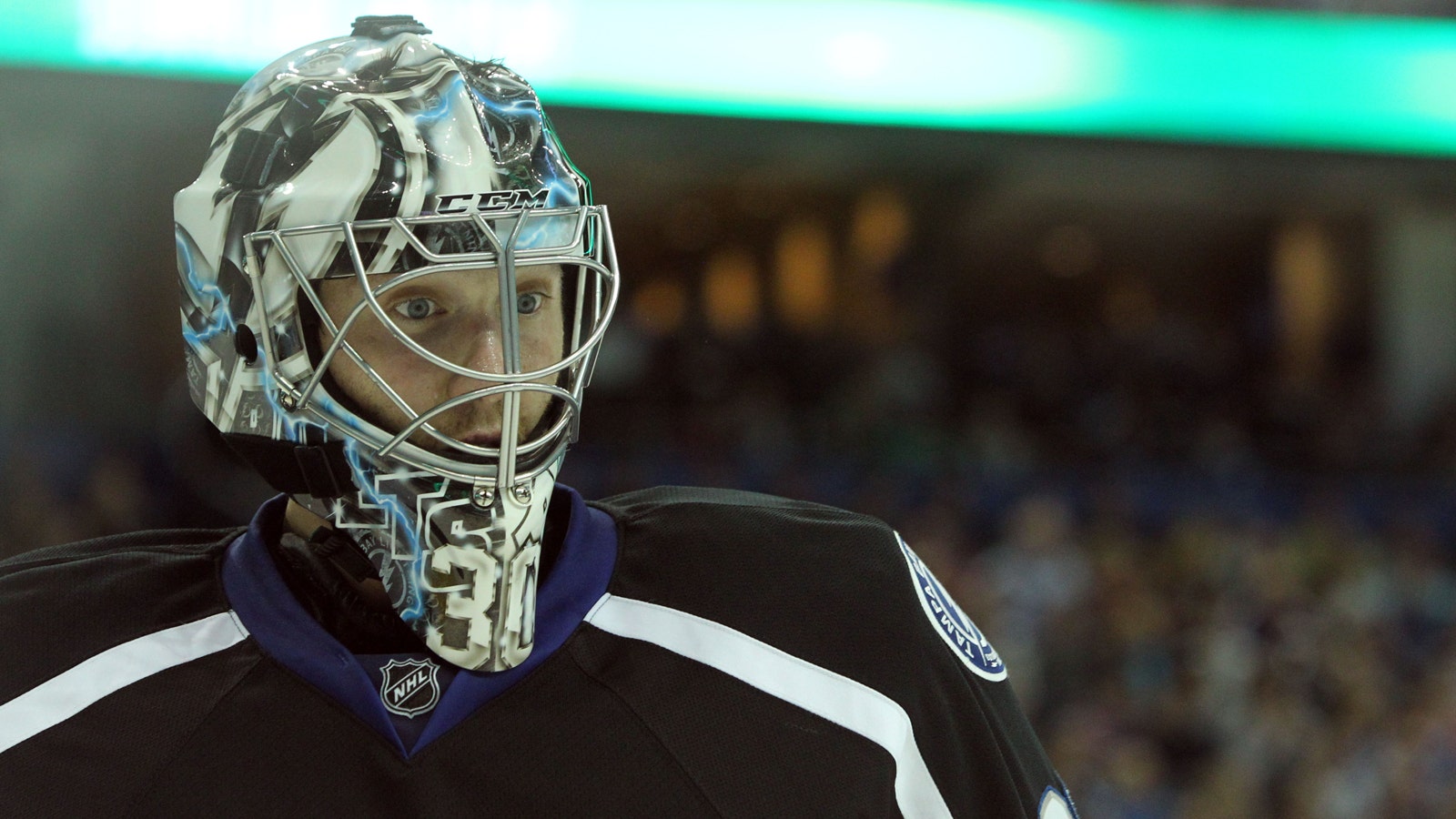 It's no secret that keeping Bishop healthy is crucial to any hopes the Lightning have of reaching the postseason and advancing deep within the Stanley Cup Playoffs.
He's 19-6-2 with a 2.37 goals-against average and a .911 save percentage in 30 games played this season. Many of his numbers are on pace to be similar to when he was a Vezina Trophy finalist last season and finished 37-14-7 with a 2.23 goals-against average and a .924 save percentage. He missed four games in December with a lower-body injury, and though Tampa Bay went 2-2 without him, there's a clear drop in ability between him and reserve goaltender Evgeni Nabokov, who's 3-5-2 with a 2.83 goals-against average and an .892 save percentage.
Achieving a balance between preservation and maximizing Bishop's potential will be key late.
SECOND-HALF PROJECTION
Barring a wild collapse, the Lightning look primed to reach the postseason in consecutive seasons for the first time since clinching a berth in the Stanley Cup Playoffs in four straight campaigns from 2002-03 to 2006-07. Still, there should be motivation to avoid a prolonged slide. There's that tie with the Canadiens atop the Eastern Conference. And the Pittsburgh Penguins and New York Islanders are close with 53 points each. The Detroit Red Wings follow with 49, and the Washington Capitals sit with 47.
Securing home ice advantage throughout the postseason should be Tampa Bay's goal. The Lightning's four losses at home in regulation are tied for second fewest in the NHL, and if they can make the road to the Stanley Cup Final go through Tampa, their future could be bright.
You can follow Andrew Astleford on Twitter @aastleford or email him at aastleford@gmail.com.