Tampa Bay Lightning at Ottawa Senators game preview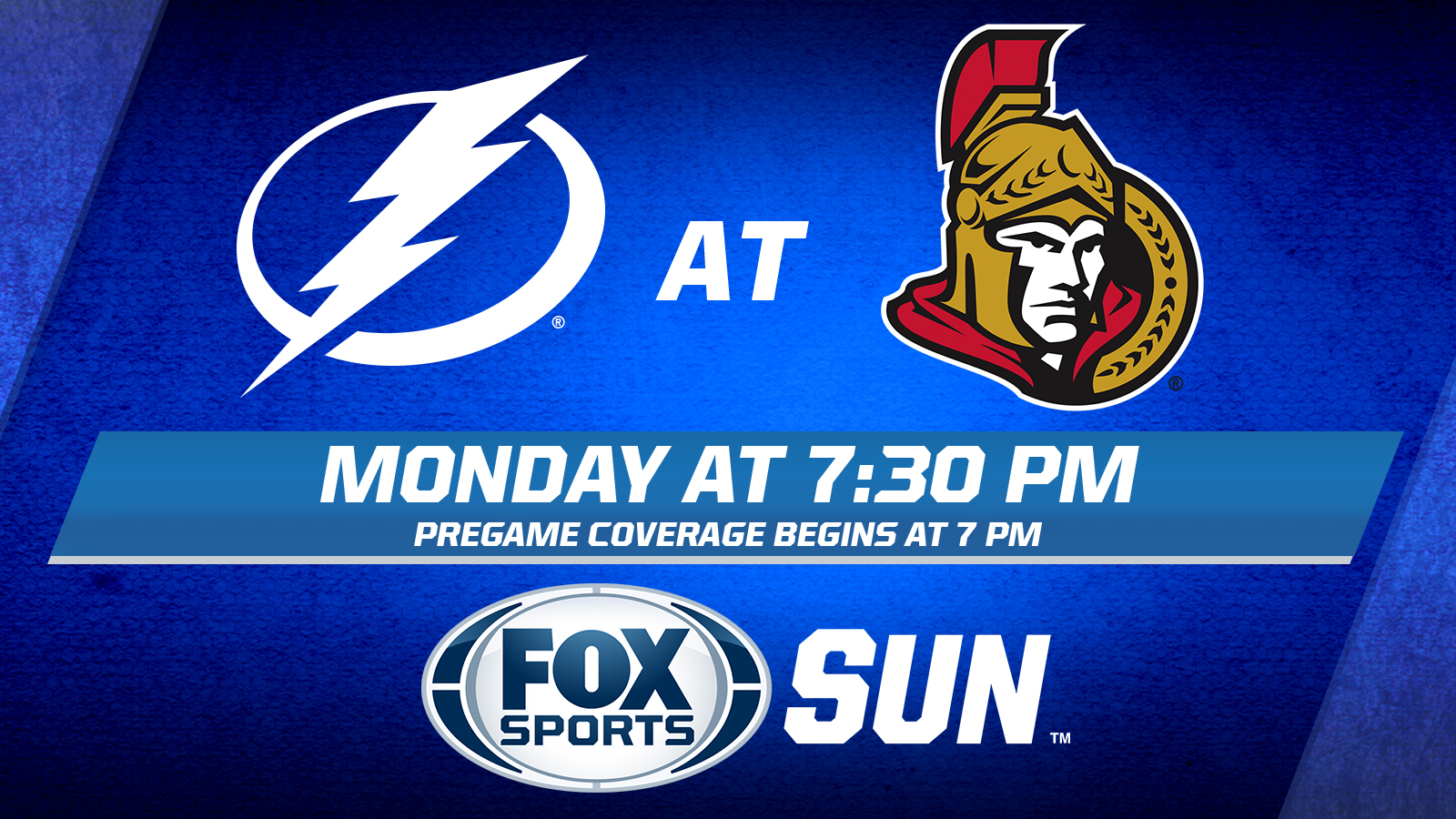 An improved offense has helped pace the Tampa Bay Lightning's most successful stretch of the season. They had little trouble finding the back of the net while winning the first two meetings with the Ottawa Senators in 2015-16.
The visiting Lightning look to win for the 11th time in 12 games Monday night against the Senators.
Tampa Bay (29-18-4) is averaging 3.5 goals during its 10-1-0 stretch – one goal more than through the first 40 contests.
"I think we all believe that we have a pretty good offense when we're rolling," forward Tyler Johnson said after posting a goal and two assists in Friday's 6-3 victory over Pittsburgh.
"I don't know if we've seen that throughout the entire season, but for this last streak I think the offense has been alive."
The Lightning recorded a season high for goals in their 6-3 win at Boston on Oct. 12, and have matched it twice in the last six games. They've also gone 6 for 20 on the power play in the last five after going 2 for 21 in the previous eight.
"It's just been fun," said Johnson, who has three of his seven goals and five assists in nine contests. "We've been having a good time, and we've just got to keep on going and try to get better."
Tampa Bay's lone defeat over the last month came 5-2 at Florida in its most recent road game Jan. 23. The Lightning visit the Senators (24-23-6) for the first time in 2015-16 after outscoring them 9-3 in winning both matchups at home. Tampa Bay has earned at least one point in eight straight in this series.
Nikita Kucherov has recorded four of his team-leading 45 points with two goals and two assists against Ottawa. Teammate and ex-Senator Ben Bishop has posted a 1.62 goals-against average during a 4-0-2 stretch against his former team.
Ottawa had dropped three in a row and five of six before rolling to a 6-1 home victory over Toronto on Saturday. Two nights after the Senators held a players' meeting following an embarrassing 7-2 loss to Edmonton, Curtis Lazar recorded his first career two-goal game and Erik Karlsson had four assists as they won for the sixth time in 17 games.
"It was a different mindset," said Ottawa's Craig Anderson, who looked solid while making 26 saves after yielding 12 goals in the previous three contests. "I think we've had enough of the (losses) and we were sick and tired of it and our mindset (Saturday) was a complete 180."
After allowing their previous three opponents to go 6 for 10 on the power play, the Senators killed all four penalties against the Maple Leafs.
Though Ottawa's struggles were momentarily halted, it still hasn't won back-to-back home contests since a five-game run Dec. 3-27.
"We can't get too high when we win one game just like we can't get too low when we lose one," said Karlsson, who has recorded 12 of his NHL-leading 48 assists in the last nine games. "For us, it was about hitting that reset button."
Karlsson has a goal and no assists in his last three against Tampa Bay.
Anderson's yielded three goals each during a 1-2-1 stretch against the Lightning.