Oklahoma City Thunder at Miami Heat game preview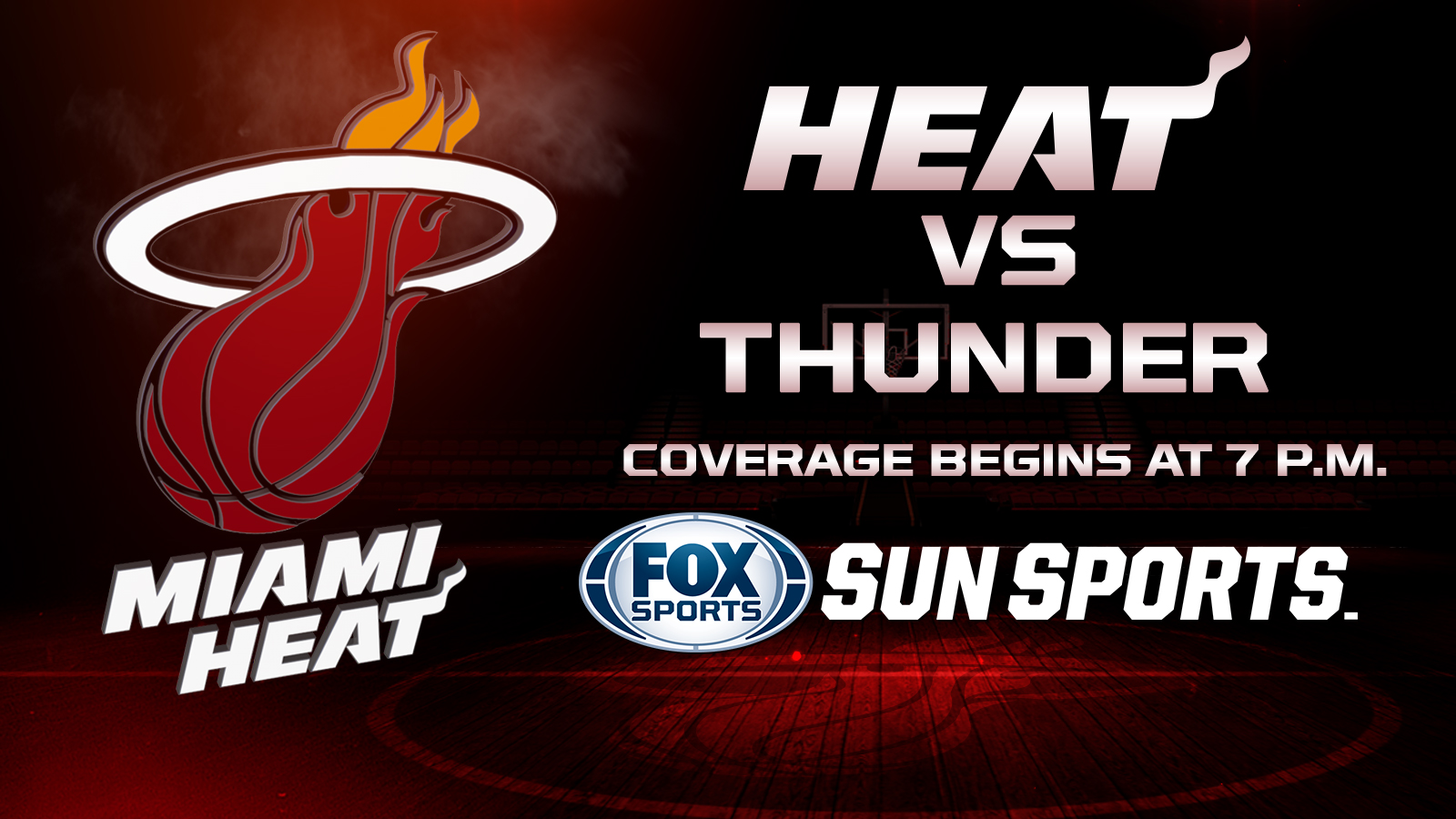 After getting their season-high road swing off to a solid start, the Oklahoma City Thunder hope to continue it with a winning record.
The Thunder look to move above .500 for the first time this season Tuesday night when they take on an improved Miami Heat team which could welcome back Dwyane Wade.
Oklahoma City (20-20) entered this trip having lost four straight on the road, averaging 91.7 points on 35.1 percent shooting in the last three while losing by an average of 19.3 points. The Thunder turned it around Sunday in a 127-99 win at Orlando, making 25 of their first 32 field-goal attempts en route to 79 first-half points – their most since the franchise moved to Oklahoma – and shooting 57.8 percent overall.
"We did shoot extremely well and we did play one of our best offensive games we've had all year. We were clicking on all cylinders this time," coach Scott Brooks said following the first of five road games in nine nights. "We haven't played well in our last three road games, but we came out with a road-trip mentality."
Brooks' club also dominated offensively at home in its previous game, scoring 69 in the first half and shooting 52.6 percent overall in Friday's 127-115 win over Golden State. Kevin Durant had 36 points that night while Russell Westbrook had 17 points, 17 assists and 15 rebounds, and Brooks was able to rest both stars for the final 15 minutes of Sunday's blowout. Durant still came within two assists of a triple-double, and he's shot 21 of 28 over the last two games.
Also keying that pair of victories was Serge Ibaka with 43 points while shooting 17 for 28, and Dion Waiters scored a combined 37 on 15-of-25 shooting.
Oklahoma City was a season-worst 3-12 on Nov. 23 while dealing with injuries to Durant and Westbrook, but it now has an opportunity to move above .500 for the first time since April. The Thunder also could record just their second winning streak of more than two games – the first was a seven-game run in December.
The Heat (18-22) are inching closer to .500 after winning four of six, giving up 89.2 points per game on 41.1 percent shooting. That stretch follows a four-game losing streak during which they allowed averages of 106.5 points and 48.4 percent.
Miami also owns a plus-4.8 rebounding margin in the past six after entering that stretch at minus-4.2. Oklahoma City is among the league's best at plus-4.4.
The Heat wrapped up a 3-2 road swing – which included a 14-point victory over the Los Angeles Clippers on Jan. 11 – with a 95-83 win at Sacramento on Friday. Chris Bosh led the way with 30 points while Luol Deng added 25.
"Our defense during the five-game stretch was much better," coach Erik Spoelstra said. "We're taking a step forward."
Wade was sidelined the past two games because of a strained left hamstring, and the Heat are 5-5 without him. The 10-time All-Star, though, might be able to return with three days off before facing the Thunder.
Wade had 24 points, 10 assists and seven rebounds in a 103-81 win in Oklahoma City on Feb. 20 that earned Miami a split of last season's series. The Heat have won seven of the past eight meetings, including the final four games of the 2012 NBA finals, but had LeBron James for all of them.
Over the past two seasons, Durant has averaged 33.5 points against Miami while shooting 50.0 percent, but Westbrook has shot 30.6 percent with as many turnovers as assists (15).