Jasmine's Bio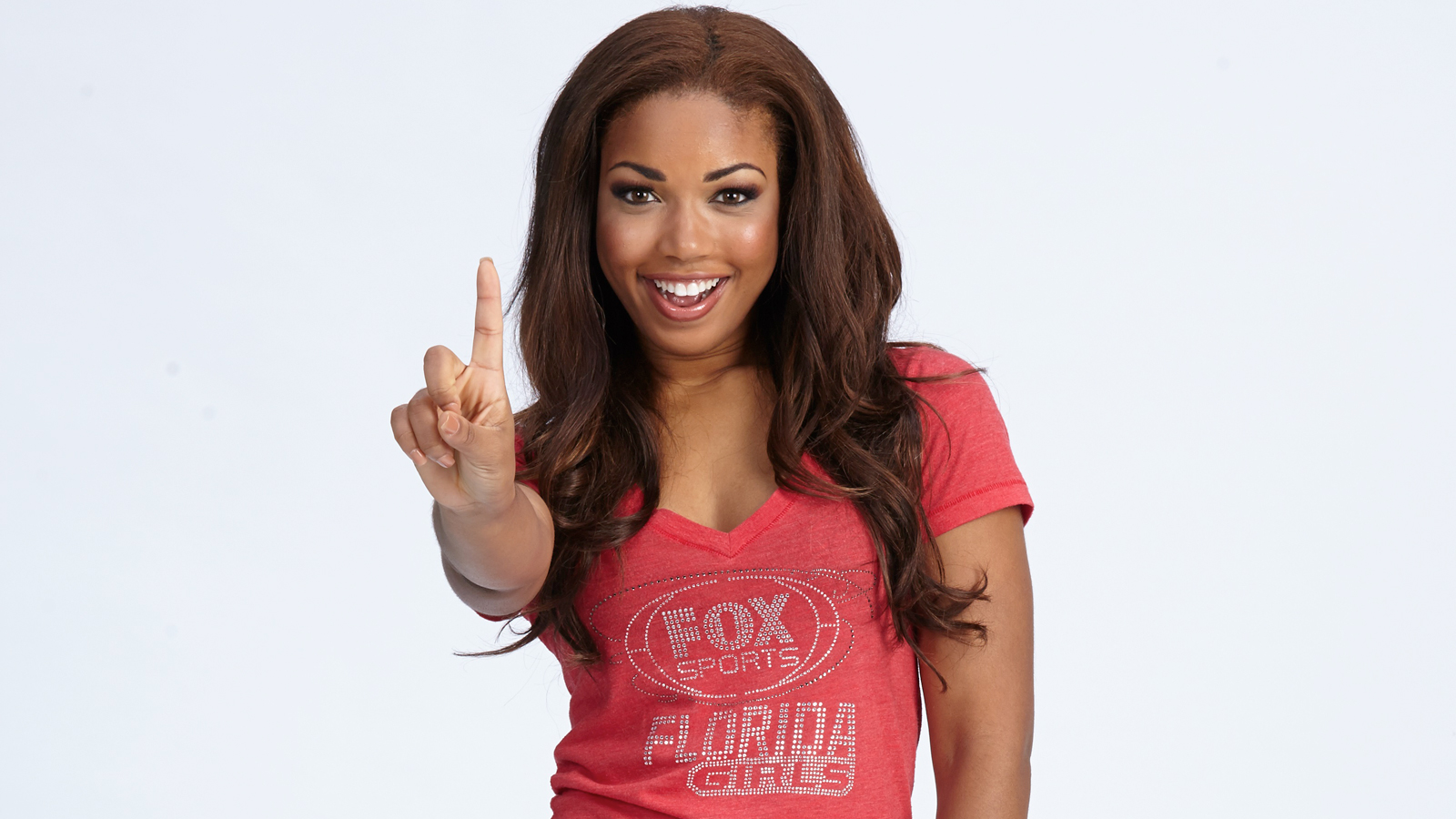 Hometown: Fort Lauderdale
High School Attended: Dillard High
College Attended: Florida International University
What is your sign: Pisces
Favorite thing about Florida: The weather! I am a Florida girl though and through so cold and I would never work!
Favorite Restaurant in the city you currently reside: Benihana
Favorite sports team (college or pro): Miami Heat
Greatest sports moment or memory: The big three-point shot by Ray Allen in game six of the NBA Finals!
What is the most important quality you look for in a man?
The most important quality I look for in a man is respect. If he has respect for me, then all other qualities will fall into place.
What is more romantic flowers or chocolates?
Flowers can make me smile any day! They are so beautiful and it really takes great effort to pick the perfect bunch out that reminds you of that special girl.
The celebrity or athlete you would most like to go out on a date with?
The very handsome Stanford cornerback, Wayne Lyons!
If you could have dinner with anyone who would it be?
If you know me, then you know I love Beyonce Knowles. I would love to converse with her and gain valuable advice on simply being a woman in this day and age. She has without a doubt redefined what womanhood means.
What is the one item you could not live without?
I cannot live without my phone. It's my calendar, news, communication device, and connection to the world all at once! Plus, I am able to stay connected with all of my Florida sports app!
What do you think is the greatest invention ever?
The Clarisonic facial cleansing device. My face always feels so fresh and smooth after using the Clarisonic. I am so in love!
Are you a Mac or PC person?
I am a Mac person all-day!
Do you have a iPhone, Blackberry, or Droid?
I have been on team iPhone for 3 years now.
What is the last book you read?
"Behind the mask" by C.J. Love.
What is your favorite movie?
"Seven pounds" is my favorite movie.
Most exotic place you have visited?
I have yet to travel outside of the United States, but at the moment Los Angeles is one place that took my breath away upon arrival. My goal is to one-day travel the entire world.
Tell us how you became a FOX Sports Girl
A family friend originally brought the opportunity to my attention. She believed that my personable attitude and background with sports fit the criteria perfectly. From there, I entered the search for the next Fox Sports Florida Girl by submitting a brief video detailing the attributes I possess as a candidate for the job. With my video submission, I was thrilled to be interviewed as a semi-finalists with Fox Sport Florida. After Fox Sports Florida staff deliberation and my supporters' vote, I was named the newest addition to the Fox Sports Florida girls.
What is your favorite sports memory?
The big three-point shot by Ray Allen in game six of the 2013 NBA Finals! I remember almost having a heart attack watching that game. The heat was down and there were only seconds left on the clock. Then Ray Allen made the game winning shot to keep us in the Finals to win our third NBA Championship.
For the ultimate sports fan, what are the three things you recommend them to experience in your city?
South Florida sports are a treat in itself! With nothing but pure talent and pride, this is the perfect place to call home as a sports fan. If an ultimate sports fan was to come to South Florida, they would first have to catch the live action on the ice at a Florida Panthers game. Next, if you are in my city get ready to scream and root for the white-hot Miami Heat. It is a must that they attend a Heat game, for it will be an experience that you will never forget. And the fun doesn't stop there. Seeing that the three-time NBA champions, the Miami Heat, call South Florida home, the ultimate sports fan has to experience a Miami Heat Championship parade. They will get to see first hand how we celebrate: white-hot heat style!
Who has been the greatest influence on you being a sports fan and why?
My mom is the greatest influence on me becoming a sports fan. At a young age, whether it was my game or a game she watched on TV, my mom was always the proudest fan in the room. You could see the passion behind her cheers and that sparked the enjoyment and love I have for our teams today!
If you could play any position/role on any team what would it be and why?
I would be the shooting guard for the Miami Heat. Dribbling was never my forte but ask me to shoot the ball and it's going in!
The FOX Sports Girls participate in the annual Spring Training to the Troops trip. What ties to the military do you have?
I do not have any family members in military but I am forever thankful to our troops for their services.
First game you ever attended?
The first professional sports game I attended was the Miami Dolphins v. St. Louis Rams football game at age nine with the Boys and Girls Club. I remember the crowd being so enthusiastic and full of life. At that moment, I realized that I was apart of something amazing.
Are you superstitious? If so, what are some of your pre-game/during the game rituals?
I'm not very superstitious but, when watching a Heat game, I have to keep die-hard fans with good energy around!
What sports did you play growing up?
I'm sure my mom signed me up for every sport possible except golf. Growing up I was a member of my community soccer, softball, basketball, tennis, swimming, track, cheerleading, and majorette teams. Thanks to her, I still have a mean three-point shot!
What's your favorite sports rivalry?
My favorite sports rivalry without a doubt would have to be my high school, Dillard high vs. Blanche Ely high, in the historic Soul Bowl football game! The energy, pride, and talent of both teams are displayed in full force every year. And let the record show that we panthers always come to win!
What is your go-to Super Bowl dish?
I have to indulge in a bowl of Tostitos scoops with medium salsa!
Do you have any sports events on your bucket list?
Yes! The number one sports event on my bucket list is to attend the Super Bowl one day!
What is your favorite sports movie?
"Hardball" is one of my favorite sports movies. It is an inspirational film that serves as an example of what you can accomplish not only when others believe in you, but also when you believe in yourself.
What number would you wear if you played sports?
If I could choose any number, it would be number 2. That number stands out but still has so much to prove being that it's after number one.
What would your walk up song be?
Kanye West — Power
Name the local sports heroes from your hometown.
NFL: Pat Sims, Ryan Shazier , Michael Irvin
NBA: Keyon Dooling and Brandon Knight
College Football: Wayne Lyons, William Dukes