LeBron James: 'I'm going to be one of the top four that's ever played'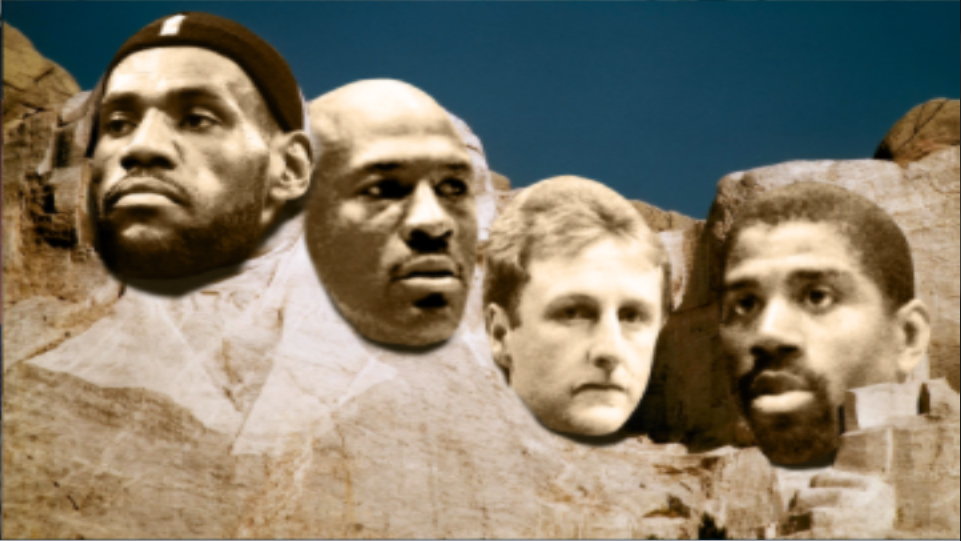 LeBron James has little doubt about his eventual basketball legacy. He expects to be on the NBA's Mount Rushmore of greatest players.
"I'm going to be one of the top four that's ever played this game, for sure," James told NBA TV. "And if they don't want me to have one of those top four spots, they'd better find another spot on that mountain. Somebody's gotta get bumped, but that's not for me to decide. That's for the architects."
Interviewed by former NBA star Steve Smith, James acknowledged he's probably not on the mountain just yet despite four league MVP awards and two NBA championships.
"The easy three, that we all talk about in our league, you've got Michael Jordan, you got Larry Bird and you've got Magic Johnson," James said. "And I would say the fourth . . . wow, this is so tough. The greatest players of all time that I'd like to see on Mount Rushmore? This is not fair . . . Oscar Robertson. Those are my four."
Former Heat coach Stan Van Gundy thinks James already is on the NBA's Mount Rushmore. Hard to argue after watching his game-winner at Golden State on Wednesday night.
The interview, to be broadcast 9 p.m. ET Monday on NBA TV, also touches on other subjects.
James also discussed being the NBA's villain during his first year with Miami after leaving Cleveland and signing with the Heat as a free agent.
"My mind the whole year, I was not . . . that was not the guy who fell in love with the game of basketball," he said. "It wasn't. I could feel it every single game, I just felt like it was so heavy on me. All the games on the road, being booed, the aura around us was just so bad."
James admitted that Miami's poor start in 2010 raised questions about joining Dwyane Wade and Chris Bosh to form the Big Three.
"Absolutely. At one point of the season we were 9-8, we weren't playing good basketball," he said. "We were out of sync. Me and D-Wade were looking at each other and saying, 'Did we make the right choice? Is this was we really wanted?' "
James credited Wade for making a selfless decision.
"D-Wade came to me and said, 'Man, in order for us to be great, you have to be the guy. Then, I'll take a step back,' " James said.
You can follow Charlie McCarthy on Twitter @mccarthy_chas or email him at mac1763@bellsouth.net.