FOX Sports Florida, Lightning and USF to host second annual sports lecture series
TAMPA, Fla. — Top executives in the sport and entertainment industries will participate in a series of free lectures Jan. 13 and 14, hosted by the University of South Florida Sport & Entertainment Management Program, FOX Sports Florida and the Tampa Bay Lightning.
Speakers for the second annual USF Sport & Entertainment Lecture Series, presented by FOX Sports Florida, include the first African-American woman billionaire, one of the most powerful sports agents in NBA history, the cofounder of Carnegie Mellon's "Dream Fulfillment Factory," and the CEO of the production company for some of the most famous entertainment experiences in the world.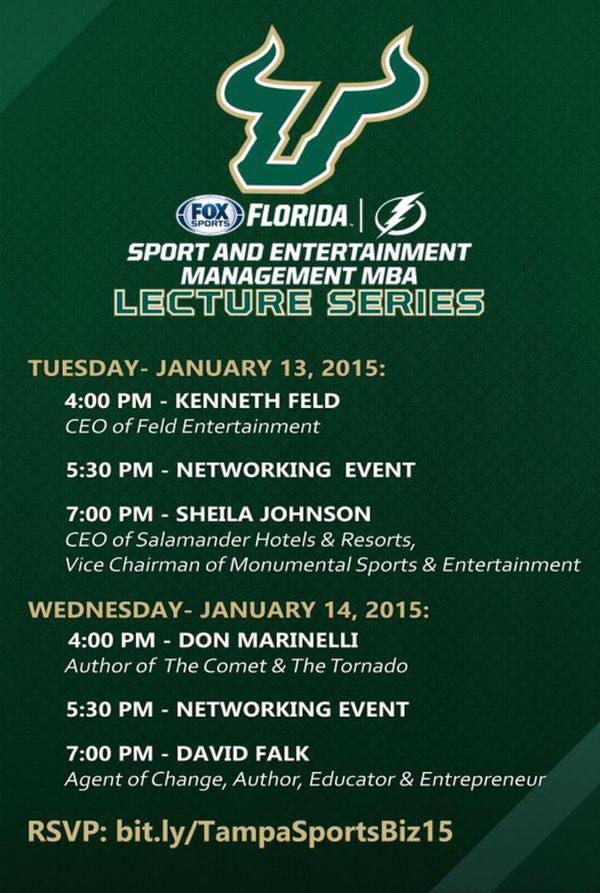 All sessions will take place at the USF Marshall Center Oval Theater, 4103 USF Cedar Circle, Tampa, and are free and open to the public.
The lecture series begins at 4 p.m. on Tuesday, Jan. 13, with Kenneth Feld, CEO of Feld Entertainment. For 30 years, Feld has been at the helm of Feld Entertainment, which owns and operates such notable productions as Ringling Bros. and Barnum & Bailey, Monster Jam, Disney Live, and Disney on Ice. Feld Entertainment productions entertain more than 30 million people in 75 countries on six continents, with as many as 5,000 shows each year.
Also on Jan. 13, at 7 p.m., sport and entertainment leader Sheila Johnson will share her experiences from a long and storied career in entertainment and pro sports. Johnson is CEO of Salamander Hotels & Resorts, vice chairman of Monumental Sports & Entertainment, and president and managing partner of the Washington Mystics WNBA team. The first African–American woman to be an owner or partner in three professional sports teams, she is also known as the first black female billionaire in the United States.
On Wednesday, Jan. 14 Don Marinelli kicks off the day's sessions at 4 p.m. He is the author of The Comet and the Tornado, which reflects on his friendship and working partnership with "The Last Lecture" creator Randy Pausch. Marinelli retired from Carnegie Mellon University in 2012 after a career that spanned 31 years and included his co-founding of the Entertainment Technology Center, known worldwide as the "Dream Fulfillment Factory." In addition, Marinelli helped create masters programs in arts management, acting, and entertainment technology during his time at the university.
Sports agent, author, philanthropist and entrepreneur David Falk wraps up the series at 7 p.m. Falk, who heads the FAME agency, was among The Sporting News list of "100 Most Powerful People in Sports" for 12 consecutive years. Falk also negotiated the first $100 million contract in pro sports — for Alonzo Mourning in 1996. His reputation as a marketing innovator — he was also listed as one of the Top 50 Marketers in the country by Advertising Age — has stemmed from a host of groundbreaking campaigns, beginning with coining the "Air Jordan" nickname while negotiating Michael Jordan's hugely successful endorsement deal with Nike.
The series is presented by FOX Sports Florida.
Tickets are available now at tampabaylightning.com/lectureseries
The University of South Florida is a high–impact, global research university dedicated to student success. USF is a Top 50 research university among both public and private institutions nationwide in total research expenditures, according to the National Science Foundation. Serving nearly 48,000 students, the USF System has an annual budget of $1.5 billion and an annual economic impact of $4.4 billion. USF is a member of the American Athletic Conference.