Ex-Dolphins coach Jimmy Johnson never saw bullying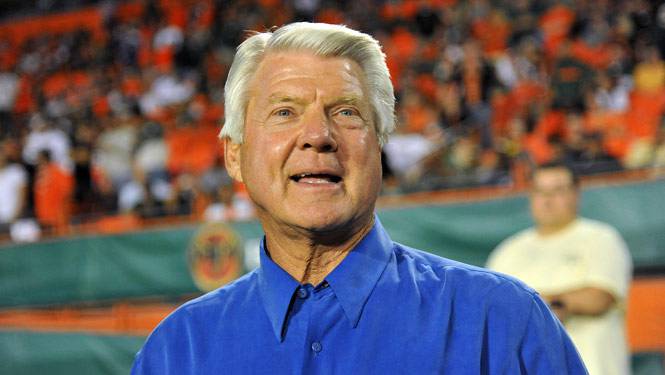 Jimmy Johnson saw a lot in a football career that included nine years as an NFL head coach.
He says bullying was not among them.
"Every locker room I was involved in, there was never ever bullying because the type of individuals playing the game would stand up to bullying," Johnson told FOX Sports Florida on Monday.
"I really never experienced … and being around the game for 50 years … one player bullying the other because most of these guys are macho guys and they're not going to stand for bullying."
Johnson, who coached the Dolphins from 1996-99, refrained from speaking directly about the current Miami controversy created when offensive tackle Jonathan Martin left the team, reportedly after persistent bullying by teammates.
On Sunday, the Dolphins suspended guard Richie Incognito for "conduct detrimental to the team."
"I don't know all the particulars and I don't know the situation there," Johnson said. "I don't know if anybody, unless they're right there in the locker room with the individuals, would know it."
Johnson, who also coached the Dallas Cowboys to two Super Bowl wins, said pranks were common. He called such things as taping a player to the goal post or making a well-paid rookie pick up a dinner or drink tab as "simple and innocent."
"Never things like bullying because, like I said, individuals in my locker rooms would always stand up to the bullying," Johnson said.
"I wouldn't get involved unless there was an actual altercation and in all probability, a physical altercation. I would sit the two individuals down and try to resolve the issue and that would be the end of it. In fact, I would tell them that was the end of it. And with them fearful of their job, that was the end of it."
Incognito, who suffered a neck injury in Thursday night's win against Cincinnati, will be a free agent after the season. It's possible he has played his last game for Miami. Martin reportedly is spending time with family and seeking counseling for emotional issues.
Asked if a player involved in bringing negative attention to a team could be accepted back by that organization, Johnson said it depended on the particular player and team.
"I think every individual situation is different, and the only way you would know the situation is if you are there, and you have personal contact and personal knowledge of it," Johnson said. "And so I wouldn't know."
Johnson also said the controversy might not be affecting the team as much as some believe.
"I don't know if this has a major (impact)," Johnson said. "These are professionals. This is not a high school team where everybody gets in an uproar over it.
"Even though it is involving two prominent individuals on your team, the rest of the team are professionals and they have a job to do. I don't know if it has as much of an effect as what some people might think."