Deerfield Beach vs. St. Thomas Aquinas to air live on Sun Sports via Prep Zone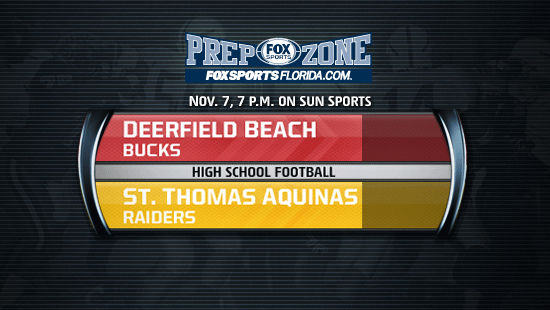 FORT LAUDERDALE, Fla. — On Friday, Nov. 7 at 7:00 p.m., Sun Sports will be televising the Broward County battle between Deerfield Beach and host St. Thomas Aquinas live statewide via Prep Zone, presented by Checkers and UHealth. Bernie Guenther will call the game, alongside color commentator Troy Stradford, and Amy Campbell will be reporting from the sidelines.
The visiting Bucks (4-5), defeated Aquinas 22-7 in 2013, and since they're already out of the Class 8A playoff picture, will give all they have to try and make it two in a row over the Raiders. Deerfield Beach suffered heavy graduation losses at the skill positons, but are very solid up front, led by 6-foot-2, 312-pound offensive tackle Montel Jordan (Louisville, Marshall, USF) and a pair of playmaking defensive ends in 6-foot-4, 245-pound senior Jason Strowbridge (Kentucky) and 6-foot-2, 218-pound junior Chris Judge.
Meanwhile, host Aquinas (8-1), ranked No. 1 in Class 7A, is playing its best football of the season, outscoring its past six opponents by a combined score of 318-7. The Raiders defense, which has posted five shutouts this year, boasts a stellar secondary with a trio of shutdown standouts in 6-foot-2, 185-pound Damon Arnette (South Carolina), 6-foot, 190-pound Rashard Causey (Florida Atlantic) and 6-foot, 190-pound Tyson Cisrow (Penn State, South Florida, West Virginia). Up front, Aquinas is equally fierce as well, featuring 6-foot-3, 230-pound end Wyatt Ray (Boston College), 5-foot-10, 259-pound tackle Brandon Boyce (Duke) and 6-foot-3, 225-pound linebacker Christopher Hart (20 offers). On the offensive side of the ball, the Raiders have an explosive attack, keyed by led by 5-foot-11, 205-pound running back Jordan Scarlett (Miami) and 6-foot-6, 200-pound wide receiver Devante Peete (Alabama, Clemson, Florida, Florida State, Ohio State).
"As this is our last Aquinas game of the season, it will be a special telecast for us," said Stephen Grecsek of OUR TEAM. "We have seen some spectacular plays on the gridiron this year, and we expect to see a few more between Deerfield Beach and St. Thomas. I truly want to thank FOX Sports Florida, Checkers and UHealth for their amazing partnership. Without their support, these athletes and communities would not be getting this statewide exposure."
About FOX Sports Florida / FOX's Sun Sports
FOX Sports Florida and Sun Sports are the regional television homes of the Orlando Magic, Tampa Bay Rays, Miami HEAT, Miami Marlins, Tampa Bay Lightning and the Florida Panthers. The regional sports networks are available in more than 6.5 million cable & satellite homes across the state. FOX Sports Florida and Sun Sports are committed to making a positive impact in the communities we serve by engaging our audiences and providing award winning TV and web coverage of Florida's hometown sports teams. For more information, channel listings and how you can get involved with FOX Sports Florida / Sun Sports, visit www.FOXSportsFlorida.com
About OUR TEAM
OUR TEAM Management Group, LLC is a Tampa-based sports marketing agency that specializes in high school programming, content development, television and live stream production, event management, and sponsorship sales. The primary focus of OUR TEAM's high school content is celebrating the athletes and the community organizations that support them. For more information, visit www.ourteamhq.com