Catch the stars of tomorrow in the Battle of the Borders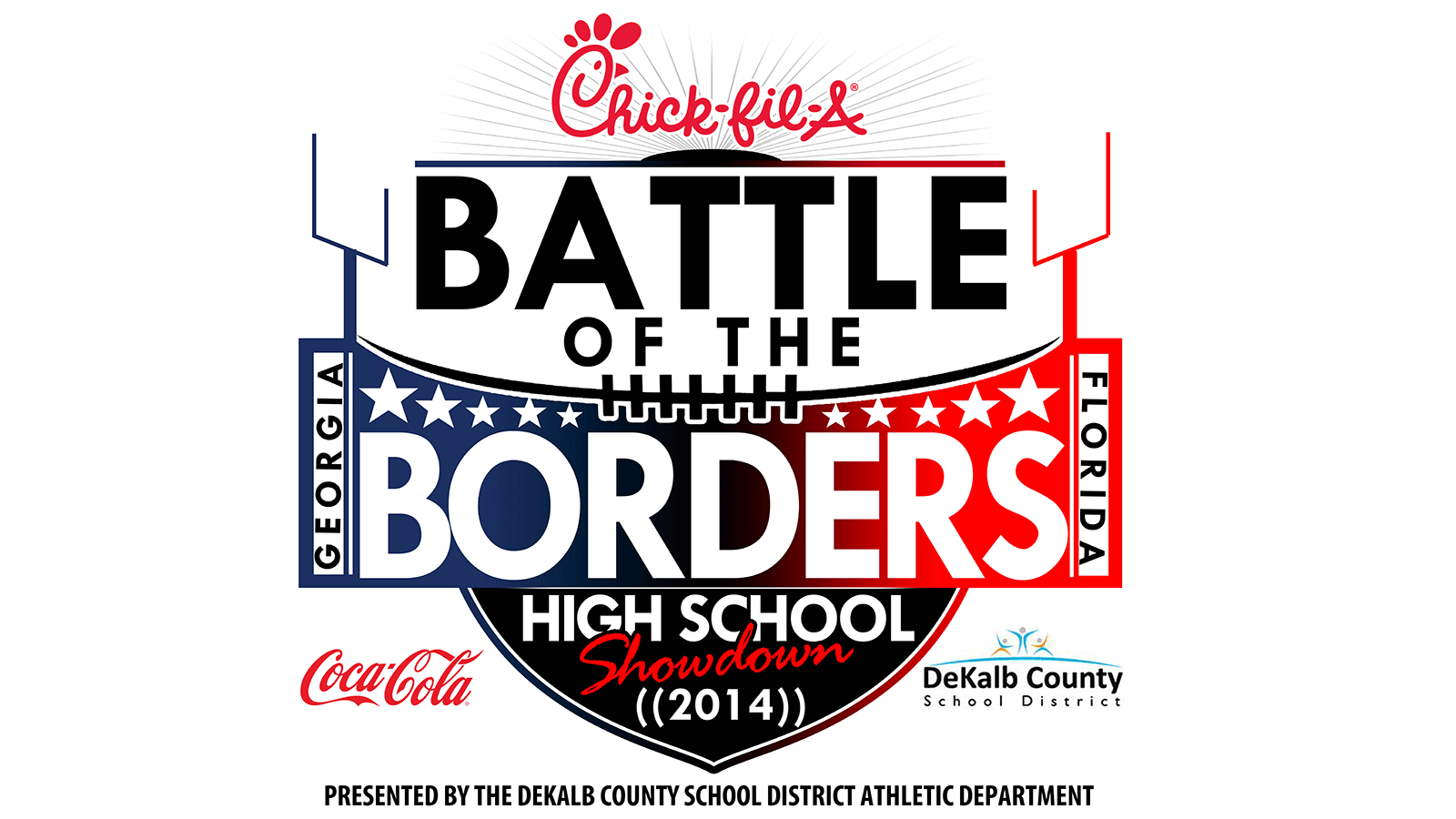 Saturday evening in Atlanta, the Georgia Dome will be packed as the Alabama Crimson Tide kick off their season against West Virginia. A comfy, 72 degree setting awaits, accented by a raucous atmosphere, charged with the passion and energy of 71,228 fans. And on the field, laboratory-like indoor conditions promise warp speed football waged on a carpet by these SEC and Big 12 squads, colliding before the eyes of the nation.
It's big stuff and — clearly — the second most significant gridiron event that day in that city.
FOX Sports Florida and Sun Sports will share the honor of televising the "Battle of the Borders" with our affiliated networks from coast to coast. Just 20 minutes from downtown — out in the suburbs — eight powerhouse prep programs, hailing from Georgia and the Sunshine State, will offer four games in succession. All taking place on the same field.
Grab the remote. Morning, noon, and night the hits will just keep coming your way.
Fierce rivals in nearly every endeavor, Florida and our peach-loving neighbors produce an incredible number of prep players every year. In the secondary educational ranks alone, the latest statistical surveys are staggering. Try 2013, when within Florida, 41,127 young men played high school football. Of that total, 332 signed Division I scholarships — that is, with Football Bowl Subdivision programs. In Georgia, the numbers offered 32,726 in an accredited program, with 184 receiving D-I grants-in-aid.
That's a combined 73,853 players, of which 516 went onto a full ride at a big-time program. All hailing from within these two border states, in a single year. Further, those playing at Football Championship Subdivision and Junior College programs increase the scholarship totals. There are 20 juco teams in Georgia alone.
Holy Punt-rooskie. Hunker down.
Take those numbers, baste with a tradition of generations, and the game of football is a way of life across Florida and Georgia, rising to a boil with these elite eight invitees.
All eight are convinced they will march this season to their respective state titles.
Miami's Booker T. Washington, boasting a 27-game winning streak after a crushing performance in Virginia last weekend, is America's reigning national champion. It hung 57 points on Oscar Smith High in Chesapeake. Oscar Smith loses about as often as the sun rises in the West. The Tornadoes face Atlanta Tucker to cap the event.
Battle of the Borders
At midday, Tallahassee Godby takes a crack at Marist, a parochial force led by Alan Chadwick, the winningest coach in Georgia high school history.
Miami Norland, an eight-time Florida champion, will challenge the Lions of Martin Luther King Jr.
Miami Central, which jetted into Birmingham's sweltering oven this past Saturday and slammed the door on Hoover's 30-game winning streak with a last-second field goal, now returns for still another showcase affair as it faces Stephenson's Jaguars.
And this is real, outdoor, football. Unlike the air conditioned breezes wafting inside the downtown Dome, you may not need a sweater when cheering in DeKalb County's Hallford Stadium. As Matthew Broderick so aptly described, the Deep South's heat and humidity in late summer, it indeed will be "Africa hot."
We all recognize there is a difference between entertainment and education. And it is rarely more defined than this coming weekend as America embraces the arrival of this violent game played so intensely on so many levels.
It may not be the most polished execution when the football is snapped. But it will be as passionate as any played on any field, indoors and out. And as for talent, when Booker T. Washington running back Mark Walton exploded a few nights ago for a 67-yard touchdown gallop the first time he touched the football against Smith, well, I now know how Vince Dooley felt the first time he laid eyes on Herschel Walker.
Walton, who committed to the Miami Hurricanes as a sophomore, is petitioning the NCAA to allow him to leave for The U after this — his junior — season. And the reason that head coach Tim Harris Jr. doesn't feed this talented tailback the football on every snap may be found in the fact that when allowed to pass, quarterback Maurice Alexander hurled five touchdown passes in three quarters over the weekend.
Honk if you haven't hurled five TDs in your life. Alexander is headed to FIU and the tutelage of Ron Turner.
If NFL football is staged for money — corporately and individually producing the wealth of kings — and we still assume major college players honorably and idealistically compete for academic incentive as well as memorable bowl trips and an elusive championship ring, it is on a high school field where the most formative lessons of character and commitment are still first taught, first learned. An honestly harsh introduction to accountability and brute force is offered to teenagers, many just learning to shave. Mentors imparting the meritocracy of muscle and a commitment to teammates, to causes larger than one's own.
All this falling on a youngster's consciousness just a year or two after Pop Warner football. Not everyone gets a trophy on the practice field. You likely will end up with bruises on your forearms and blood in your mouth.
St. Thomas Aquinas vs. American Heritage
It is from this point in adolescent development where a voice inside your head will continue to resonate, decades later. That of a goal focused football coach and father figure challenging teenage kids to mature, many of whom are just trying to survive until the next water break. You may long forget your sophomore high school math teacher's name, even if she helped you comprehend the Pythagorean theorem. You will forever remember remarkably much of your coach. And of the courage of your teammates, which grew as the prep seasons sped along.
Pro Football Hall of Fame member Cris Carter continues to tutor these lessons at St. Thomas Aquinas in Ft. Lauderdale. Throughout his now decade on the Aquinas sidelines — while juggling NFL telecasts — Carter has spoken of changing the "socio-economics" of a high school player's life. Leveraging the discipline of the game into an education, opening the doors of opportunity at universities, and for a select few such as himself, the wealth of a professional career. The foundation for all of this is, simply, the basics of perfectly executed blocking, tackling, and assignment football.
My FOX football colleague Keith Jones has shared his humble and proud childhood, and how, as an option quarterback at Wildwood High in Central Florida, he literally pounded his way upward and onward. To a distinguished career for Bobby Bowden at Florida State. And just five years after playing his final game for the Wildwood Wildcats, to an acceptance letter from Harvard Law School. The cornerstone for this incredible achievement can be found on a practice field near the Florida Turnpike some 50 miles from Orlando, and in a young Keith's heart and ambition.
Charlie Ward won the Heisman Trophy in 1993 at FSU. He played for a decade in the NBA. His life's calling can be found today at Pensacola's Washington High. Newly enshrined Canton immortal and Washington alum Derrick Brooks — Ward's former Seminoles teammate — served as the intermediary to place a man of Ward's character in charge of those kids. Thirty years from now, bet the house in the great game of life on that group of teenagers Charlie Ward has in his care.
You may have seen Chris Weinke wearing the head coach's headset for IMG Academy in its opener with Godby over the weekend. He, too, a Heisman winner, now molding tomorrow's, today. Weinke is not externally driven — motivated by the roar of the crowd. Rather, he's internally charged, making others better. To play to their potential. He played in the NFL, he won it all in college capturing the game's most prestigious award. And now Weinke works where it matters most.
So we look forward to the pleasure of your company Saturday night. If you insist on a diversion, you have our permission to channel surf and check out the collegians. But you might be surprised how often you pause with us in the suburbs to capture the potential and emotion of the prep game.
And one more note. You just might remember your math teacher years from now if you're playing for Tucker High. You see, Tigers head coach Bryan Lamar — after being a three-year starter at safety for Tennessee-Chattanooga — earned a Masters of Science degree at Central Michigan.
Suffice to say, during the class day, he also teaches mathematics.