2015 NBA Draft profile: Kristaps Porzingis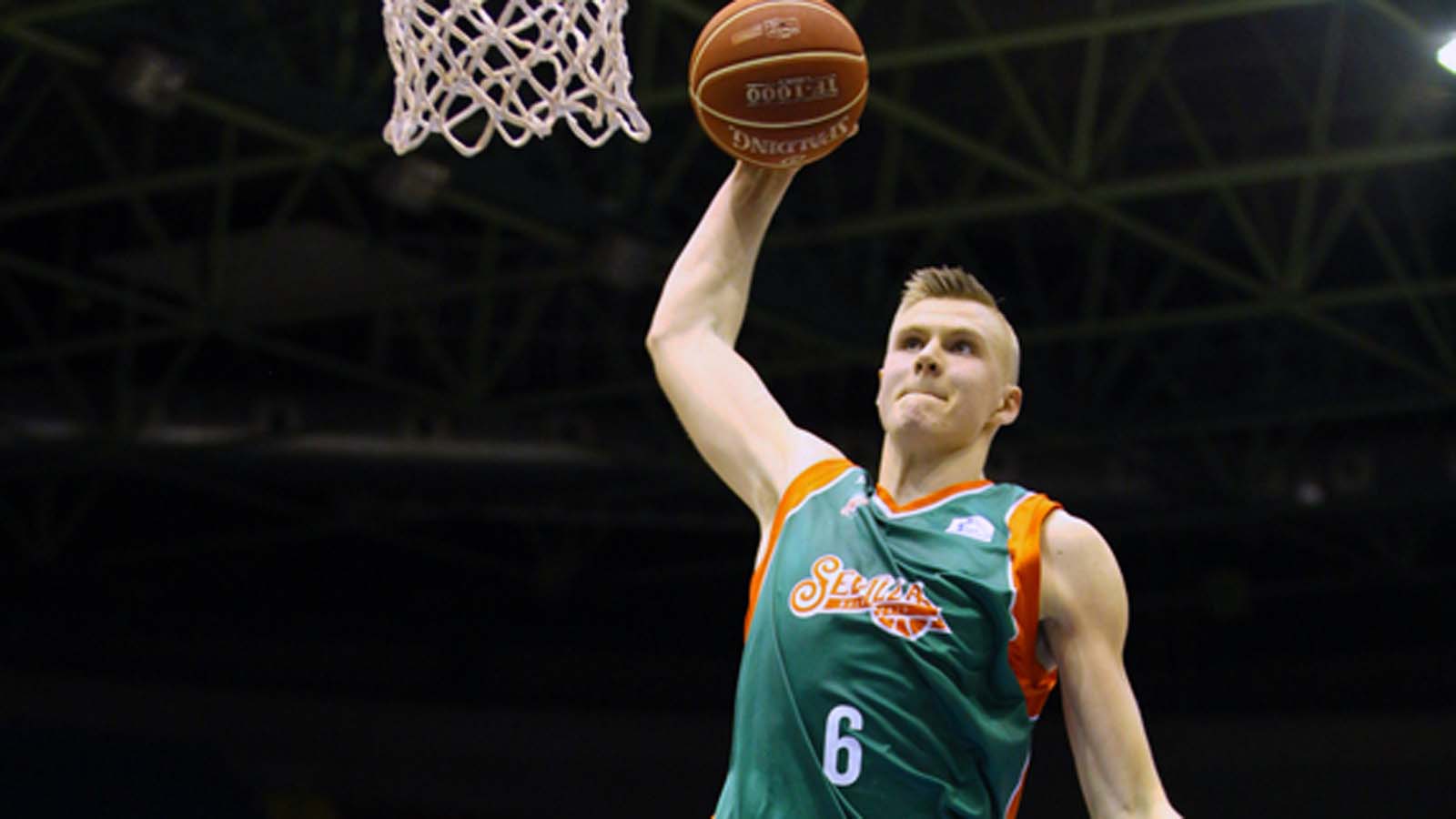 Before Pau Gasol was taken third in the 2001 NBA draft, he averaged a relatively modest 10.9 points and 5.2 rebounds a game for a team in his native country of Spain.
Kristaps Porzingis spent last season in Spain and put up numbers comparable to those Gasol had back then. While he's not expected to go quite so high in the draft June 25, the 7-footer from Latvia is regarded as the top power forward available and could well be the first foreign-born big man with no college experience to crack the top five since Enes Kanter and Jonas Valanciunas went third and fifth in 2011.
His combination of size, skills and mobility could make Porzingis, who won't turn 20 until August, as intriguing of a prospect as any one-and-done college player. But that might require a team willing to be patient with him. Kanter started only two games in his first two seasons with the Utah Jazz and didn't really flourish until they traded him in February to the Oklahoma City Thunder, where he averaged 18.7 points and 11.0 rebounds in 26 starts.
Except for Wisconsin's Frank Kaminsky, there isn't a player over 6-9 in the draft with anything close to the type of shooting range Porzingis has exhibited. In a league where 13 different power forwards hit at least a third of their 3-pointers this past season, someone like Porzingis has become a necessity more than a luxury.
The overriding question is how long it could be until he reaches that potential, especially if he ends up as expected on a struggling team.
PROS
Porzingis is by no means a one-dimensional shooter. He can play above the rim with ease and is fully capable of driving to the basket and finishing if opposing teams contest him at the 3-point arc. But it's his shooting mechanics which set him apart. Blocking his shot is next to impossible because of its high release point, and he has already become dependable in catch-and-shoot situations.
On defense, he has the size and agility to hedge out past the arc in pick-and-roll situations and recover in time to make a play down low. He could develop into a good rim protector who can also get you a few steals.
CONS
At 220 pounds, Porzingis lacks the bulk required to bang with players at this level. While there's no way to predict injuries, the recent trend of seeing lottery picks go down (Jabari Parker, Julius Randle, Aaron Gordon) could make teams hesitant to gamble on him. Some scouting reports have suggested he tends to shy away from contact, which could explain in part his averages of only 4.8 rebounds in 21.7 minutes.
There are also doubts about his passing ability. Over the last three years spanning four different leagues, Porzingis has averaged one assist for every 44 minutes he plays. In addition, he lacks a back-to-the-basket game.
PLAYER COMPARISON
A team's head of basketball operations said this of Porzingis last month: "I think he's a lock for the top five and I wouldn't be surprised to see him go as high as top three. He's good. We all like to do our comparables. He's like Dirk Nowitzki or Pau Gasol … I'd take him ahead of (Jahlil) Okafor."
Gasol made his fifth All-Star team last season at the age of 34 while averaging 18.5 points and 11.8 rebounds for the Chicago Bulls, although he missed Games 4 and 5 of their playoff series against the Cleveland Cavaliers because of an injury to his left hamstring. Nowitzki had a 12-year run of averaging more than 20 points a game and is a career 38.3-percent shooter from 3-point range.
FINAL THOUGHT
Porzingis chose to withdraw 10 days before last year's draft after reportedly both the Atlanta Hawks and the Philadelphia 76ers showed interest in him. His family decided he would benefit from another year of experience playing with Seville in the ACB, which is regarded as Spain's first-tier league.
You can follow Ken Hornack on Twitter @HornackFSFla or email him at khornack32176@gmail.com.