RotoWire NFL East Coast Offense 121213
How To Win In Fantasy Sports
I was reading Larry Schechter's "Winning Fantasy Baseball" book,
wherein he identifies the underpinnings of his uncanny run of
expert and high-stakes league success. He writes:
The real keys to my success have always been my auction and
draft strategy as well as in-season management. I doubt I've ever
won a league primary because I had a better set of player dollar
values than everyone else.
We had Yahoo's Dalton Del Don on our Siriux/XM radio show,
RotoWire Fantasy Sports Today, and I asked him how he'd done so
well in fantasy football leagues in recent years (this year nine of
his 10 teams made the playoffs), and he said it was more his
approach to the draft/auction than having any special insight into
the players. Peter Schoenke made the playoffs in 10 of his 12
leagues this year, and before the season, he had been advocating
going WR-WR in the first two rounds, something that's panned out
href="http://rotosynthesis.rotowire.com/A-Historically-Bad-Year-For-Fantasy-Running-Backs-BBD4616.htm">far

better than going with RBs early

this year.
Perhaps then it's more reliable to find an edge in draft
strategy than it is in player projection, especially now that
people have access to a variety of well-thought-out projections,
ADP lists and cheat sheets.
Because any strategy can win given the right players, there are
likely many lower-probability strategies that have won and with
which people are sticking on that basis. If you find a
higher-probability strategy, for example, possibly Schoenke's WR-WR
one based on a
href="http://rotosynthesis.rotowire.com/The-Importance-of-WRs-in-the-Top-16-of-ADP-BBD4492.htm">lower

early-pick bust rate

, you'll have a better chance of winning,
despite using a roughly similar by-position cheat sheet as everyone
else.
Of course, patterns in football (and other sports) change. In
2011, the top-five quarterbacks were monsters. In 2012, it paid to
fade them. This year, it's in-between. Ten years ago, it was worth
spending huge auction dollars on Shaun Alexander, LaDainian
Tomlinson or Priest Holmes because even though as RBs their chances
of busting were high, their healthy upsides were massive. This
year, Jamaal Charles and LeSean McCoy have been great, but nowhere
near Alexander/Tomlinson/Holmes. And they came with just as much
risk.
To win consistently then, one cannot simply "always wait on
quarterbacks" or "always go WR-WR in the first two rounds." The
strategic edge doesn't come from the specific recipe to follow but
the ability to find the faulty assumptions underlying prevailing
conventional wisdom. If top running backs were priced like they
might score 25-plus touchdowns but none were likely to eclipse 20,
then snagging two among an historically good crop of top-six
receivers makes little sense. But if those receivers move into the
first round next year, that loophole will have closed, and you'll
have to look elsewhere. I'd love to hear specific suggestions in
the comments about what to do in that case.
Those Yahoo! Bots Are Harsh
Here's the write-up of my playoff loss to DDD in the Y! Friends
and Family League:
Playoffs: Y! – Del Don Punishes RotoWire_Liss
Y! – Del Don got the highest score this week from LeSean McCoy
(38.85), dismantling RotoWire_Liss 172.38 – 105.24. The playoff win
was memorable, with the 67.14-point margin of victory being the
fifth-highest recorded in the league this season. This is a repeat
performance for Y! – Del Don over RotoWire_Liss, after a 135.97 –
113.01 win in Week 5. To make matters worse, RotoWire_Liss got zero
points from Alex Henery. RotoWire_Liss ended the regular season in
sixth place with a record of 7-6. Perhaps benefiting from some good
fortune, they ranked just 12th in the league in scoring average at
110.51 points per game. This postseason, RotoWire_Liss was bounced
early, losing in their only playoff game.
Seriously, if that were was a person, he'd want to steer clear
of me at the next FSTA event in Vegas. As if I'm to blame because
my kicker wasn't used in a 34-20 blizzard?
Jason Garrett is Even Worse Than We Thought
When you routinely criticize a player or coach, it's easy to
fall into a kind of confirmation bias where you see only the
negative and block out the positive. You cease to notice when he
does the right thing or makes a good play and only see those
boneheaded decisions in line with your prior image of him. So while
I've piled on Jason Garrett for two seasons now, I secretly assumed
I was probably exaggerating how bad he really was. Until during the
Monday night game against the Bears down 13 in the third quarter,
he punted on 4th-and-4 in Bears territory. After which the Bears
got the ball near their own 10 and drove down for a game-sealing
touchdown.
When Dallas got the ball back, they drove to roughly the same
place on the field where they'd punted earlier, and got to
4th-and-9. Now down 21 at the end of the third quarter, the Cowboys
had to go for it – even Garrett knew that. After Tony Romo
inexplicably threw the ball away in the face of the blitz (why not
throw it up for grabs on fourth down?), ESPN's Mike Tirico said
something stunning: This was the first time all year the Cowboys
had gone for it on fourth down. It took Garrett more than 13 and a
half weeks to take that risk. Then Tirico added it was the latest
in history a team had gone without attempting a fourth down
conversion.
So even Among NFL coaches
href="http://www.rotowire.com/football/showArticle.htm?id=18834">incentivized
to do the cowardly thing rather than the mathematically correct
one, Garrett is an historical outlier.
Observations Entering Week 15
– There were 90 touchdowns scored on Sunday, breaking the
previous one-day record of 87. When you include the Thursday and
Monday night games, it was the most points ever scored in an NFL
weekend.
The bad weather didn't hurt on that front, with teams going for
it rather than kicking field-goals, and defenses slipping around
while chasing LeSean McCoy, Jeremy Ross and Cordarrelle Patterson.
But the weather did hurt certain players like Matt Stafford, Calvin
Johnson and Nick Foles. The bottom line – while touchdowns were up,
field goals were down, and there were fewer crisp passing TDs in
the bad weather stadiums even if overall scoring totals were at
record highs.
– Favorites went 13-1 straight up on Sunday, the only loss being
the Steelers. Overall they went 14-2 on the week with the Texans
being the other. (Had Antonio Brown – more on that below – not
stepped out of bounds, they would have gone 14-0 Sunday and 15-1
overall).
– The Giants were unwatchable, and so for the first time in
several years, I actually didn't watch much of the game. The
offense hasn't looked crisp since the second half of Week 1 against
the Cowboys. When a Twitter follower invited me to dump the Giants
for the Cowboys, I told him that was Plan C. Plan A was stick with
the Giants, Plan B was kill myself.
– If that was the best the 49ers could do at home, they have no
chance in Seattle. It's too bad Aaron Rodgers might not return.
While Seattle is technically undefeated at home the last two years,
it was Rodgers who actually beat them but for an insane call by the
replacement refs. The only team that looks capable of beating the
Seahawks in Seattle is the Saints in New Orleans. But I don't think
we'll see that match-up, barring a change in the laws of
physics.
– The No. 1 players (arguably) at three key positions, Adrian
Peterson, Calvin Johnson and Rob Gronkowski caused a lot of people
to get knocked out of their playoffs. You have to feel pretty
fortunate if you have Johnson and a first-round bye.
– The Broncos got touchdowns for Demaryius Thomas, Eric Decker,
Wes Welker, Julius Thomas, Knowshon Moreno and Montee Ball. Who
says there isn't enough to go around?
– Seeing Andrew Luck blow up against the Bengals on the road
makes you wonder what would happen if Luck played in Marc
Trestman's offense rather than Pep Hamilton's. Good quarterbacks
need to sling the ball down the field and if receivers get hurt,
you find new ones who can give the QB a chance. Da'Rick Rodgers was
freely available, and it's bizarre Indy waited until the team was
down three scores in Cincinnati to open things up. Forget about a
power running game, forget about time of possession. Just turn Luck
loose and get out of the way.
– Andy Dalton had a good game and has good match-ups down the
stretch (@PIT, vs. MIN), but I wouldn't start him unless I were
backed into a corner. Gio Bernard is already one of the top-10
real-life backs in the league, maybe top-five.
– For a good visual of how crazy the Vikings-Ravens finish was,
href="https://twitter.com/BillEBowen/status/410099955328876544/photo/1">click

here

.
– Matt Ryan had a disappointing day against a beatable Packers
defense. Roddy White saw 10 targets and caught eight, but it was
mostly short stuff. They get the Redskins at home next week, so
Ryan will still merit consideration.
– This is baseball-related but if anyone wants to see an example
of sports journalism done right,
href="http://seattletimes.com/html/mariners/2022420240_mariners08xml.html#.UqP0r0Of6fF.twitter">click

here

for a devastating takedown of the Seattle Mariners front
office, that uses real sources willing to go on the record.
Interestingly, one of the sources, Tony Blengino, used to run
RotoWire's minor-league coverage.
– I've seen others (including
@markstopa) mention
this, but it really is crazy the Steelers lost due to Antonio Brown
accidentally stepping on the sideline one week after Mike Tomlin
stepped onto the field to distract Jacoby Jones. Karma usually
works mysteriously and subtly, not obviously and heavy-handedly
like that. Of course, had Brown not stepped out of bounds, the
league would have had to investigate whether there was a forward
lateral on the play, but it might well have been too close to call,
and you wonder if the refs would have had the stones to overturn it
in Pittsburgh. Now that it doesn't matter, it's possible the league
rules on it and costs Antonio Brown owners some yards, something
that could swing some playoff match-ups.
– The Texans-Jaguars game was actually close, but it was poorly
played, and the penalties made it unbearable to watch. Houston
actually set a record with 177 penalty yards. You combine that with
the Cialis commercials, and you have a recipe for armed revolt.
– Given Toby Gerhart's performance, maybe Adrian Peterson is
just a system back.
– Who's had a more trying year, Rob Gronkowski or Aaron
Hernandez?
– How is it possible Dez Bryant saw two targets in a 49-17 loss
to the Saints and four targets in a 45-28 loss to the Cowboys?
Aren't these the games your star receiver is supposed to rack up
the garbage-time production?
– Nick Foles, Aaron Rodgers, Russell Wilson, Michael Vick and
Philip Rivers all have higher YPA marks than Peyton Manning's 8.39.
But Manning is on pace for 55 TDs (Tom Brady's record is 50) and
5,566 yards (Drew Brees' record is 5,476).
Follow
@Chris_Liss on
Twitter.
Liss is RotoWire's Managing Editor and host of RotoWIre Fantasy
Sports Today on Sirius XM radio.
Get a FREE RotoWire 10-day trial (no credit card required) at
href="http://www.rotowire.com/users/ad_jump.asp?id=700">RotoWire.com

.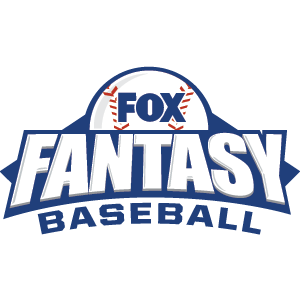 FOX Fantasy Baseball
Join or Create a Free League
Play Now!