2016 Fantasy Football Strategy Study: Why your league should nix the fantasy kicker
Note: the following FOX Sports fantasy football investigative study on NFL kickers is in the voice of fantasy editor Ryan Fowler. His colleagues, Zach Malosh and Jake Westrich, were caught up in his wake of curiosity and courteous enough to collaborate on the project.
Perhaps one day, in the not so distant future, Jake Ciely will be known as a trailblazer in fantasy football circles. The commissioner of the FLEX Cup Leagues of Experts did not require owners to draft and/or roster and start a fantasy football kicker. Let me tell you, it was liberating.
Save for Stephen Gostkowski, fantasy football kickers' average draft position is the 15th or final round. As a byproduct of the fantasy football Mr. Irrelevance, fantasy owners reach out during the regular season with what they coin the weekly "token kicker question" as if they are ashamed they are even posing the query. Why do they ask and why are these "token kicker questions" even uttered?
It's because kicker fantasy point production is pretty damn random and nobody has a true sense of what will happen or what point totals will be posted. This applies to industry pundits and Fantasy Joe Sixpack. Fantasy kicker point production is too random.
The thought of fantasy kicker production randomness was, at first, my hypothesis, which dug the deepest rabbit hole of my career. Towards the end of the 2015 NFL regular season, my colleagues, data analyst Zach Malosh and WhatIfSports content producer Jake Westrich, hopped down the hole with me to see if the hypothesis could be backed by five seasons of data.
Study Timeline: past five seasons (2011-2015)
The study variables: fantasy kicker team offense average points per game, opposing offense average points per game and opposing defense points allowed per game. In all, we used 2,000 team kicker entries during the five-year sample size.
All three variables studied work to assess scoring opportunities, scoring frequency, scoring type (FG/XP), and overall game pace/flow. After looking at a dozen statistics over the three-game window, we found the variables listed above to carry the most weight. Without question, there is more than one way to dice this particular onion.
The study sample window: previous three games. The three-game window allows for a sliding scale of analysis and adjusts for improvements/flaws in defenses during the season. If a team had a BYE during the three-game window, the game before the BYE was included.
The study visual graph: the horizontal axis illustrates the kicker projected fantasy points per game. These projections fell within 6-8 FPPG – a common and accepted game projection in fantasy circles.
The vertical axis illustrates the actual fantasy point totals for a given game during the 2011-2015 timeline. As you can see – or maybe you can't – the actual fantasy kicker point totals ranged from 4-12 fantasy points 70 percent of the time. When you consider how close fantasy football matchups can be, an eight fantasy point range of actual production versus the projected is quite random. Note: randomness is MY interpretation of the data, which my colleagues agree with.
It's also worth highlighting how often fantasy kickers produced above and below the 4-12 FP range, which, to reiterate, occurred 70 percent of the time. Fantasy kickers scored fewer than 4 (four) fantasy points in 277 games, while 13-or-more fantasy points were scored 306 times during the five-season sample size. After you do the math, fantasy kickers produced 13-or-more and 4-or-fewer fantasy points six times per week – on average. When you consider that at least 12-of-32 fantasy kickers are owned on any given week, these six occurrences would definitely impact some owners for better or for worse.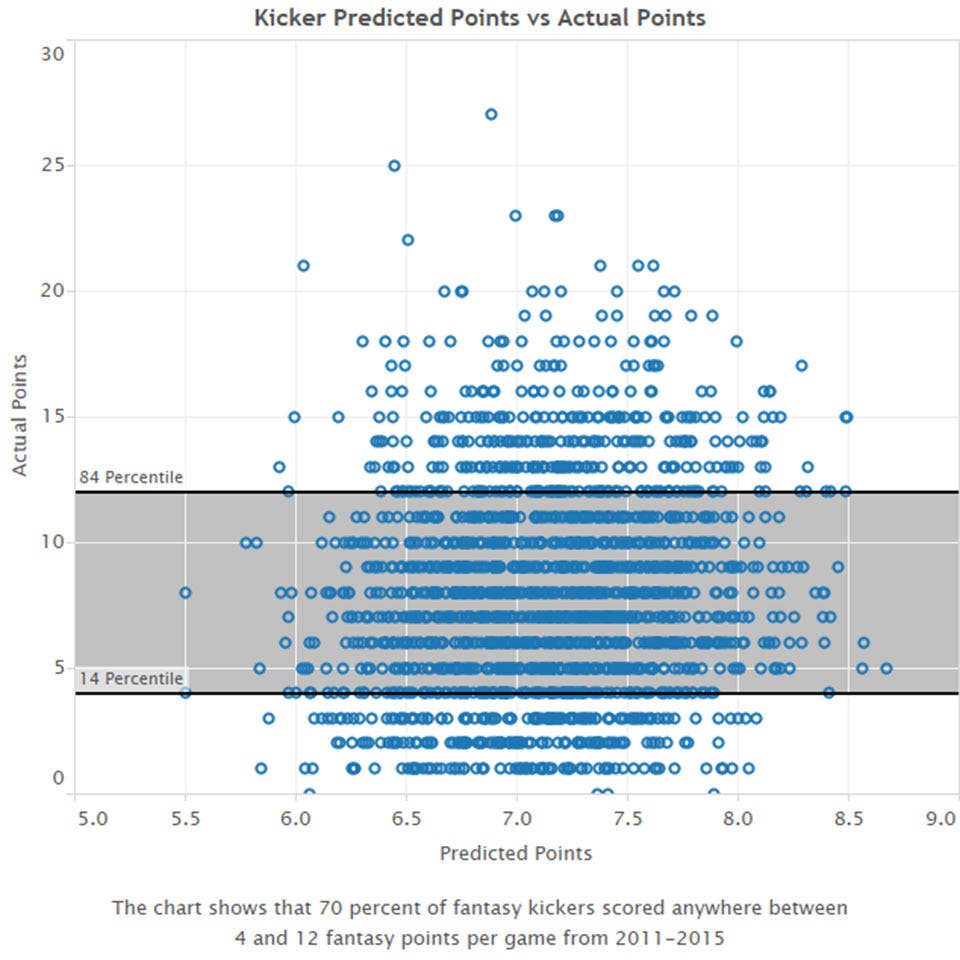 Fantasy quarterbacks, running backs, wide receivers, and tight ends generally produce in an acceptable projected range – on average. Sure, Ben Roethlisberger could lay an egg against the Ravens in Week 16 or Tim Hightower could drop 30 fantasy points in the midst of his comeback. However, the bottom line is – as it pertains to fantasy football wins and losses – why would you want random kicker production to carry so much weight after hours of draft prep and in-season waiver wire / starting roster fine tuning?
The answer in unison should be – "Goodbye, fantasy kicker."
Now, could this randomness be applied to fantasy defenses and special teams? Perhaps. As we ponder the next great unknown, let us first sit back, kick our feet up with glasses of rye and toast that we love it when a plan comes together.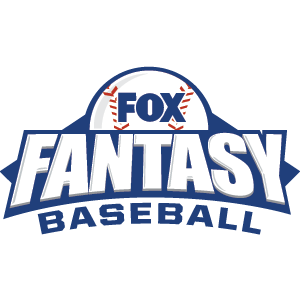 FOX Fantasy Baseball
Join or Create a Free League
Play Now!