Giolito to make debut for Nationals and more fantasy waiver wire trends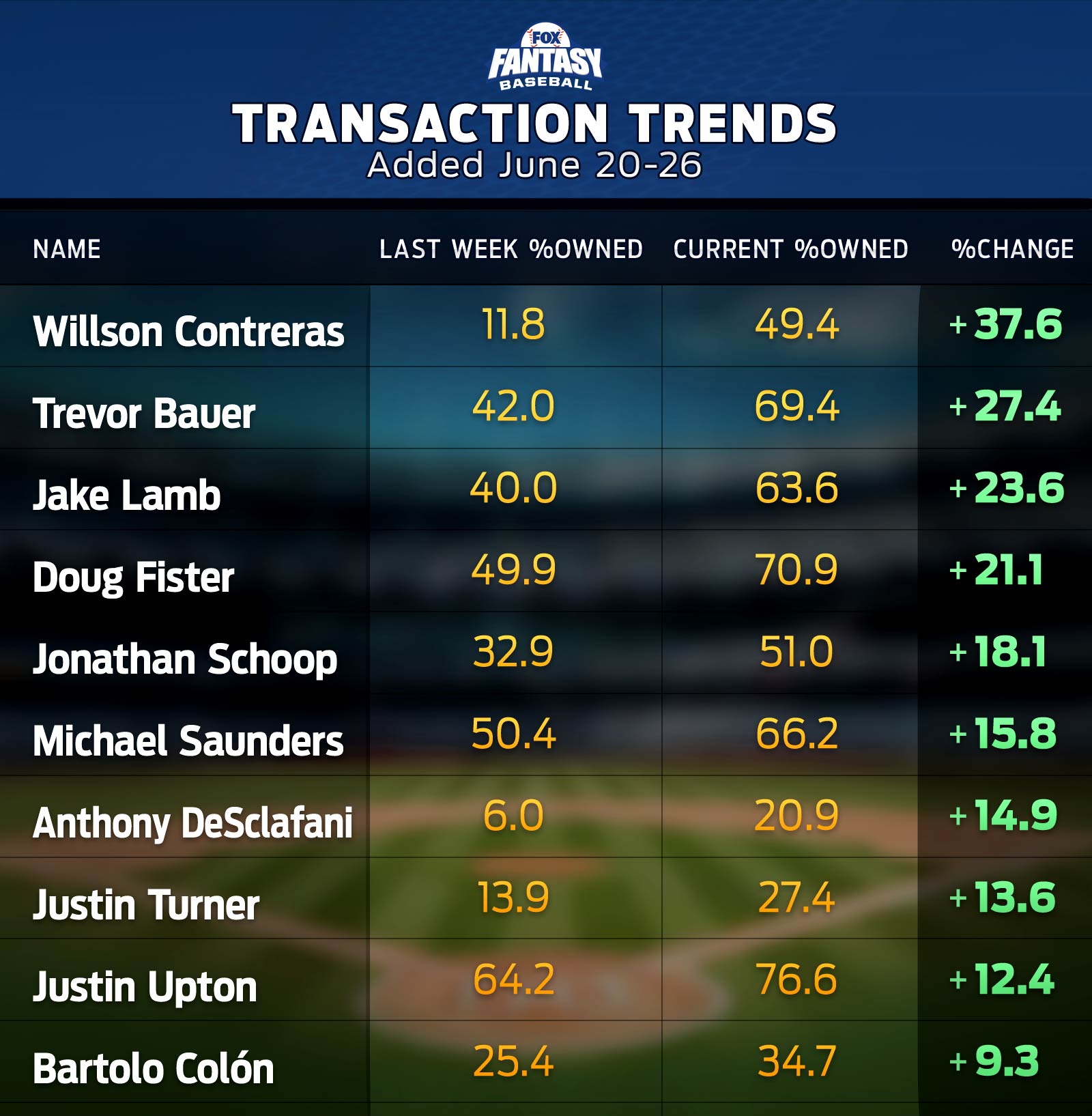 The crack of Kris Bryant, Carlos Correa, Kyle Schwarber, and Jose Abreu's bats muted Lucas Giolito's minor league maturation, domination and potential hype machine the past three years. MLB.com's Pipeline ranked the 21-year-old Giolito a top three prospect the past few seasons. He finished 10-2 with a 10.1 K/9 rate and 2.20 ERA at Single-A in 2014 and 7-7 with a ~10.00 K/9 between High-A and Double-A last season. Granted, the Nationals' rotation has been strong with Max Scherzer, Stephen Strasburg, Jordan Zimmermann, Gio Gonzalez, and Tanner Roark, but the injury to Strasburg provides Giolito an opportunity to test his stuff in his major leauge debut against the Mets Tuesday.
Giolito is 5-3 with a 9.13 K/9 and 3.17 in 14 Double-A starts this season. For context, fellow prospect Jameson Taillon made his second career start against the Mets and held them to two hits and no runs over eight innings pitched with five strikeouts a few weeks ago. If Giolito is still on your waiver wire, snatch him up for the stream start. He's yet to make a Triple-A start, so it would come as a shock for him to remain up for an extended period of time.
For fun, be sure to keep up-to-date on the Giolito stock market on eBay.
Most Added Players of the Week
Wilson Contreras, 24, was actually signed out of Venezuela by the Cubs as an infielder. After converting to catcher and working his way through Chicago's farm system 2010-2015, his roto-friendly stats didn't muster as much buzz as Bryant, Soler, Baez, and company, but he did finish with a .333 / .413 / .478 triple slash and won the 2015 Southern League batting title last season. With fantasy catchers in high-demand, it's also a great sign that his strikeout-rate has been south of 20 percent for most of his minor league tenure. Although the Cubs' catcher depth chart is quite crowded and starting pitchers have their preferences, it's hard to bench a consistent bat. The three homers in nine games is a little overblown considering Contreras never hit more than 11 homers in any one minor league season.
Finally, fantasy owners are embracing Jake Lamb. With Martin Prado and Aaron Hill gone and Yasmany Tomas in the outfield, Lamb has locked himself in at the hot corner. His minor league metrics back in 2013-14 got me excited as to what-could-be IF he could secure enough regular playing time at third base. His 15 homers in 74 games this season are the most since he joined the organization in 2012. The 24 percent strikeout rate is a tragic flaw of the power stroke and fifth-highest among third basemen this season. I'm a buyer.
Blind resume between two second basemen:
Player A is Rougned Odor who is owned in 92 percent of leagues and Player B is Orioles' second baseman Jon Schoop who is owned in 51 percent of leagues. Schoop has raked in June with five homers, scored 20 runs and 15 RBI.
Most Dropped Players of the Week
Ryan Howard's replacement, Tommy Joseph, has hit a wall. After a hot start, he's carrying a .167 OBP with one homer over the past 14 days. I think the Phillies were paying Howard $20-million to produce at that clip.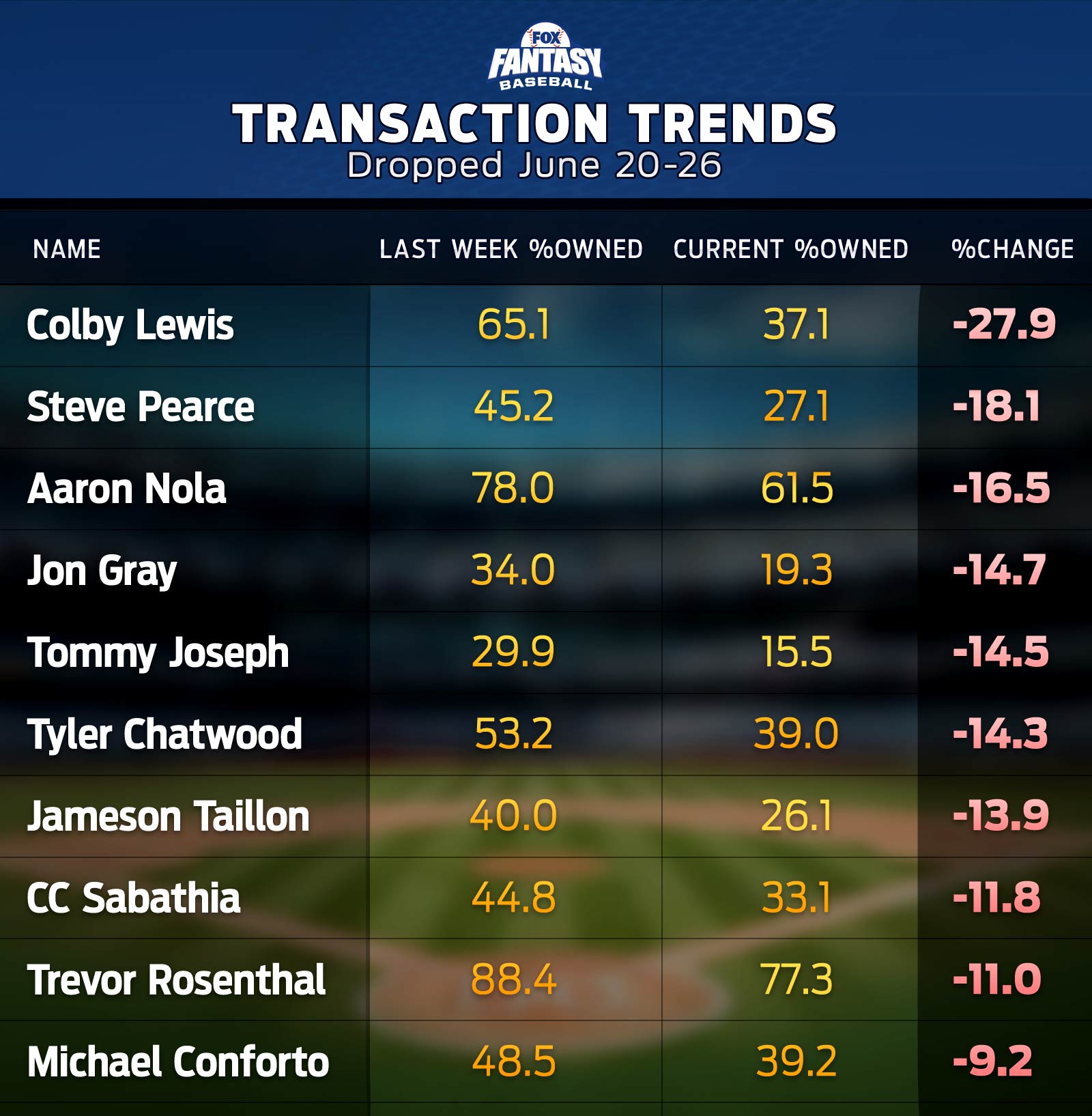 Trevor Rosenthal is part of a closer-by-committee in St. Louis. His 5.63 ERA (14.14 in June) and three blown saves forced Mike Matheny's hand. Rookie reliever and team-leader in holds (14) Seung Hwan Oh could get a shot to close game according to The Dispatch. I find it hard to believe Jon Broxton squirms his way back into that role, but Kevin Siegrist is another possibility.
Before Tyler Chatwood hit the disabled list last week, he posted a strong 3.15 ERA for the season, but only had two quality starts with 4.50 ERA and 14:13 strikeout-to-walk ratio over the past 30 days. It's easier to hold onto a guy than admit defeat, but surprised he was owned in over 50 percent of leagues before last week.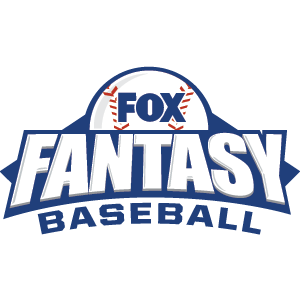 FOX Fantasy Baseball
Join or Create a Free League
Play Now!