Fantasy Baseball 2014 FOX Sports Experts Draft Recap
You hear them on the radio, read their tweets, and might even see them on TV. On the final Wednesday before the 2014 MLB season, 12 individuals put their advice to action. This is the annual FOX Sports experts' fantasy baseball draft recap.
1. Mike Trout, OF (Fowler) – Every league will have an owner who must make this crucial decision: Trout or Miggy? I think Trout is the way to go. While Cabrera contributes to home runs, RBI, and batting average categories, Trout has all of that and stolen bases. Plus, Trout is eight years younger.
Round 1
Pick
Owner
Player
Team
Pos

1

Fowler

Mike Trout

LAA

CF
2

Halpin

Miguel Cabrera

Det

1B
3

VanRiper

Clayton Kershaw

LAD

SP
4

Bender

Andrew McCutchen

Pit

CF
5

Adam

Paul Goldschmidt

Ari

1B
6

Clemons

Joey Votto

Cin

1B
7

Beall

Adam Jones

Bal

CF
8

Johnson (FG)

Ryan Braun

Mil

RF
9

Foltin

Prince Fielder

Tex

1B
10

Westrich

Chris Davis

Bal

1B
11

Adam

Carlos Gonzalez

Col

LF
12

Bogfella

Yu Darvish

Tex

SP
READ MORE: Check out the rest of the fantasy baseball draft results.
2. Miguel Cabrera, 3B (Halpin) – The No. 2 spot is one of the easiest draft positions. They basically get the leftovers from the top picker. I'm sure JH was happy to add the two-time AL MVP to his roster. The lack of lineup protection might affect Cabrera's stats, but the addition of Ian Kinsler could add even more RBI opportunities.
3. Clayton Kershaw, SP (VanRiper) – Some may call this crazy, but I'll allow it. I've said that outside of the Top-5 this year, anything goes. Kershaw's consistent dominance on the mound is definitely worthy of one of the first five picks and, apparently, VanRiper agrees. During the draft, DVR mentioned that he favored pitchers. That was proven true when he selected starting pitchers with his first three picks. But, we'll get to that later.
4. Andrew McCutchen, OF (Bender) –This is the reliability play. Though Cutch's home run and RBI total dipped last year, he's played in over 150 games for four-straight seasons. In that time, McCutchen has averaged 23 HR, 85 RBI, and 26 stolen bases.
5. Paul Goldschmidt, 1B (McFadden) –The final lock in the Top-5 goes to Mr. McFadden. Goldschmidt trailed only Chris Davis and Cabrera in home runs and RBI last year. Did I mention that 2013 was Goldy's second full season in MLB? If Goldschmidt hasn't hit his ceiling yet, look out.
6. Joey Votto, 1B (Clemons) – Now, here's where things get interesting. I understand the logic behind drafting Votto, but some don't. In the past five seasons, Votto has batted over .300 with an OBP over .415. In 2010, he hit 37 homers and recorded 113 RBI. Though Votto hasn't replicated those numbers, there's still the possibility that he can attain the impressive stats.
7. Adam Jones, OF (Beall) – As I wrote earlier, anything goes after the Top-5 picks. I didn't have Jones in my Top-10, but Beall did. One could easily make an argument for drafting Jones in this spot. Last year, Jones belted 33 home runs and delivered 108 RBI, both career-highs. Also, he has reached the 30 homer plateau in back-to-back seasons. Tack on about a dozen stolen bases and he could be a very threatening five-tool player.
8. Ryan Braun, OF (Johnson, FanGraphs) – We're not here to discuss Braun's personality or character, we're here for his production. Prior to missing most of last year with a suspension, Braun hit over 30 home runs in five of his last six seasons, while also driving in over 100 RBI in five-straight campaigns. The risk of losing him to another suspension or seeing his stats taking a dip are all possible, but the chance of him contributing in a positive way for your fantasy team is also on the horizon.
9. Prince Fielder, 1B (Foltin) – The MVP-maker has crushed over 25 home runs in eight-straight seasons, including 46 dingers in 2009 and 50 longballs in 2007. Fielder has also produced over 100 RBI in three-straight years. Now, he's in a hitter-friendly park surrounded by another high-caliber lineup. Also, Fielder has only missed one start in five years.
10. Chris Davis, 1B (Westrich) – Last season, Davis lead the league with 53 home runs and 138 RBI. Obviously, he loves Baltimore. The success Davis has attained in Camden Yards in nowhere near the production he had in Texas.
11. Carlos Gonzalez, OF (Meyer) – I know I said that anything goes after the Top-5 picks in this year's draft, but I was shocked that Gonzalez fell to No. 11. So far, CarGo's average draft position is 7.3, and he's averaged as the sixth selection in the FOX Fantasy Experts' Top-300. The injury history will always play a factor for Gonzalez, he's never played more than 145 games in an MLB season. However, he's hit more than 20 home runs in four-straight years.
12. Yu Darvish, SP (Johnson, Rotowire) – When an owner has the last pick in the first round, you don't judge the 12th overall selection. You need to account for the 13th pick, as well. Because the team must wait 23 spots before their next choice, I don't mind the starting pitcher draftee. Couple the Darvish pick with a player who will likely bat leadoff and have a short porch in right field and you could have a dangerous combination.
Jean Segura, SS (6th round, 66th overall) – Beall with the steal. Segura has an average draft position of 32.8, yet he fell double that amount in our draft. I passed on him multiple times because I went with Hanley Ramirez in the second round. Even if Segura doesn't reach his numbers from 2013 (.294 AVG, 44 SBs), anything close would be worth the pick.
Wilin Rosario, C (5th round, 57th overall) – I think Rosario will have a successful season, but do I think he'll be better than Joe Mauer, Yadier Molina, and Carlos Santana? Probably not.
First three picks for DVR (Kershaw, Stephen Strasburg, and Jose Fernandez) – A common question I receive for fantasy baseball: Would you recommend drafting pitcher-heavy if I scour the waiver wire for hitters? My answer: Yes. Would I do that in a league where the other owners watch twitter feeds like a hawk? No.
Fowler:
Well, the results are in and it's official, the 2014 Fantasy Baseball Experts League draft order was rigged. With the first pick, I didn't hesitate to draft Trout. So, we'll leave that there and dive into the rest of my snake-pick draft strategy the rest of the way.
What I like:
Despite my fascination and propensity to load up on fantasy baseball offense, I feel this is my most well-rounded rotation in a few years. Knowing it was going to be an eon before my next two picks, I concentrated on starting pitching in Rounds 2, 4, 6, and 8 (yeah, yeah "who do we appreciate?!"), while constructing a balanced offense. Wainwright, Gonzalez, Shields and Moore should win their fair share of games, while racking up the strikeouts as long as – and say it with me – they stay healthy.
What I didn't like:
No offense to the fathers, but owning two Padres' infielders makes me a little nervous. In the perfect 2014 narrative, Gyorko hits 20 home runs and Cabrera (who returns from his 50-game suspension) swipes 40 bases, while maintaining OBP's around .350.
What I may like:
Matt Adams is getting his first crack at full-time employment at first base for the Cardinals. The country thick masher is capable of 25 homers, 85 RBI and a .330 OBP. The on-base percentage isn't ideal, but I took an insurance policy with Nick Swisher on the bench. I believe Swish will bounce back from a rough freshman campaign with the Tribe.
What I may regret…
For those who follow me on Twitter @FOXSportsFowler, there is no question I'm a Yasiel Puig apologist and hope the Cuban prospect pans out long-term for the Dodgers. There is, however, a slight concern on my part that starting pitchers began to figure out Puig in the final month of the 2013 regular season. Combine his late-season and post-season struggles last fall with the fact he may hit in the No. 1 slot to start the season, Puig's power numbers that dazzled us all last June may take a backseat to OBP, SB and runs scored priority. That's fine with the way my team was constructed, but I think most owners would assume 30 home runs is a given this year based on his power stroke. However, the question becomes is that the role the Dodgers need him to play in 2013? If not, the slowly maturing Puig may experience some growing pains adjusting to his new found role atop the lineup.
Johnson (FanGraphs):
I'm pleased with how the draft turned out for me. My initial plan was to focus on position players in the early rounds, snag two or three top relievers, and then start to fill gaps. With my second pick (17th overall), I had Shin-Soo Choo on top of my board with Edwin Encarnacion number two. I thought there was a small chance that Choo could reach me with my third pick, so I took Encarnacion. Luckily, Choo did fall to me. Relievers went a little earlier than expected, so I didn't get Kenley Jansen like I planned. I did net Greg Holland, Trevor Rosenthal, and Glen Perkins, who I rate as the fourth, third, and ninth best relievers respectively. Sergio Santos was available late and I have him in my top 20 currently.
Most people would not find my rotation desirable, but it's exactly what I was aiming to accomplish. The reliever talent should help offset any shortcomings with the starters and I expect at least one of Archie Bradley, Drew Hutchison, Michael Pineda, or Kevin Gausman to be a great asset. If I get value out of two or three of them, that's gravy. The league is set up to be very streamer friendly, so I can go in that direction if necessary.
Stolen bases are a problem area for me – it always is in OBP leagues. I'll probably need to scrounge a few off the waiver wire if I want more than four points in the category, but I'm very well positioned in the other four offensive categories as a result. Based on some quick math, I expect about 43 points on offense and 41 points from pitching. That's a good starting point.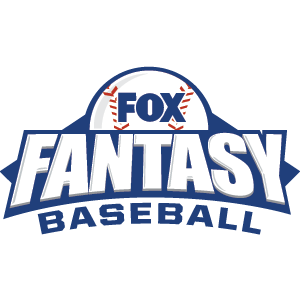 FOX Fantasy Baseball
Join or Create a Free League
Play Now!