Smoak running out of chances in SEA
Last week we looked at third base situations around the league. This week, let's cast a gimlet eye on the other side of the diamond – first base. The position has been relatively stable in the season's early going, but below are a few situations worth discussing.
Los Angeles Angels of Anaheim
Starter (but hobbled): Albert Pujols (foot)
Next: Mark Trumbo
It's a good thing Albert Pujols moved to the American League last season, as it looks like plantar fasciitis in his left foot will prevent him from playing first base for the immediate future. It is not clear how severe his case is, but that kind of inflammation tends to linger for a while, and he is reportedly in " I'm dying" pain. He should continue to DH on a regular basis, as he has for eight of the Angels' first 17 games. That opens up first base for Mark Trumbo, who probably would have DH'd those eight games if Pujols were at first. Howie Kendrick would probably swing over from second base if something happened to Trumbo.
Other thoughts: Even with the plantar fasciitis, Pujols has a .321 average on balls in play this season – probably because nearly one third of his hits have been line drives. Interestingly enough, 37 of Trumbo's career 61 home runs have come as a first baseman, but his top OPS's by position have been DH (.889 in 105 at-bats) and right field (.937 in 134 at-bats).
New York Yankees
Starter: Lyle Overbay
Next: Kevin Youkilis
Injured: Mark Teixeira
To provide the reader with an idea of how dire first base has been for the Yankees since Mark Teixeira went down with a wrist injury, Lyle Overbay has started 13 of the team's first 17 games after not joining the organization until late March. He has been a pleasant surprise with two home runs, but he had two home runs over the past two seasons combined. Kevin Youkilis has started the team's other four games at first base, and he will probably continue to receive a start or two there per week to receive a reprieve from third base. Teixeira could be back sometime in May, which should force Overbay either to the bench or the waiver wire.
Other thoughts: Travis Hafner has not played first base since 2007, but he might don a glove when the Yankees head to Coors Field from May 7-9. Overbay ranked somewhere in the 50's in the RotoWire preseason first base ranks. I admit to not have researched this extensively, but I would guess that would be the lowest ranking for a Yankees starting first baseman since RotoWire came into existence.
Colorado Rockies
Starter: Todd Helton
Next: Jordan Pacheco, Michael Cuddyer
Two developments in Colorado should not come as too much of a surprise. Todd Helton started Opening Day, and Helton is already dealing with a potential trip to the DL. Helton has served as the Rockies' Opening Day first baseman for 16 straight seasons, but he has reached the 500-AB mark just once since 2008. If he does hit the DL, the Rockies could either employ Jordan Pacheco on a regular basis, or they could bring Michael Cuddyer in from the outfield (or they could do some combination of both). Cuddyer already has four home runs in 60 at-bats. Compare that with Pacheco, who only has one extra-base hit in 29 at-bats (but boasts solid hitting-for-average skills).
Other thoughts: Helton through age 30: .339/.432/.616, 251 home runs and 836 RBI. Helton through age 35: .328/.427/.567, 325 home runs, 1202 RBI. Helton age 36-present: .270/.365/.414, 30 home runs, 153 RBI. Tyler Colvin, who started 18 games at first base and hit 18 home runs for the Rockies in 2012, has four home runs and a .963 OPS in 15 games for Triple-A Colorado Springs.
Tampa Bay Rays
Starter: James Loney
Next: Sean Rodriguez, Shelley Duncan
I was going to make some snide remark about James Loney as the Rays' starting first baseman, but he currently leads the team with a .302 batting average and .375 OBP through the season's first three weeks. Sample size, lack of power, and BABIP (.343) concerns aside, he is still just 28, so there may be still some "life" in his bat. By "life," I mean the ability to hit for .280+, but not reach a double-digit home run total. It is also worth noting he will probably not be bounced from his first-base duty if/when the Rays add Wil Myers to the outfield. However, Myers' inevitable arrival could push Sean Rodriguez to first on a more regular basis.
Other thoughts: There are not many first-base options coming up through the Rays' system, so the current major league players should see the majority of time there (barring injury). Who would you rather have this season – Rodriguez or Scott Kazmir?
Houston Astros
In the mix: Carlos Pena, Brandon Laird
It seems like the Astros' strategy this season was to lose a lot. A related strategy was to accumulate as many cast-off prospects as possible and see which ones would stick. One of the key elements of this latter strategy is to pull the plug at the appropriate time. Brett Wallace's plug-pulling time came last week when the Astros sent him down to Triple-A Oklahoma City and recalled Brandon Laird to take his place. Laird, a former Yankee non-prospect, started two games over the weekend for the Astros, ending a streak of five straight Carlos Pena starts. Pena, who has slashed a Pena-esque .226/.324/.403 through 62 at-bats, will slide to DH when he does not start at first. Chris Carter, who played 55 games of first base for the A's in 2012, has yet to start there in 2013.
Other thoughts: Wallace will probably return to the Astros once he rights his swing at Oklahoma City. Another guy in the minors to pay attention to will be Jonathan Singleton once he returns from a 50-game suspension for violating the league's (recreational) drug policy.
Washington Nationals
Starter: Adam LaRoche
Next: Tyler Moore, Chad Tracy
Adam LaRoche hung out on the free agent market longer than he probably would have expected after a 30-home run season, but he returned to the Nationals on a two-year, $24 million deal that precipitated the trade of Mike Morse. The Nationals have yet to see much return on that investment through three weeks. A full 40 percent of his hits have gone for extra bases (including three home runs), but he only has 10 hits through 50 at-bats. Still, there is no reason for fantasy manager to worry quite yet, as his real life manager now has him hitting cleanup for the Nationals in the wake of the Ryan Zimmerman injury. Tyler Moore and Chad Tracy should see no more than spot time here.
Other thoughts: Does Ryan Zimmerman end up at first at some point this season? The size of LaRoche's contract leads me to say "no." However, there could be discussion in this direction given Zimmerman's recent defensive struggles, especially if Anthony Rendon proves to be a capable replacement.
Oakland A's
Starter: Brandon Moss
Next: Nate Freiman
The A's platooned Brandon Moss and Chris Carter at first base in 2012. Through three weeks, it looks like they kept the right guy. He has a healthy .286/.365/.446 slash line through 16 games, and the A's have even had the confidence to expose him to left-handed starters on a regular basis. There is some power in his bat (21 home runs in 265 at-bats last year), but it would be unrealistic to expect him to double last year's numbers in double the playing time. Nate Freiman should stick on the roster as a virtue of being a Rule 5 pick, but do not expect him to accumulate a share of playing time similar to Carter's last season.
Other thoughts: Both of Moss's home runs on the season came in one series in Anaheim. The A's could occasionally push surplus outfielders/DH's to first base once Yoenis Cespedes returns from the disabled list. Shane Peterson, who was with the A's a few days last week while Moss was on the paternity list, has a .963 OPS in 100 Triple-A games, but those numbers may be a bit Pacific Coast League-inflated.
Seattle Mariners
Starter: Justin Smoak
Next: Kendrys Morales, Mike Morse, Raul Ibanez
Justin Smoak has played in all 20 Mariners games thus far, but the former top-15 prospect continues to disappoint. He has only posted one multi-hit effort over those 20 games, and he only has one extra-base hit through 69 at-bats. It's early, but those numbers are made more disappointing year when you consider his crazy good spring training stats (.455 OBP, .797 slugging in 19 games). Plus, they brought in the Safeco fences. The Mariners entered the year with a plan to boost their offensive output, so it would not be a surprise to see Kendrys Morales or Mike Morse supplant Smoak more frequently when the outfield gets healthy. Additionally, Jesus Montero could be a factor if/when Mike Zunino takes over behind the plate.
Other thoughts: First base has been a hole here since Russell Branyan busted out for 31 home runs in 2009. Branyan and Richie Sexson have posted the only three 30-home run seasons by a Mariners first baseman since Safeco opened in 1999. Raul Ibanez has started at first base 115 times, but he has only played 36 innings of the position since 2005.
Philadelphia Phillies
Starter: Ryan Howard
Next: John Mayberry, Laynce Nix, Kevin Frandsen
So far, so healthy for Ryan Howard. He missed a few games over this past weekend with a groin injury, but the Achilles' and toe injuries that bookmarked his 2012 season have yet to resurface. His power has also yet to resurface, as he has hit only one home run in 70 plate appearances. He may be trying hard to get another, as he has swung at 43 percent of first pitches seen (his career rate is 31 percent), and his 3.7 pitches per plate appearance is a career low. It should be noted the ball is going in play (.277 batting average), but it's not going over the fence and he's not waiting for a walk. John Mayberry is the primary backup here, but Michael Young could potentially get some starts here in the event Howard needs to sit for a while, but then the Phillies would need to cobble together something at third base.
Other thoughts: Darin Ruf, who had 38 home runs at Double-A Reading before a late-season cup of coffee in the majors, has posted a 14-for-56 start to his 2013 at Triple-A Lehigh Valley.
Get a FREE RotoWire 10-day trial (no credit card required) at RotoWire.com.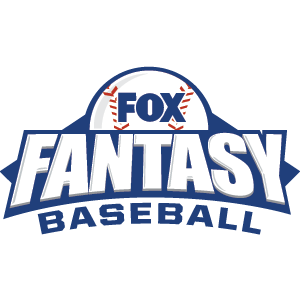 FOX Fantasy Baseball
Join or Create a Free League
Play Now!