2015 Fantasy Baseball Top 50 Players' Notes and Information
The following Top 50 fantasy baseball player notes will be updated as the season approaches.
Fantasy Baseball Rankings: Top 300 | C | 1B | 2B | 3B | SS | OF | SP | RP
ALSO SEE: Top 25 Cheat Sheet
Mike Trout, OF
Trout's stolen-base total has dropped from 49 to 33 to 16 over the last three seasons, and last year he batted just .287. The horror! He's still fantasy's clear top overall pick.
Giancarlo Stanton, OF
Choosing between Stanton, McCutchen and Cabrera is tough, but the 13 steals that Stanton added to his arsenal last year give him the nod. And while Marlins Park is tough on righty power hitters, Stanton slugged 24 of his 37 homers at home. Improvement is possible.
Andrew McCutchen, OF
McCutchen offers strong fantasy numbers across the board; last season he fell just two steals short of being a 20-20 man for the fourth year in a row. His .299 career BA is pretty terrific, too.
Miguel Cabrera, 1B
Cabrera's HR total dropped to 25 last season, and his offseason ankle surgery has him iffy for Opening Day. There's a slight level of worry here, but only enough to drop Cabrera from second to fourth in our preseason rankings. If his health looks good in March, he could move up.
Paul Goldschmidt, 1B
Goldschmidt was tracking toward another .300-30-100-100 season with double-digit steals before breaking his hand in early August. Reports say he's fully recovered, so another big campaign is likely.
Clayton Kershaw, SP
How early would you draft baseball's best starter? Fifth or sixth overall sounds about right. Did you know that Kershaw has not posted an ERA above 3.00 in any of his six full big-league seasons?
Jose Abreu, 1B
Abreu answered every question while batting .317 with 36 home runs in his rookie season. His walk rate was fine, his strikeout rate wasn't too bad, and he hit BOMBS. A repeat seems likely.
Jose Bautista, OF
Bautista was healthy all year for the first time since 2011, and it showed in his power numbers (35 HR, 103 RBI, 101 R). His .286 BA was a nice surprise, aided by a career-best line-drive rate.
Carlos Gomez, OF
Remember when Gomez was just a speedy flychaser? He's averaged 22 home runs with 37 stolen bases over the last three seasons. Money in the bank.
Felix Hernandez, SP
"The King" posted his best season in 2014, with a 2.14 ERA and a 0.92 WHIP. He was essentially the same pitcher as in 2013, just with a little bit more luck. That's not a bad thing.
Troy Tulowitzki, SS
Tulowitzki was having a monster 2014 before getting hurt … because he always gets hurt. There's a difference of opinion on Tulo in the FOX Fantasy department – Fowler has him as a first rounder, Halpin and Meyer don't. If he stays in the lineup, he'll be excellent.
Robinson Cano, 2B
Cano's power numbers predictably dropped off with his move from the Bronx to Seattle. Still, he batted .314, and at his position he ranked second in RBI (82), T-4 in home runs (14) and eighth in runs (77).
Edwin Encarnacion, 1B
Encarnacion's power matches up with just about anyone else's. He had 34 homers with 98 RBI in 128 games last year, when he missed time in July and August due to a strained quad. E5 could lead the majors in home runs.
Max Scherzer, SP
Scherzer moves to the NL East, where he gets to face pitchers instead of DHs every few innings, and start 10-12 games against the Braves, Phillies and Mets. That's a nice situational upgrade.
Buster Posey, C/1B
Poset plays first base once or twice per week so his bat can stay in the Giants' lineup, and that helps his counting stats. A .308 career BA is pretty nice, too.
Adam Jones, OF
Every year, Jones' puny walk rate makes you think he'll run into trouble eventually. And every year, he bats in the .280s with very good power numbers along with a dash of speed. Jones is what he is, and that's pretty good.
Anthony Rizzo, 1B
Rizzo learned to hit lefties (.928 OPS) last season, and it propelled him to a breakout season at age 24. He was one of just six major leaguers to hit 30-plus home runs with a BA of .280 or higher.
Adrian Beltre, 3B
Beltre's power numbers slipped a bit last season, but the rest of his game stayed intact. We should probably expect a decline at age 36, but not a big one.
Jose Altuve, 2B
Short guys rule! Altuve might not bat .341 again, but if he hits .300 with 40-50 steals and 80-90 runs, he'll be worth a top-20 pick.
Anthony Rendon, 2B/3B
Rendon was terrific in his first full season, producing in five fantasy categories. He'll play third base this season, but fantasy eligibility at the keystone adds to his value in 2015.
Chris Sale, SP
If there were no worries about Sale's health, he might rank ahead of Hernandez and Scherzer here. But, if you've seen Sale's mechanics, you'll always worry about his health. Keep your fingers crossed.
Yasiel Puig, OF
Puig's fantasy numbers weren't great, but they were pretty good, and there was enough to make you think that a breakout is coming at age 24. Remember that overthrowing cutoff men does not penalize a fantasy player.
Corey Kluber, SP
Some people were excited about Kluber before 2014, but nobody saw THAT coming. Kluber finished second in the majors in Ks (269), T-4 in wins (18), seventh in ERA (2.44) and 15th in WHIP (1.09). None of the underlying numbers suggest a fluke.
Hanley Ramirez, SS
2015 is likely to be Ramirez's final season of fantasy shortstop eligibility, so enjoy it while you can. His move to Fenway Park should provide a nice power boost.
Ian Desmond, SS
Three consecutive 20-20 seasons for a shortstop is pretty darned impressive, and the only thing dragging down Desmond's 2014 was a .255 BA. There's another red flag here, though: Why did his strikeout rate spike from below average to terrible?
Freddie Freeman, 1B
Freeman doesn't bring home-run thunder to his position, but his BA is very good, and he'll probably finish among the top six or seven first basemen in runs and RBI. Freeman led the majors in 2014 with an astounding 31 percent line-drive rate – he hits the ball HARD.
Michael Brantley, OF
Brantley's ranking factors in the skepticism about whether he'll repeat his breakout 2014 season. Even if he takes a step back, he could be worth a third-round pick.
David Price, SP
Price led the majors in strikeouts in 2014, and easily posted the best K/BB ratio (271:38) of his career. He's a money-in-the-bank fantasy ace.
Jose Reyes, SS
When Reyes can stay in the lineup, he's very good for your BA, runs and steals. His supporting cast will be better this season, so his numbers might improve as well.
Jacoby Ellsbury, OF
Halpin has Ellsbury ranked much higher than Fowler and Meyer, based on the assumption that the BA (.271 last season, .293 career) is likely to improve while the rest of the stats should look similar. The move to Yankee Stadium obviously helped Ellsbury's power, and his speed is holding up in his early thirties.
Madison Bumgarner, SP
Yes, Bumgarner is the clutchiest pitcher we've seen in quite some time. He's an ace, and his 2014 fantasy numbers were very good. Are you worried about the 270 innings he threw between the regular season and postseason? No? OK.
Hunter Pence, OF
Pence is a .284 career hitter who posts strong numbers across the board for his fantasy owners. It's puzzling that many people won't rank him among their top 20 outfielders. That provides good value for you, though.
Ryan Braun, OF
Braun hasn't been in the best-overall-fantasy-player argument since 2012, but he bounced back to have a solid 2014. If this is what we get moving forward from Braun, it won't be so bad.
Johnny Cueto, SP
Where did all those strikeouts come from? Cueto was excellent in 2014, posting a 2.25 ERA with a 0.96 WHIP, and whiffing 72 more batters than he ever had before. He was also helped quite a bit by his team's excellent defense, and that's something to consider with all the Reds' starters.
Justin Upton, OF
Upton had a strong 2014, with 29 home runs and 102 RBI. The move to San Diego is likely to hurt his numbers, even if it is the greatest city in the history of mankind. Adjust Upton's fantasy stock accordingly.
Ian Kinsler, 2B
Kinsler's real-life production is declining, as he posted a .727 OPS last season. Fortunately for us fantasy folk, his counting stats were still solid, and he'll bat either first or second in a strong Tigers' lineup. Kinsler should be OK for one more season.
Carlos Gonzalez, OF
If you think CarGo will play 120 games at something close to full strength, he'll probably be worth this draft slot. His recovery from knee surgery appears to be going well, but we don't know how the injury will impact his basestealing. High risk, high reward.
Josh Donaldson, 3B
The move to Toronto is likely to help Donaldson's power, as he hit just 11 of his 29 home runs in Oakland last season. A potentially low BA is the only thing to worry about.
Yu Darvish, SP
Darvish was shut down in August due to elbow inflammation, so there's some risk here. If healthy, he's a fantasy stud who could whiff 300 batters. Darvish's walk rate improved to about average last season; control was his only flaw in 2012 and 2013.
Adrian Gonzalez, 1B
Since 2007, Gonzalez has knocked in 100 runs in every season but one (he had 99 RBI in 2009). His OPS suggests that he's past his prime, but he's still a top-10 option among first basemen.
Adam Wainwright, SP
We don't want to argue too much with 20 wins, a 2.38 ERA or a 1.03 WHIP, but Wainwright's subpar strikeout rate (179 K in 227 IP) keeps him out of the top tier of starters. He had some minor elbow surgery in October, but expects to be ready for spring training.
Albert Pujols, 1B
Pujols had a strong bounceback season at age 34, but he slowed down dramatically in the second half. His OPS ended up at .790, and isn't likely to get any better. Pujols' 2014 stats were probably his ceiling.
Chris Davis, 1B/3B
Davis' hot-corner eligibility is great. His .199 BA from 2014 is the opposite. Just remember that he batted .278 across 2012-13, and averaged 43 home runs in those seasons. Drafting Davis in Round 4 or 5 carries some risk, but the upside is significant.
Stephen Strasburg, SP
Strasburg strikes out batters with the best of them, and his BB rate dropped by a full walk per nine in 2014 as he surpassed 200 innings for the first time. A big, giant monster of a breakout season could be coming.
Jonathan Lucroy, C
Lucroy batted .301 with 13 homers while leading catchers in runs (73) and ranking T-7 in RBI (69). He's fantasy's second-best catcher behind Buster Posey, and that's a nice place to be.
Bryce Harper, OF
Sure, some injuries have slowed Harper's path to superstardom. But he's 22 years old, so let's not quit on him prematurely. Even Harper's 2013 numbers would be a nice rebound, and they don't come close to his upside.
Zack Greinke, SP
Greinke has a 2.68 ERA over his last two seasons, and ramped his Ks back up (207 in 202 1/3 innings) in 2014. If you miss out on the top-tier aces, Greinke will be a nice consolation prize.
Victor Martinez, DH
Drafting a DH-only this early usually isn't advisable, but V-Mart was sooooo good last year that you have to consider him. He's batted .321 in three seasons as a Tiger while averaging 19 home runs and 96 RBI.
Jason Kipnis, 2B
Kipnis was a huge disappointment in 2014, when oblique and hamstring injuries – along with some extra bulk – sunk him to a .240 BA with six home runs. At age 28, he seems likely to rebound to his 2012-13 form. Grab him in Round 5 if you can.
Prince Fielder, 1B
Fielder played terribly through mid-May last season, and was shut down to a neck injury that required surgery. He certainly shouldn't be drafted like the elite option he once was, but in Round 5 or 6 he'll be hard to pass up.
Fantasy Baseball Rankings: Top 300 | C | 1B | 2B | 3B | SS | OF | SP | RP
ALSO SEE: Top 25 Cheat Sheet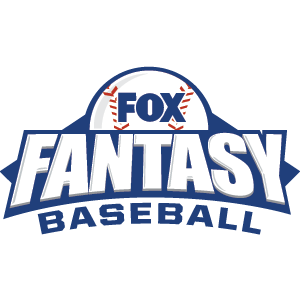 FOX Fantasy Baseball
Join or Create a Free League
Play Now!