Where did Tigers slugger J.D. Martinez come from?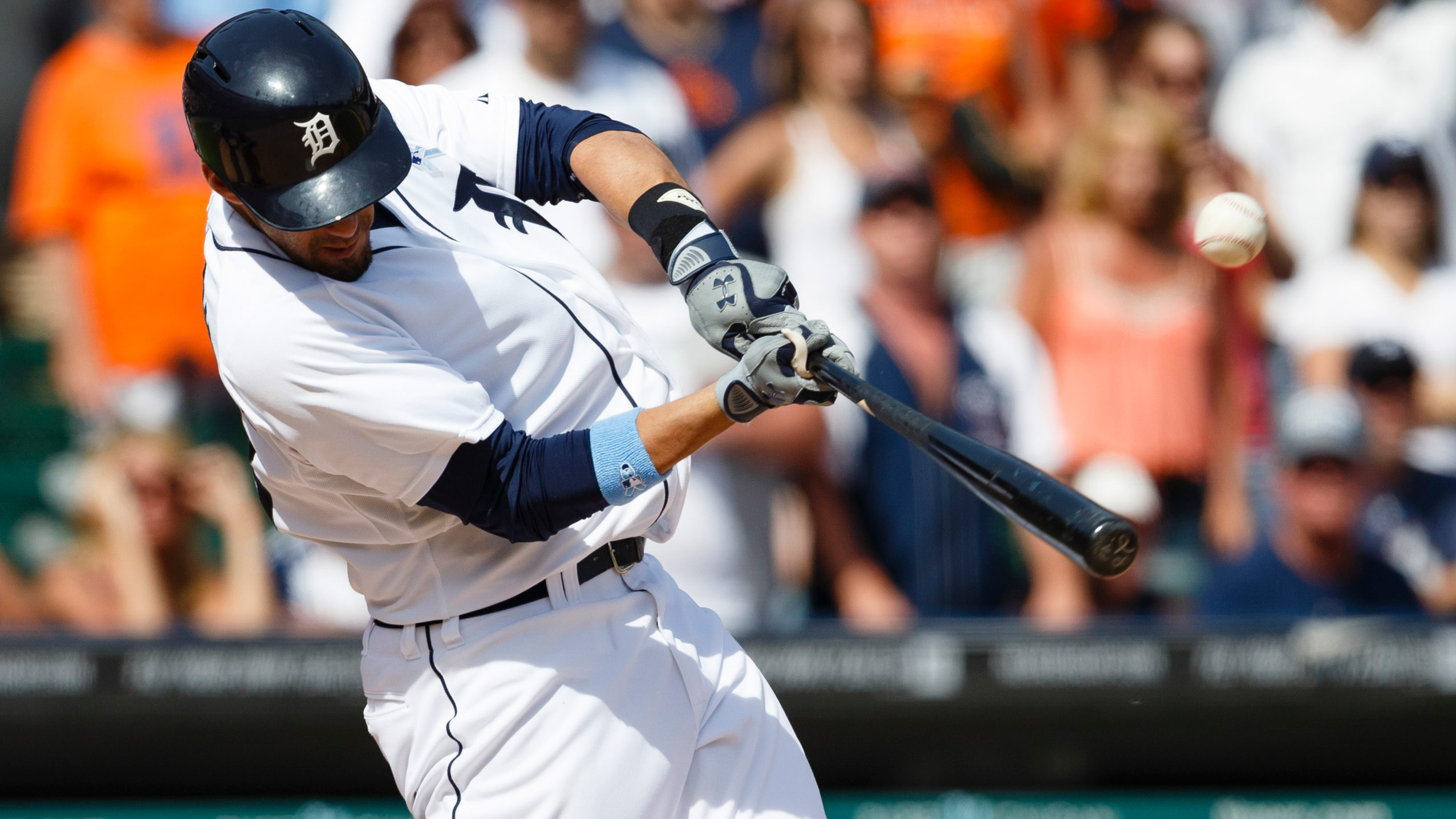 Outfielder J.D. Martinez is creating quite a stir for the Detroit Tigers. He's mashing the ball with such authority and regularity that he's now batting fifth in the lineup. It seems as if Martinez appeared out of nowhere. But just where did this run-producing godsend come from?
That explanation begins with the story of the evolution of his swing.
Martinez missed 44 games late last season with an injured wrist. And while watching video one day in Toronto with Houston Astros teammate Jason Castro, he made an abrupt decision while watching Castro's pretty swing.
Martinez said: "I thought, 'Dang! His swing is so much different than mine.' I watched his swing a lot on video and then started watching the swings of great hitters. The one I watched the most was Miguel Cabrera because his has a commonality to all great swings.
"And I decided to change my swing — completely."
That was a radical move for a 26-year-old player who had spent three years in the majors with the Astros, and had been anything but a train wreck at the plate. Martinez batted .251 with 24 homers and 125 RBI in 899 at-bats.
But he wanted to be more than mediocre. Now Martinez is batting .310 with seven homers and 27 RBI in just 113 at-bats. His .593 slugging percentage trails only Victor Martinez (.597) on the Tigers and is higher than Cabrera's .558.
Detroit signed Martinez once Houston released him after spring training upon the recommendation of new third base coach Dave Clark, who had been a coach with the Astros. Martinez promptly batted .308 with 10 homers and 22 RBI in 65 at-bats for the Mud Hens, knocking down the door to Detroit.
Martinez has the American League's longest active hitting streak at 12 games heading into an 8 p.m. Tuesday night game at Texas against the Rangers on FOX Sports Detroit (Tigers Live begins at 7). He's hitting .404 with six doubles, four homers and 13 RBI during the streak.
"Rather than just seeing the ball well," said Martinez, "it's more about not missing my pitches. That's been the biggest thing. The pitcher's going to give you one pitch, and you've got to hit it."
And by hitting his pitch, Martinez is making a huge impact.
His solo homer against the Kansas City Royals on Thursday made Detroit a 2-1 winner, and his three-run homer Friday at Cleveland ended up being the difference in a 6-4 victory. He also had a grand slam and another solo homer against the Royals.
Martinez had the first walk-off RBI of his career with a sacrifice fly that beat the Minnesota Twins on the last home stand.
"That was awesome," said Martinez, who was mobbed by teammates and had third baseman Nick Castellanos jump into his arms.
Tigers fans are beginning to show belief in him. During a ninth-inning at-bat on Thursday, a chant began: "J.D.! J.D.!"
His initials stand for Julio Daniel. Martinez is of Cuban heritage and was born in Miami and raised in South Florida, where he attended Nova Southeastern University in Fort Lauderdale. The Astros made him a 20th-round pick in 2009, and Martinez surprisingly made it to the majors two years later.
But he wasn't able to spend a full year in the majors during the last three seasons, and went about re-working his batting approach to hit in a way that would enable him to stick in the big leagues.
I decided to change my swing — completely.
J.D. Martinez
"I had held my hands high and had an early foot stride with a wide stance," Martinez said. "I dropped my hands low, got a smoother stride and a straighter stance."
He's stayed with his approach all season except for the minor alterations all hitters make in adjusting to how they're pitched.
"It's just been minor tweaks this season," Martinez said.
In the offseason, Martinez left his home in Fort Lauderdale to work on the swing with a friend in Los Angeles. He said the friend requests anonymity, but did say that his hitting helper does not have a major league background.
"Then I went to Venezuela to try it out," said Martinez, who hit .312 with six homers and 18 RBI in 24 games for Leones del Caracas in the Venezuelan Winter League. "I learned what it was that I needed to work on, and went back to California to work with my friend again. I dialed it in there. I'm still doing a little tuning in on it. Old habits come back, but I have drills to polish it out."
When he's hitting the ball in the air, Martinez said he knows good results will follow.
"I like to get the ball up in the air," he said. "If I get the ball in the air, there's a chance it will go out or be a double. Everything's been working for me."
And now he's playing with Cabrera, and slapping hands with him after homers.
"It's crazy how things turned out," Martinez said. "People told me, 'You are with your idol now.' "
However, Martinez said he's been careful not to pester Cabrera much about his swing.
"It's just a natural swing that's always been right for him," Martinez said. "He got taught right by an uncle when he was a kid.
"I've had to find my way to this swing."
Playing regularly has added to his consistency.
"For sure, I feel that all the playing time helps," Martinez said. "Your body gets into a baseball rhythm doing that."
Tigers manager Brad Ausmus said "it's hard" not to start Martinez.
"He's swinging the bat so well," Ausmus said.
Whenever outfielder Andy Dirks returns to the Tigers after rehabilitating from back surgery, Martinez won't be going anywhere if he's still clubbing the ball the way he is now. His re-invented swing has brought the production and security he hoped it would.