Very special guest to accompany Spartans' Payne on Senior Night
A little more than two years ago, Michigan State basketball standout Adreian Payne met a beautiful young cancer patient fighting for her life when the team made a community-service hospital visit.
On Thursday night, 8-year-old Lacey Holsworth will accompany Payne during a Senior Night ceremony for the Spartans' final home game of the season, against Iowa. Payne, projected as a first-round pick in this summer's NBA Draft, calls her "Lil' Sis."
To her, he's "Superman."
They've both faced their share of adversity, but perhaps the biggest thing they have in common is that they always put a smile on the other's face.
"@adorablelacey: Can't wait to see my big brother @Adreian_Payne next week!! I miss you! pic.twitter.com/qD34dAP7al" Awwww!!!!!

— Shruti Patel (@shru520) October 10, 2013
A few weeks ago, when Holsworth was undergoing more treatments because her cancer had returned, Payne tweeted to her, "I love you @adorablelacey wish I could be there. So fight this chemo and be strong."
Her response: "I love you too Superman. I will do my best. I wish you could be here, too."
Holsworth was diagnosed with Neuroblastoma, an aggressive form of cancer, in late December 2011, and was temporarily paralyzed by a tumor wrapped around her spine. Her parents were told she probably had two weeks to live without treatments.
She's had to grow up quickly. So did Payne.
He watched his mother die in his arms after an asthma attack when he was 13 years old. A couple years ago, his grandmother, who had become his guardian, also died from asthma. When Payne was a kid, his father spent time in prison on drug charges.
More than anything, it was Payne's smile that stood out to Lacey when the Spartans players came to see her at Sparrow Hospital in Lansing about a month after she'd found out she had cancer.
In a way, it's as if they are soul mates.
They often text back and forth, including this exchange: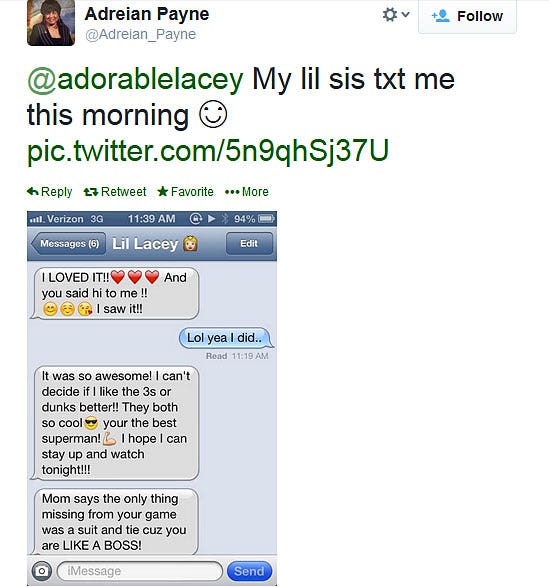 Holsworth's cancer had been in remission for a while, but it emerged again in November. She continues to battle.
Her father, Matt Holsworth, told the Detroit Free Press that Lacey is "an old soul."
Her inspirational tweets to more than 3,000 followers prove as much:
— The bio on her Twitter account says: "8 years old and beating cancer one dance step at a time."
— "I never fear death or dying," she tweeted on January 17. "I only fear never trying."
— "Had my hip bones drilled into today and still went to dance class #KissItCancer," was the message a few days later.
— "Sucker punched by cancer," she added on February 13. "Never ever give up. #stillsmiling."
— That was followed up by this: "I refuse to be a victim. No matter what I've been through, I'm still here. I have a history of victory."
This intriguing friendship with Payne gives her hope and happiness in tough times, and it constantly inspires him. He has called her "a blessing" on many occasions.
Coach Tom Izzo says that Payne "lights up" when Lacey comes around for a visit.
The other Michigan State players, including Gary Harris and Denzel Valentine, also have become her good friends. During a recent game, they wore bracelets on their ankles with the motto: "#prayforLacey."
A Buffalo Wild Wings restaurant in East Lansing is holding a fundraiser Monday to help with medical expenses for this gregarious youngster who's become known as "Princess Lacey" to many.
But before that, there's this very special basketball game to be played, the last one in Payne's career at the Breslin Center.
Lacey and her family will be there to take part in the celebration with her "big brother." It will be an emotional night for everyone.
It's just that kind of story.