Pistons to celebrate their 'Bad Boys' on March 28
The Detroit Pistons will honor the 25th anniversary of the "Bad Boys" — the 1988-89 team that swept the Los Angeles Lakers for the franchise's first NBA title — on March 28 at the Palace of Auburn Hills.
It was a team with four Hall of Famers: Chuck Daly, Isiah Thomas, Joe Dumars and Dennis Rodman. But the image that symbolizes them will always be the Bad Boys poster of Bill Laimbeer crushing a basketball with his bare hands and Rick Mahorn eating the net off a rim.
The poster was so iconic, when Laimbeer and Mahorn teamed up as coaches to win WNBA titles with the Shock, it was remade with Kara Braxton, Ruth Riley, Cheryl Ford and Barb Farris.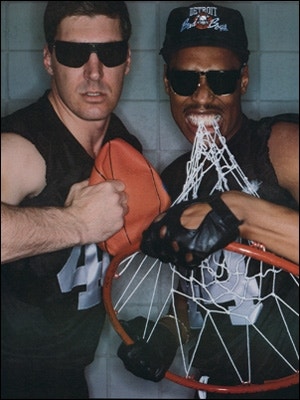 The Pistons lost Mahorn in the expansion draft after their first championship, but he came back to finish his career in teal and has remained incredibly popular as the team's radio color commentator.
The accolades aren't reserved for Mahorn, though. Every player, coach and executive from that era gets showered with attention just by walking into the building. Even Jim Rowinski would probably get cheered if anyone remembered the eight magical minutes he played in March and April.
The Bad Boys were a perfect symbol of Detroit — a blue-collar team that played with a massive chip on its shoulder. They beat Michael Jordan and Magic Johnson with hard work, not glitz and glamor.
When you recall those teams, you think of Thomas nearly winning an NBA title on one leg and Rodman slamming Scottie Pippen into a basket support. Even during the 1989 Finals, the biggest play was a blocked shot by Dumars, who then leapt out of bounds to save the ball and clinch the game.
"Obviously, it was always going to be great to be the first Pistons team to win a title, but the best part was the way the fans embraced us and the way we embraced them back," Mahorn said this week. "They knew that we were going to give everything that we had to win that championship."
Was it a talented team?
Yes, of course. Teams don't win back-to-back titles without a lot of talent, and they do have four plaques in the Hall of Fame.
But that doesn't change the fact that it was a brilliantly built roster, as well.
Thomas would have been a superstar on any team, but Dumars, Rodman, Laimbeer, Mahorn, John Salley and Vinnie Johnson were all players who were put into the perfect situations for their skills. It was a team that traded its leading scorer, Adrian Dantley, for Mark Aguirre, a player that was a better fit for the roster.
"We had Isiah, obviously, but we didn't have the whole lineup of stars that the other teams had," Mahorn said. "We didn't have Larry Bird and Kevin McHale and Robert Parish and Dennis Johnson, and we didn't have Magic Johnson and James Worthy and Kareem Abdul-Jabbar.
"We had guys who became stars because of how hard we all worked for each other."
Then there's that other Pistons team — the one that shared many of those same characteristics and also has an anniversary this season.
The best part was the way the fans embraced us and the way we embraced them back.
"Bad Boy" Rick Mahorn
It's been 10 years since the 2004 championship. Although there's no parties or charity events planned to celebrate that group, there's no question they, too, have a big spot in the hearts of fans.
Wallace might be the most popular assistant coach in the NBA. And Chauncey Billups still gets cheers from the fans, even when his injured knee has him wearing a suit during games.
Like Jack McCloskey before him, Dumars took a talented group of players and built them into a roster that added up to more than the sum of its parts.
It's easy to forget that Billups was seen as a draft bust when the Pistons became his fifth team in his then six-season career, or that the Wizards had given up on Rip Hamilton at the age of 23.
Ben Wallace, the heart of the team, was the ultimate reject. When he went undrafted out of Virginia Union, the Boston Celtics gave him a shot on their summer-league team — as a point guard. The Bullets/Wizards kept him around for three years, but couldn't figure out what to do with him. And the Magic happily tossed him into the deal that got them a crippled Grant Hill.
Wallace had been considered uncoachable. Twenty-two teams passed on Tayshaun Prince in the draft, and Mehmet Okur went 37th in 2001. The Pistons even got starts that season out of Darvin Ham and the less-than-legendary Zeljko Rebraca — all players that any NBA team could have picked up.
Again, the Pistons didn't win the titles just by playing hard. We don't know how many Hall of Famers they'll eventually get — Larry Brown had already been inducted before he got to Detroit, and Billups and Wallace might not have the career numbers to get in — but they were still good enough to come within one Rasheed Wallace defensive lapse of back-to-back titles.
"That team was built just like the Bad Boys," Mahorn said. "That was a group of guys that were brought in who had to prove themselves by outworking and outplaying the teams with the stars.
"That's why we were so popular, and that's why they were so popular. That's the kind of team that works in Detroit."
After the Bad Boys broke up, there was a long period when the Pistons flailed around trying to rebuild. Hill was supposed to be the answer. He was certainly good enough to lead a championship team, but the Pistons never found the right supporting cast.
That's where the Pistons find themselves again. They have a rare talent in Andre Drummond, but Dumars hasn't been able to duplicate the chemistry of the team he played for or the one he built.
Only time will tell how soon the franchise finds its third great roster.