2014 preview: Stafford needs to bounce back in a big way
DETROIT LIONS
2013: 7-9, third place in NFC North.
Head coach: Jim Caldwell, first year.
Key departures: CB Chris Houston, S Louis Delmas, WR Nate Burleson, DE Willie Young, PK David Akers, QB Shaun Hill and S John Wendling (special-teams captain).
Key arrivals: WR Golden Tate, S James Ihedigbo, TE Eric Ebron, LB Kyle Van Noy, PK Nate Freese, QB Dan Orlovsky, FB Jed Collins, CB Cassius Vaughn, CB Nevon Lawson, OL Travis Swanson, DE Darryl Tapp, DE Larry Webster and DT Caraun Reid.
THREE QUESTIONS
1. Will the real Matthew Stafford please stand up?
Much of the blame for the Lions' 1-6 slide down the stretch that cost them a playoff spot has been directed at quarterback Matthew Stafford, who has regressed the last couple seasons despite possessing potentially elite skills.
If "the time is now" for this team as Caldwell suggests, Stafford must cut down on his crucial mistakes when it's make-or-break time in games and when a playoff bid is on the line late in the season.
The Lions have added some more weapons on offense for him, not to mention coaches (Caldwell, offensive coordinator Joe Lombardi and quarterbacks coach Jim Bob Cooter) who have an impressive track record working with high-end quarterbacks.
This is Stafford's sixth year in the league — and a crucial one for him personally.
2. Can the defense somehow hide an ongoing glaring weakness at cornerback?
The Lions, shockingly, did very little during the offseason to fix this issue in their secondary. What's more, they ended up releasing Chris Houston, who was coming off a subpar season and a nagging toe injury that required surgery last spring. Houston was expected to be the team's No. 1 corner when the Lions re-signed him a year ago.
The defense is left relying on Darius Slay, a second-round draft pick last year, to bounce back from a disappointing rookie year, and Rashean Mathis to squeeze an 11th NFL season out of his body.
The only additions of note were free agent Cassius Vaughn (from Indianapolis) and fourth-round pick Nevon Lawson (Utah State). It would help considerably if three draft picks from 2012 — Bill Bentley, Chris Greenwood and Jonte Green — were healthy and productive.
None of these options at cornerback is anywhere near a sure thing, so the pass rush better get home early and often.
3. Will Caldwell clean up the discipline problems that plagued the Lions so much during the Jim Schwartz era?
Some analysts believe this is one of the most talented rosters in the league, but it's also a team that seems to make a bonehead play at the worst time, whether it's a foolish penalty or some other mental mistake.
"We've got to get better playing team football, playing smart football, being able to be aggressive but also to play smart, minimizing the penalties and turnovers and mistakes," general manager Martin Mayhew said. "Just playing solid football as a group is really as important as adding any particular player."
While Schwartz was a loose cannon at times, Caldwell comes off as calm and steady. Maybe that's exactly what this group needs at this time.
BREAKOUT PLAYER
Rookie tight end Eric Ebron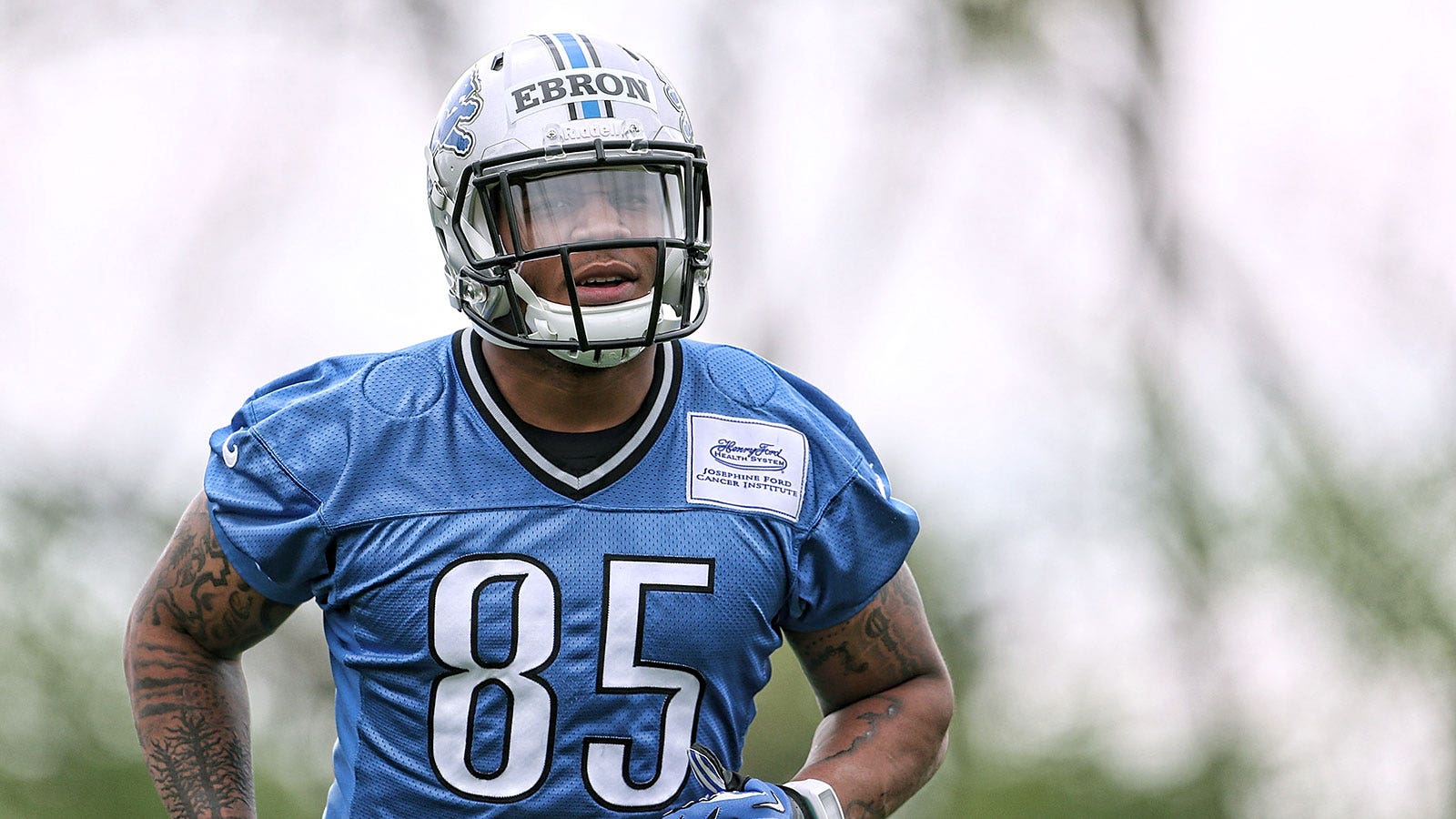 After using a first-round draft pick on him rather than taking a much-needed cornerback, Ebron better emerge as a playmaker immediately. There's pressure on everyone to make sure that happens, otherwise some people in the organization (starting with Mayhew) are going to look bad.
Lombardi, a former quarterbacks coach for the New Orleans Saints, has installed an offense that has definite aspects brought over from the Saints. Ebron (6-foot-4, 250 pounds) isn't Jimmy Graham (6-7, 265), but the Lions would like to use him in a similar fashion as sort of a hybrid tight end/receiver because of his size, athleticism and ability to make things happen downfield.
REASON FOR OPTIMISM
The Lions have their share of star power with receiver Calvin Johnson and defensive tackle Ndamukong Suh, along with a lot of offensive weapons in Stafford, running back Reggie Bush, Ebron and Tate, who played on a Super Bowl champion last season in Seattle.
Assuming the offensive line doesn't regress after a surprisingly solid performance in 2013, the Lions have the potential to be one of the league's top scoring machines.
REASON FOR PANIC
The situation at cornerback isn't likely to get resolved this year. The Lions are simply going to have to overcome it. They're also probably going to have a rookie kicker, which is always cause for concern.
As for the new coaching staff, don't forget that Caldwell had some game-management problems in his last stint as a head coach in Indianapolis and both of his top assistants (Lombardi on offense and Teryl Austin on defense) are coordinators in the NFL for the first time.
ALEX MARVEZ'S 2014 PREDICTION
Of the seven head coaching vacancies in 2014, I thought Detroit's was the most appealing because of the talent on hand. Let's see what Jim Caldwell can do with it. An offense that already featured Calvin Johnson and Reggie Bush became even more potent this offseason with the acquisition of wide receiver Golden Tate (Seattle) and rookie tight end Eric Ebron. The defensive strength is again the front seven led by defensive tackle Ndamukong Suh. Caldwell's two biggest challenges: fixing sixth-year quarterback Matthew Stafford, whose completion rate dipped to 58.5 percent last season, and teaching the Lions how to win close games. Prediction: 9-7