Daily Buzz: Best sports logo?
The Detroit Free Press held a tournament to name the best sports logo in the state of Michigan, and when it was all said and done Michiganders had crowned this guy, the Ferris State Bulldog.
That is a pretty sweet logo, although you do wonder if the student body there may have stuffed the ballot box. Something about that logo feels a little "1980s Saturday morning cartoon villain," although that certainly should not be considered a strike against it.
Anyway, it got me thinking about sports logos and which are the good ones and what makes them good. I think you can more or less divide sports logos into three categories: Classic, cartoony and "aggressive."
One of the great examples of a classic sports logo, of course, is this baby . . .
Which you see a lot more often than this baby . . .
That's because the simple, elegant intertwined NY looks like something a superhero might wear on his chest and that bat-in-the-hat thing looks like it belongs at the county fair.
Another great, classic logo is the D that represents the D . . .
There's nothing you can say against that. It's beautiful. It's instantly recognizable as the letter D, and yet it looks like no letter D you've ever seen before.
Straddling the line between classic and cartoony is the Detroit Red Wings logo.
First of all, that looks like it was designed by a tattoo artist. It's just awesome. It communicates "Detroit" without having to say it or even use the letter D. A car wheel with wings on it? Of course that's the Motor City. What else is would it be, Indianapolis?
Speaking of easily identifiable, let's say you're a 19th-century graphic artist and somebody asks you to design a logo for a team call the Red Sox. What do you come up with? Well, two red socks, obviously. Don't overthink it.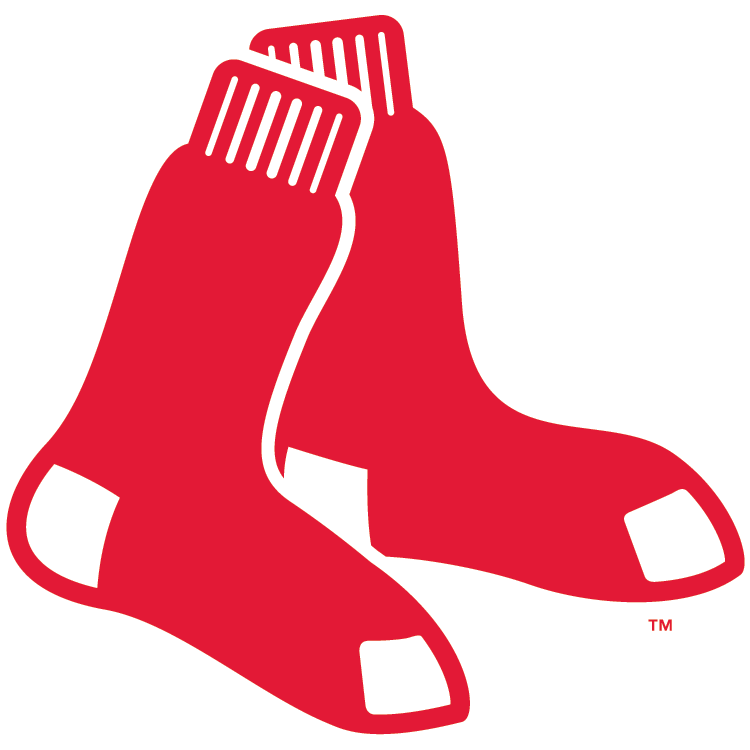 Moving into cartoonish territory, we soon come across this little guy . . .
Teal and orange go nicely together, so well that you may have noticed those colors dominating almost every movie you see these days. The only way that logo could be any more Miami is if it was a picture of a foreclosure notice. That version of the logo went out of use in 1989 and now the Dolphin doesn't wear a helmet, which is a shame.
While we're in Florida, would you look at this guy? Just look at him. Is he trying to seduce you? He is!
Has anything ever looked more 1969 than the San Diego Padres logo that debuted in 1969? Also, who is that, Friar Tuck? If so, why? And why would you ever go away from this?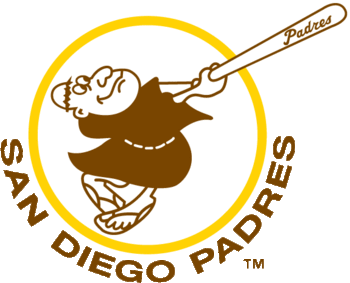 In my home state, the two big state schools illustrate the difference between cartoonish and aggressive.
The fictional bird depicted here looks like a friendly fellow, smiling in his yellow pilgrim boots. He's unique, but he's not intimidating . . .
Early in football coach Bill Snyder's tenure, Kansas State went with something called the "Powercat," which is modern, clean, simple and works well on a decorative license plate . . .
Speaking of collegiate logos, it's difficult to top this . . .
Or this . . .
Or this . . .
The chance someone is going to get mad at me for insulting something or leaving something out are 100 percent, so feel free to rectify that in the comments down below. I don't read them, but you'll feel good having gotten it off your chest.
If you want to actually reach me, sent your hateful messages to @tullycorcoran on Twitter.
Off to the links we go!
• A 14-year-old will battle the best fisherman in US Open.
• Brooklyn Cyclones to honor Jackie Robinson after statue was defaced.
• Ricky Williams, college coach.
• The LA KISS are going to rock and roll.
• The Texas A&M chancellor backs the Heisman winner.
• Johnny Manziel isn't the only player in Texas with eligibility issues.
• NJ Governor Chris Christie is being inducted into Little League Hall of Excellence.
• Philadelphia Flyers captain Claude Giroux suffered a bizarre injury golfing and needed surgery.
• The Boston Globe looks at the family of Aaron Hernandez. Bewildering.
• A Kentucky-Duke reunion at a Cincinnati fundraiser.
• On Oct. 5 Missouri, with James Franklin at QB, will play Vanderbilt, which is coached by James Franklin.
• Got to love the Cleveland Browns:
Man just streaked clear across the #browns field. Weiner dog races and a streaker all in one night. Talk about enhancing the fan experience.

— Mary Kay Cabot (@MaryKayCabot) August 16, 2013
• Dwyane Wade reveals he is underwent shock treatment to help his knees.
• Arian Foster has gone Hollywood.
• And then there's Jose Canseco.
snitchtit

— Jose Canseco (@JoseCanseco) August 16, 2013
• Tony Romo may not have any rings, but he is going to have a second child.
• Metta World Peace's tweeting is engaging to say the least.
• And Florida Tech even has a music video.
• Browns win, lose Dion Lewis and Barkevious Mingo.
• Oklahoma and West Virginia come together through devastation.
• Great, Bruce Jenner in a Lamborgini race in Kansas.
• Twitter fallout reaches the CFL.