Youngstown State eliminates Wofford in 2 OTs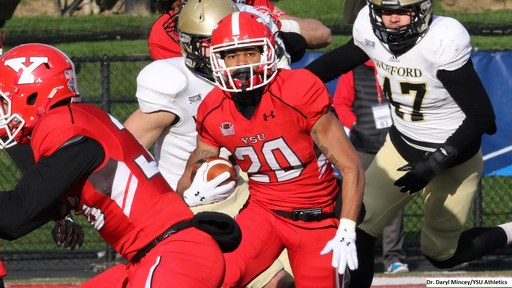 (STATS) – When Youngstown State stopped beating itself, it advanced to the FCS playoff semifinals on Saturday.
Tevin McCaster's 2-yard touchdown run in the second overtime provided the winning margin as Youngstown State edged visiting Wofford 30-23 in the national quarterfinals at Stambaugh Stadium.
The Penguins (11-3), from the Missouri Valley Football Conference, will play either Richmond (10-3) or No. 2 seed Eastern Washington (11-1) in the semifinals next weekend.
Youngstown State blew a chance to win the game at the end the first overtime when Zak Kennedy missed his third field goal of the game. He also missed an extra point earlier and the Penguins committed two turnovers and had a punt blocked to set up Wofford's opening touchdown.
But after the Penguins went ahead on McCaster's overtime touchdown, their defense stopped Wofford (10-4) on downs.
Youngstown State is appearing in the FCS playoffs for the first time since 2006, but the 12th time overall for a team that won four national titles in the 1990s. Coach Bo Pelini's Penguins have won three playoff games this postseason to improve to 28-7 all-time.
Jody Webb carried the ball 34 times for a career-high 213 yards and Hunter Wells passed for 173 yards and three touchdowns. It helped overcome Wofford's 297 rushing yards, including 125 by quarterback Joe Newman. The Terriers' triple option offense didn't complete a pass in three attempts – two in the second overtime.
After it was tied 23-23 through regulation, neither team scored in the first overtime. Wofford went for a touchdown on fourth down inside the 1-yard line, but Newman threw a pitch too high to fullback Lorenzo Long and the ball went out of bounds. Youngstown State's possession ended with lefty kicker Kennedy hooking his 37-yard field goal attempt.
Kennedy made a 32-yarder with 5:04 remaining in the fourth quarter to tie the score at 23. Wofford tried to win the game at the end of regulation, but David Marvin was short on a 53-yard field goal attempt.
Wofford turned to Newman in relief of a hobbled Brandon Goodson. Newman scored on a 75-yard option keeper on the first play of the third quarter and led the Terriers on a 13-play, 75-yard touchdown drive, which Long capped with a 6-yard scoring run for a 23-20 lead with 9:22 to play.
The first-ever matchup between the teams featured two of the better rushing offenses in the FCS, with Wofford ranked fifth nationally and Youngstown State seventh. The difference in passing ability was decisive.
Wells' third touchdown pass, a 5-yarder to sophomore wide receiver Isiah Scott with 1:33 left in the third quarter, put Youngstown State ahead 20-16.