WVU Football: Still No Respect For 'Eers in College Football Playoff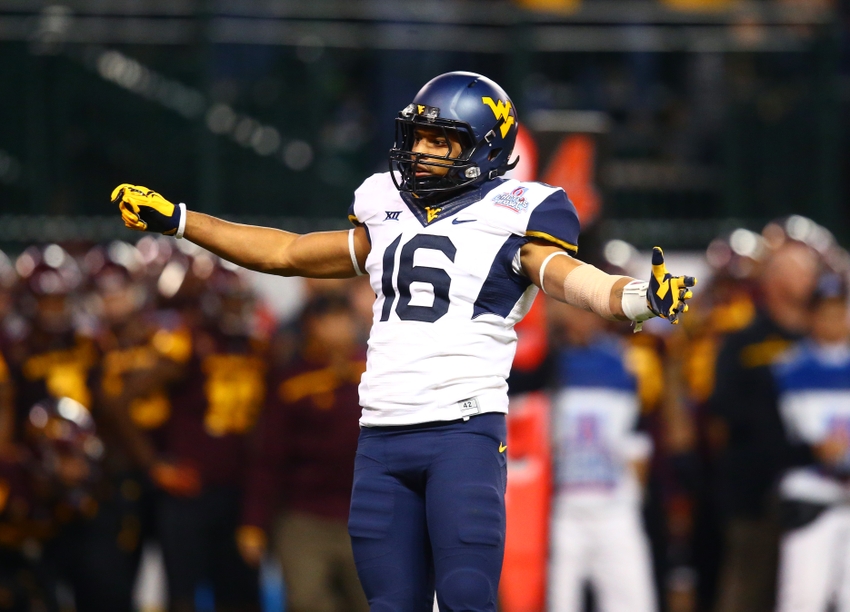 The College Football Playoff rankings were released on Tuesday night, which left Mountaineer fans everywhere understandably upset. They were No. 16 in last week's rankings and only moved up two spots this week.
After going on the road and defeating a much-improved Texas team, the 'Eers got zero respect from the committee on Tuesday. The College Football Playoff rankings look like this.
Alabama (10-0)
Ohio State (9-1)
Michigan (9-1)
Clemson (9-1)
Louisville (9-1)
Washington (9-1)
Wisconsin (8-2)
Penn State (8-2)
Oklahoma (8-2)
Colorado (8-2)
Oklahoma State (8-2)
Utah (8-2)
USC (7-3)
WEST VIRGINIA (8-1)
Auburn (7-3)
LSU (6-3)
Florida State (7-3)
Nebraska (8-2)
Tennessee (7-3)
Boise State (9-1)
Western Michigan (10-0)
Washington State (8-2)
Florida (7-2)
Stanford (7-3)
Texas A&M (7-3)
Take a deep breath; we'll get through this together.
With a matchup against Oklahoma Saturday night in Morgantown (8 p.m. kickoff on ABC), WVU will have a chance to prove their worth to the committee.
But let's talk about how flawed the current system is.
No. 3 Michigan, after losing last week to 6-4 Iowa (yeah, IOWA!), didn't drop in the rankings. Not even one spot!
The No. 2 Clemson Tigers lost to 6-4 Pitt. Do I even have to say it?
The No. 6 Washington Huskies dropped only two spots after getting beat by No. 13 USC, a team who lost by fifty to Alabama earlier in the year. USC's obviously improved, but with three losses, how can they be ahead of the Mountaineers? And why's the committee like Washington so much? Because they beat a highly-ranked preseason team in Stanford?
Washington's Strength of Schedule (SOS) is 65, something the committee looks closely at when ranking the teams – or so they claim. Ohio State has a SOS of 45. Michigan's is 55. Louisville? 59. Oklahoma State, the only team to beat the 'Eers, have a SOS of 57. And finally, Utah's is 42.
West Virginia's Strength of Schedule is 41.
That's six teams with a weaker SOS that are ahead of the Mountaineers.
Another point of reference for the committee is Strength of Record (SOR). SOR reflects the chance an average Top 25 team would have at matching a team's record or being better, given the same schedule.
West Virginia's SOR is 6. That means only five teams would hypothetically be 8-1 with the 'Eers schedule.
Michigan's SOR is 7. But hey! That loud mouth in khakis is popular!
What's something Washington, Penn State, Oklahoma, Colorado, Oklahoma State, Utah and USC all have in common? They're ranked ahead of WVU and they have a weaker SOR than the 'Eers.
Even if WVU beats Oklahoma they won't be rewarded for it, and here's why: Oklahoma already has two losses, one at the hands of Houston (8-2) and another to Ohio State (9-1). The committees discussion will go something like this. "Oklahoma's not any good, they've lost three games! WVU still hasn't played anybody! Just move 'em up to 12 this week."
Enough about the other teams, though. Dana Holgorsen and his coaching staff will undoubtedly have their team ready for the Sooners. They already play with a chip on their shoulder, and this week, they'll have the whole bag up there.
Expect a rowdy crowd at Milan Puskar Stadium on Saturday, as the fans know just as well as the players that their team isn't respected.
Just remember: We've been here before.  
More from Hail WV
This article originally appeared on