WVU Football: 5 Players To Watch Versus Oklahoma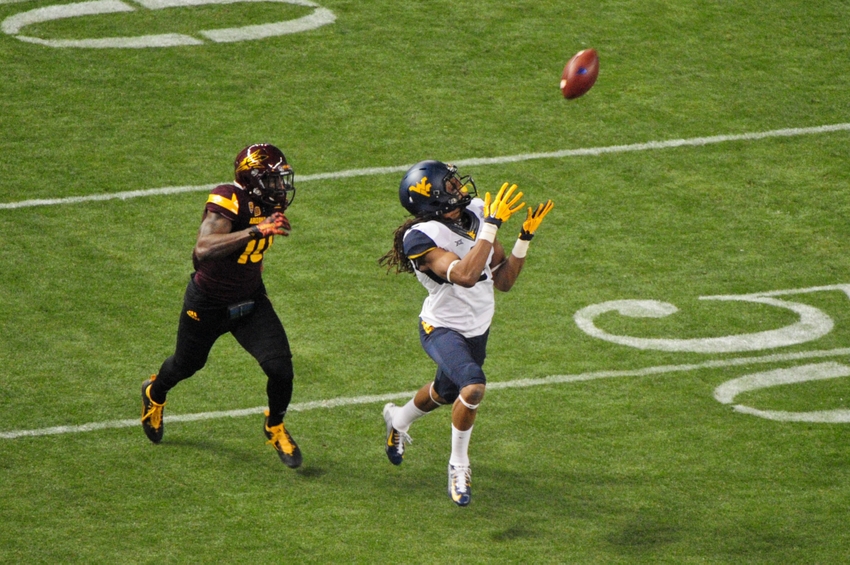 The WVU Football team is coming off a hard-fought, 24-20 victory on the road against the Texas Longhorns. Their next matchup, an 8 p.m. kickoff at Milan Puskar Stadium with the Oklahoma Sooners, could decide the winner of the Big 12 Conference. Oklahoma defeated Baylor last week by a score of 45-24 to keep them atop the conference.
West Virginia didn't get any respect from the College Football Playoff Committee. For the Mountaineers to improve upon their woeful ranking and get a victory against the Sooners, these five players will need to contribute beyond their usual efforts.
No. 5: Kennedy McKoy
True-freshman running back Kennedy McKoy followed up his 17 carry, 127 yard performance against Kansas with 25 carries for 76 yards and two touchdowns against the Longhorns Saturday. That sort of workload can wear a player down, but McKoy will most likely be reeled back in just a bit against the Sooners. That's not to say he won't get touches; they just won't come in bunches.
Dana Holgorsen's offense has four players with at least 66 carries, including quarterback Skyler Howard. All three running backs – Rushel Shell, Justin Crawford and McKoy – have each rushed for 450 yards, with the first two surpassing 500. It's a safe bet on the Mountaineer ground game regardless of who's playing, but McKoy can contribute in every role imaginable – running, catching and blocking.
Look for the freshman to continue his hot streak he's been building.

No. 4: Special Teams
A program's special teams can either win or lose you a game on any single play. In WVU's first Big 12 game of the season, Kansas State missed a field goal to win the game with 2:03 left on the clock. Against Texas, Mountaineer punter Billy Kinney pinned the Longhorns deep in their own territory, forcing a miraculously long drive against a stellar defense.
Those are just two instances of special teams affecting a WVU game. Remember when this happened? O-H…N-O!
Kicker Mike Molina was perfect on his attempts last week, and will look to build off connecting on a career long 44-yarder.
One area that needs definite improvement is the punt return team. Sophomore Gary Jennings hasn't been able to get much going, only gaining 33 yards on 20 returns. That averages out to only 1.6 yards per return. This has caused the offense to start deep in their own territory, something we need to cause – not deal with.
No. 3: Linebackers
Tony Gibson runs the most unique defense in the country. His 3-3-5 Stack plays three down linemen, three linebackers and five guys in the secondary. It's essentially a 3-4 with a safety in the box, but it's concepts are more complex when trying to attack it.
Last week against Texas, linebackers Justin Arndt and David Long, Jr. led the team in tackles with 12 and 10, respectively. This tells me two things: the defensive linemen are doing their job taking on blockers, and the linebackers are making good reads and tackling well.
They couldn't stop Texas running back D'Onta Foreman from reaching the century mark last week, but they'll look to slow the Sooners three-headed attack of running backs Samaje Perine, Joe Mixon and quarterback Baker Mayfield.
No. 2: Wide Receivers
Ka'Raun White turned in his best performance as a Mountaineer in Austin, catching six passes for 82 yards and a touchdown. Daikiel Shorts and Shelton Gibson combined for nine catches and 140 yards as well, but none of these three caught a pass over thirty yards. On Saturday, WVU will need to hit a few big plays to get their crowd into it – and to win, of course.
Big plays are important, especially against an Oklahoma team that can strike quickly. The Sooners had at least four offensive plays that covered 30 or more yards last week, something the Mountaineers can't let happen at home.
Expect White, Shorts and Gibson to continue garnering the most attention from their quarterback, in an atmosphere that rivals the greatest in college football.
No. 1: Skyler Howard
Head Coach Dana Holgorsen preaches consistency for his offense in order to win. Quarterback Skyler Howard started hot last week against Texas, but couldn't get much going after that.
"If we want to win we need to play better. We play good in spurts. We are very inconsistent. If we want to win, we need to play better," Holgorsen said in his weekly Tuesday presser. "I'm not talking about consistently making big plays, I'm talking about consistently making average plays."
It all starts with Holgorsen's play-calling, but the next link in the chain is Skyler Howard. He threw for 269 yards in Austin, but completed three passes to players in burnt orange. If he turns it over like that against an Oklahoma team who can put up points in a hurry, the Mountaineer defense will be scratching and clawing all game.
Look for Howard to get into a rhythm early with screen passes, quick hitters and even some QB runs. One part of his game that's severely underrated is his running ability. He's 4th on the team in rushing and leads the Mountaineers with six rushing touchdowns.
More from Hail WV
This article originally appeared on