WVU Football: 3 Stars vs. Texas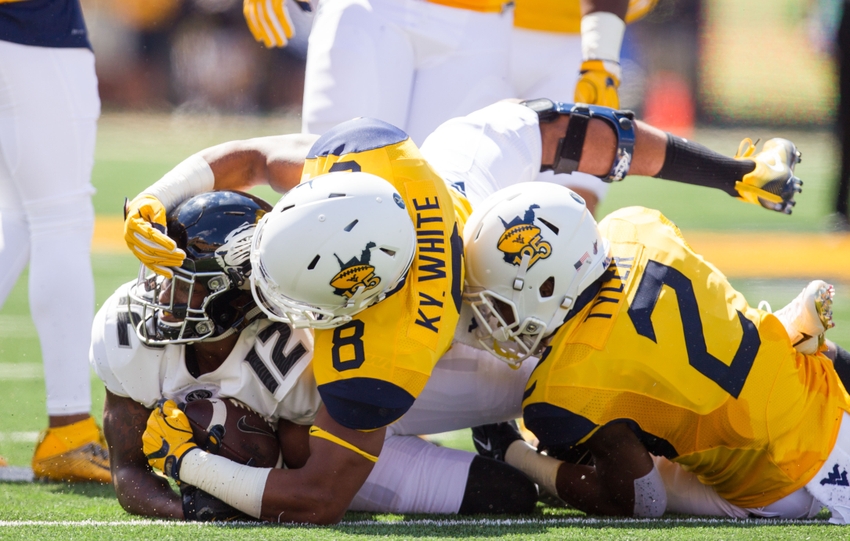 In this new series, we'll be highlighting the top three performers from the WVU Football game that week. First up? At Texas!
For starters, West Virginia's 24-20 road victory was a great conference win. From the quarterback, to the receivers, all the way to the punter and long-snapper, the Mountaineers won as a team.
However, there were a few players – or units – who stood out among the rest.
(Freshman) Kennedy McKoy, Running Back
Kennedy McKoy filled in nicely for a depleted backfield that's dealing with injuries. Both Rushel Shell and Justin Crawford have been dealing with discomfort lately, launching the freshman up the depth chart. McKoy isn't playing just because he's a healthy body, though; this kid is wise beyond his years.
He does all the little things – picking up blitzes, falling forward for that extra yard, and even cutting his losses when he knows he can't turn things into a huge play. I haven't even mentioned his vision and patience when running, yet. He has no problem waiting for holes to develop. Combine all this with his pass-catching ability, and defensive coordinators are starting to lose sleep.
Against Texas, McKoy carried 25 times for 73 yards and two scores. He also hauled in three passes for 17 yards. This workload seemed like a bit much due to the absence of Shell and Crawford, but coach Dana Holgorsen knew his young back could handle it.
Special Teams
We mentioned in an earlier article that the kicking game would be important, and boy was it ever! With turnovers and field position playing such a huge role, WVU struck gold with their kicking game.
Mike Molina was perfect on the day, making three extra points and his lone field goal attempt – which happened to be a career long (44 yards). Punter Billy Kinney had a busy day too, punting five times with a long of 50. Two of those pinned the Longhorns inside their own 20, including on their final possession, forcing Texas to drive 88 yards for the win.
Defense
It's hard to pick just one player on the Mountaineers defense when so many made big plays; Rasul Douglas' interception; David Long, Jr.'s sack that pushed the Longhorns back late in the 4th; Justin Arndt's 11 solo tackles; Kyzir Whte's strip-sack on Shane Buechele. You get the point.
It was a total team effort. Too many times did the 'Eers turn it over only for their defense to bail them out. If you look at Texas' final four drives, this is what you'd find: a fumble (forced and recovered by White), a punt (caused by a Justin Arndt sack), a turnover on downs (Rasul Douglas making the tackle short of the 1st down), and a pass deflection as time expired. That's how you close out a team on the road.
Defensive coordinator Tony Gibson gave his defense the moniker, "DAWGS," standing for "Defense Always Wins Games." In Austin on Saturday, his unit lived up to the hype.
https://www.youtube.com/watch?v=ZTgBJldm_qo
This article originally appeared on