WMD's Mississippi State Preseason Preview: Offense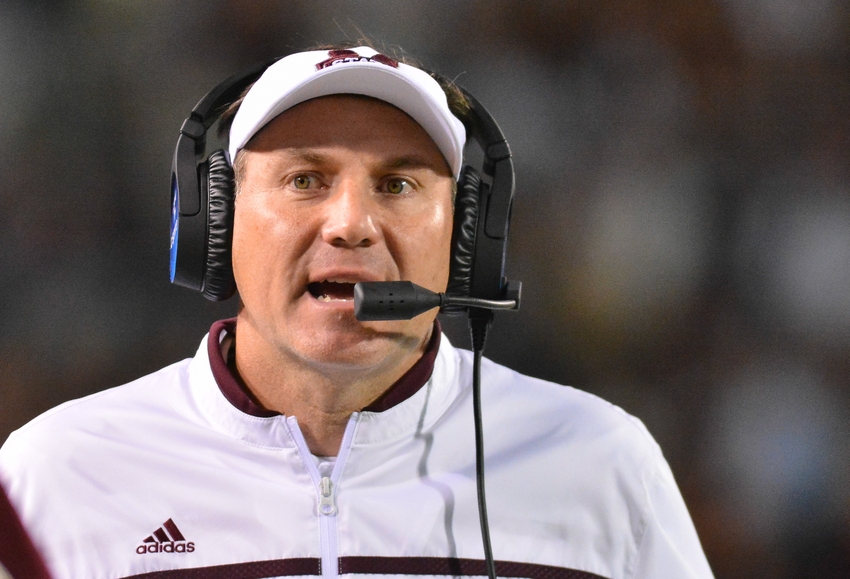 It's life after Dak for the Mississippi State offense.
Greetings, peeps! Today we take a look at the 2016 MSU offense. As someone who loves offense, I'm pretty pumped about this discussion. I'm just going to jump right into the analysis. No wasting your time on game week!
Offensive Overview:
In an offseason that saw State completely revamp the defensive staff and scheme, the offense remained very stable. Every coach returns on that side of the ball.
More from

Maroon and White Nation
All State fans understand the real loss on offense comes from a personnel standpoint. And as much as I hate using already overplayed "stories" the national media talks about ad nauseum, I'd be derelict if I didn't acknowledge MSU is now in the "A.D. – After Dak" Era. He is arguably the greatest player in program history. You don't simply replace someone like that. But if Dan Mullen has proven anything in his career, it is that he can develop quarterbacks.
One loss that I think is being overlooked is the early departure of De'Runnya "Bear" Wilson. Bear was a very good college WR. He may have made a poor decision to leave early, but he was a huge part of the offense the last 3 years. Bear had size, which is something you can't teach. He provided a big body that's going to be missed this season, especially in the redzone.
Offensive Scheme:
The Dawgs will continue running the Dan Mullen Version of the Spread Offense. That means our base package will be 3 WR, 1 TE, 1RB, and 1 QB. But we'll also see plenty of 4 and 5 WR sets.
Personally, I'm hoping for some 2 RB sets with a fullback or H-back lead blocking. I think we've really missed that ever since the graduation of Sylvester Hemphill in 2010. His lead blocking for Boobie Dixon, Vick Ballard, Ladarius Perkins, and Chris Relf was a thing of beauty. And it made us so much more physical at the point of attack.
Let's take a look at the position groups.
Quarterback:
State is in the midst of a 3 QB battle for the starting position. It had been a 4 QB battle, but Elijah Staley recently transferred out to JUCO. The three remaining candidates are Nick Fitzgerald, Damian Williams, and Nick Tiano.
Damian Williams is the "grizzled veteran" of the group as a junior. He played a crucial role as a true freshman, when both Tyler Russell and Dak Prescott were injured, helping lead the Dawgs to a victory at Arkansas for the first time in program history. Then he drew the start in the Battle for the Golden Egg, keeping State in the game until Dak made his legendary return in the 4th quarter. He was able to sit and learn without having to play much the last couple of seasons. Now he has the chance to prove he can be "the man" at QB.
Williams is the best pure passer of the 3 QBs. He can flat spin the football. He's mobile, but he's much more of a bulldozing, straight ahead runner. Williams isn't the type of runner that's going to make you miss and has to get going downhill quickly. When it comes to size, D-Will is thick, listed at 6'1″ and 229. Of all the QBs, he's the one who really does look like a fullback or tight end.
Nick Fitzgerald is the second candidate for the QB1 job. Nick is just a redshirt sophomore, but he was an early enrollee and is only one semester behind Williams. Fitz is the best pure runner of the competing trio, as you'd probably expect for someone who was a WR most of his high school career. But don't dare think Fitz can't throw. He's shown a big arm and excellent touch on the deep ball. Fitz is also the biggest QB at 6'5″ and 230.
Nick Tiano is the third man competing to be the Dawgs' starter. Tiano is a redshirt freshman, but he's created quite a buzz in a short amount of time. He's possibly the best pure athlete of the group. Tiano has displayed good feel in the pocket for knowing when to hang in and make a throw or take off and run. He's got a good arm, but we haven't seen enough of him yet to know about his touch, especially on the deep ball. What's intriguing about Tiano is his running ability. He's displayed the physicality to run over defenders but also the quickness to make them miss in the open field. You don't often see that combination at QB.
In other words, Tiano might be the most "complete" QB, even if he isn't the best at either throwing or running. What's encouraging is that he has a very high ceiling and could become the best at one or both. He's also the most intriguing QB from a size standpoint, being listed at 6'4″ and 239. He combines the height of Fitz and the thickness of D-Will.
WMD's Projection:
Right now, I think Fitz is the guy. The presence of he and the now departed Elijah Staley allowed us to redshirt D-Will last season. I don't think we redshirt D-Will if Mullen didn't think one of Fitz or Staley was the successor to Dak. And Fitz looked really good, albeit in garbage time and/or against bad teams, in his actual game opportunities last season.
Now I will say this: I almost 100% expect D-Will to take the first snap and be the "starter" against South Alabama. Mullen is going to reward him for working hard and sticking with the program. Everyone, myself included, keeps expecting him to transfer somewhere like JSU for more PT, but he keeps hanging around and saying the right things. And if I'm being honest, I have no real issue with rewarding a kid like that. But when we go to Death Valley in Week 3, I'd be shocked if Fitz isn't the guy under center for the first snap and the vast majority of snaps.
Don't sleep on Tiano, though. There's a whole lot of rumors flying that he's really impressed both the coaches and team and is making a hard push. I think there's at least an outside chance Tiano, not Fitz or D-Will, ends the season as QB1. Wouldn't put money on it, though. I do think the odds are very good he passes D-Will and finishes the season as QB 2, however.
Running Back:
State has six backs competing for PT in 2016. That's great for depth, but creates a headache for figuring out who plays and keeping everyone happy. The candidates are: Ashton Shumpert, Brandon Holloway, Aeris Williams, Donald Lee, Nick Gibson, and Alec Murphy.
Anyone who's read my stuff at For Whom The Cowbell Tolls knows how I feel about Ashton Shumpert. But since many of you are likely to be new readers, I'll elaborate. Shump is a hard working, blue collar, team first player. He'll do anything you ask of him and give it everything he has. Most importantly, he's a special teams warrior for us, particularly on coverage units. I love that in a player. Unfortunately, that doesn't make him a SEC caliber RB.
Shump lacks the vision, burst, balance, and top end speed required to be a feature back in the SEC. But he's a very good, physical blocker. And he has good hands out of the backfield. To me, that screams "FULLBACK!" And as far as I'm concerned, that's what he should be. He only averages about 4.6 Yards Per Carry (YPC) for his career. And that is inflated by a YPC of 5.8 his sophomore year. His freshman and junior years he averaged 4.1 and 3.9 YPC, respectively. Frankly, every time Shump rushes the ball as a feature back in situation that isn't short yardage or goal-to-go, we're wasting a play.
All that said, none of it is his fault. He's not calling the plays and putting himself in bad situations. It's up to the coaches to put him in the best situation to succeed and they aren't doing that effectively. He should be lead blocking for someone else, getting 3rd & short/goal and 4th & short/goal carries, and catching passes out of the backfield. That's his sweet spot.
The second back is Brandon Holloway. Holloway is a great change of pace scatback. He's fast, but he's too small to handle the workload of a feature back in the SEC at 5'8″ and 165. That said, I thought we used him about as well as possible last season. Give him carries where he gets to use his speed and throw it to him out of the backfield. Create mismatches for him against a linebacker. Run him between the tackles just often enough to keep the D honest, hope he can hit the hole quickly and pop a long one. If we use him in that role again this season, he'll continue to show his value.
Aeris Williams is a rich man's Shump, in my opinion. He's a really physical runner who has yet to show me the top end speed a SEC feature back needs. But his vision, balance, and burst are better than Shump's. I will say there have been some encouraging glimpses, but none of it has happened against SEC competition. But the biggest concern is the case of fumblitis he displayed in 2015. If he can't secure the ball, he can't play. I think this year could be his chance to prove or disprove he can be the workhorse RB we need. The key for him is holding onto the football.
Dontavian Lee is the fourth player competing for carries. He's got good size at 6'1″ and 230. He showed some real promise last season and was the best pure runner of the quartet who saw carries in 2015. Unfortunately, if rumors can be believed, he didn't do what he needed to off the field to play. If he can get his act together off the field in 2016, he might emerge as the feature back. He certainly showed the best combination of vision, burst, balance, and top end speed last season.
Nick Gibson is back number five and is coming off a redshirt year. At 5'11" and 204, he's the most compact back of the group. Based on what I saw back in the spring, this kid is really good. He's got an explosive first step and really hits the hole. He also showed good vision in finding the hole. I also saw nice one cut and go ability. But what I liked most was how physical he was. Honestly, he looked like a guy who's ready for SEC play.
Alec Murphy is the final guy vying for RB carries. He's another big back at 6 tall and 230. Much like Gibson, I was very impressed with what I saw from him in the spring. He looks like an SEC back and he ran like one.
WMD's Projection:
Mullen loves his upperclassmen, so I think Shump gets the first 1-3 games to show he can be our feature back. But I also expect to see a whole lot of Brandon Holloway – and we should. If Shump struggles, I think we'd have a fairly short leash.
I think one of Aeris Williams or D-Lee wind up getting the bulk of the carries this season. Personally I'd go with Gibson and/or Murphy, but I just don't see Mullen giving them much of a chance with 4 older players in front of them. If D-Lee emerges as the workhorse of the group, it could still be a good season. Especially if we can effectively use Holloway as the Lightning to his Thunder.
Wide Receiver:
No real controversy at WR. Fred Ross, Donald Gray, and Gabe Myles are all slated to start. There's not much proven depth behind them, though. Malik Dear had a solid freshman year in 2015, but no one else on the 2-deep has made much of an impact.
Ross is the starter in the slot. He's currently 10th all time in receiving yards at MSU. He needs just 660 yards to become the all time career leader in that category. At 6'2″ and 205, he's one of the Dawgs' biggest WRs.
Donald Gray showed some serious skills in 2015, hauling in several circus catches. He'll get his chance to start this season and become an impact player. He's not the biggest guy on the outside at just 5'10" and 204, but he's really fast. I think he could be the deep threat State has been missing for a while and could have a big season.
Gabe Myles was having a breakout 2015 campaign but suffered an injury about halfway through that essentially ended his season. He'll be the other starter on the outside and will look to show he's healthy again. At 6′ and 195, he's got decent size for an outside WR.
Malik Dear returns in 2016 with hopes of breaking out as a star. He's got a unique blend of speed and athleticism that was very evident a year ago. At 5'9″ and 220, he's built more like a RB than a WR. But he showed last year just how effective he is in the "super athlete" role. He will be a key player in 2016, as his combination of size and speed creates a lot of mismatches. Dear is simply faster than almost any LB and too big & strong for most safeties.
Other players to keep an eye on in 2016 are Jesse Jackson and Keith Mixon. Jackson is the other "big" WR at 6'2″ and 211. Mixon is a redshirt freshman. He's only 5'8″ and 175, but he is exceedingly fast.
Tight End:
Justin Johnson is the returning starter at TE. He's more of a TE/WR hybrid at 6'3″ and 239. But don't let that fool you, the kid is a very, very good blocker. He's also good in the receiving game. It's my belief he could have a big year. I've been a big fan of his potential since early last year.
Backing up JJ will be Farrod Green. He's a redshirt freshman and almost the same size as JJ at 6'3″ and 232. There's a lot of interest to see what he'll bring to the table, especially as a blocker.
Offensive Line:
Mississippi State's offensive line has a couple of question marks coming into 2016. Returning starters are Justin Senior, Jamaal Clayborn, and Devon Desper. Right now it appears Martinas Rankin and Deion Calhoun will start at left tackle (LT) and right guard (RG) respectively.
Senior is MSU's most experienced OL with 26 starts in his career. He enters 2016 entrenched at right tackle. Senior is 6'5″ and 310 with quick feet. He actually held up fairly well at left tackle last season against Alabama. If there's a knock on him, it's that he needs to be more physical.
Clayborn might be the best OL on the team. He was a rock at center last season, playing an astounding 848 snaps. Clayborn begins 2016 as a Rimington Award candidate, given to the nation's best center. At 6'4″ and 315, Clayborn is a mammoth center. You might not see one bigger all season.
Desper enters 2016 as the starter at LG. He struggled mightily in 2015 after inheriting the job with the departure of Ben Beckwith. Desper needs to step up and be at least serviceable if State is to improve on offense. Like the other returning starters, Desper tips the scale at 6'4″ and 305. Personally, I would swap he and Clayborn. I think both are playing out of position in their current roles.
Rankin appears to have won the starting LT job. A former JUCO All-American, he was highly recruited two years ago. But State chose to redshirt him last season. The choice seems to have paid off, as rumors suggest he is finally looking like the player we thought he was this fall. Rankin continues the trend of 300+ linemen, checking in at 6'5″ and 307.
The RG position appears to have been won by Deion Calhoun. He was a frequent sub in 2015 and played well when given the chance. He was very physical, something the Dawg OL lacked last year. Calhoun seems to have the nastiness you look for in your OL. I'm excited to see what he can do. At 6'3″ and 308, he's a good size at guard.
Elgton Jenkins will be a key contributor in 2016. He's battled toe-to-toe with Rankin for the LT job and looks set to be the swing tackle. Jenkins can also play inside at guard if needed. Should Desper or Calhoun struggle, I wouldn't be surprised to see us move Jenkins inside to start. Jenkins, like the rest of State's OL, is just over 300 at 6'4″ and 305.
There's been a whole lot of good buzz around Michael Story. He's a 6'4″, 295 pound redshirt freshman. My bet is he will be the swing guard on the interior.
Jocquell Johnson returns in 2016 and will back up Clayborn. When you look at how many snaps Clayborn played last season, I doubt you'll be seeing much of Johnson.
WMD's Thoughts:
There are lots of question marks surrounding the offense. Who will ultimately win the QB1 job? Will whoever wins it be able to hold onto it all season? Which RB, if any, will emerge as the feature back we need? Where's the depth and size at WR? Ditto that question for OL. Will the OL get back to being physical or will we continue being soft? Will Mullen return to the run-first/run heavy offense that was the key to our success prior to 2015? And those questions are almost all off the top of my head.
I think Fred Ross has a decent chance at becoming State's all-time leader in receiving yards, but a lot depends on OL and QB play. I love the speed that Gray, Dear, and Mixon bring to the offense. We've finally got some guys capable of taking the top off the D. I love the potential of Gibson and Murphy at RB. I'm just not convinced that Mullen gives either of them a chance this season.
All those questions aside, I think offense will work itself out. We'll probably "struggle" on O and still average 450-500 yards of total offense per game. It might not always be pretty, but Dan Mullen has proven two things to me: 1) He's a great QB coach, maybe the best in the nation and 2) He always finds a way to have a solid offense. Anyone that can get so much out of an offense with Tyson Lee and Chris Relf at QB will be just fine with this group.
Questions and comments welcome. Fire in the hole!
WMD
More from Maroon and White Nation
This article originally appeared on