Wisconsin Football: Breaking Down Big Ten Championship Scenarios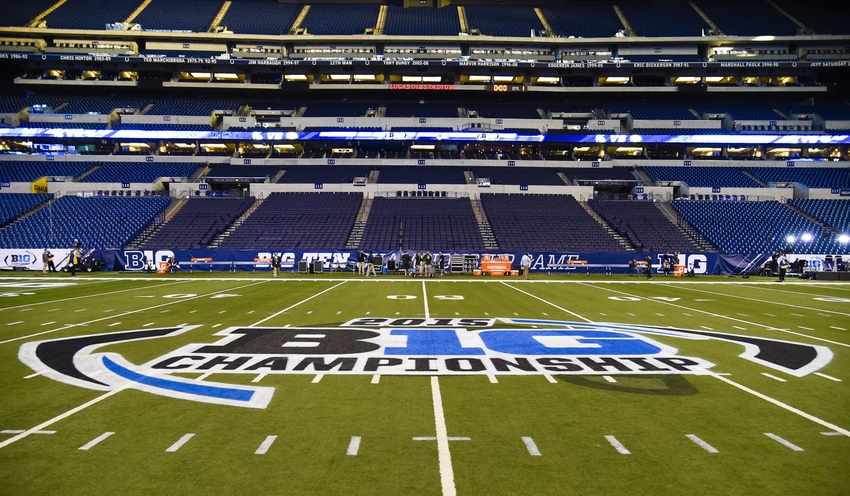 Five Teams Remain Alive for A Big Ten Title, Here's How Each Team Can Clinch a Trip to Indy
We are just days away from the last regular season weekend of college football, sad isn't it? But it's safe to say college football has had a wild season, and there is the possibility for much more this weekend. This week isn't just any other week in college football, its rivalry week, and nobody is safe. The records don't matter on this weekend as you know you're likely to get your opponents best game no matter what. The stakes are high across the college football landscape, with many teams battling for supremacy and position in the College Football ranks. The stakes are highest in the Big Ten, as five teams will do battle on Saturday in hopes of clinching a birth in the Big Ten Championship. With so much on the line, we break down the situations for each team still alive and battling for a Big Ten Title, and how they could punch their ticket this weekend, starting with our very own, Wisconsin Badgers.
Wisconsin Badgers
The Badgers enter Axe Week at 9-2 and controlling their own destiny on the path to the Big Ten Title game. The Badgers have the easiest scenario of the five teams, as all they have to do is win and they are in. Wisconsin does not have to rely on any other team, which is always something you like to have this time of year. That being said, Wisconsin could clinch before even taking the field as well. Nebraska and Iowa will do battle on the Friday, as they now annually play the day after Thanksgiving. Because of this, Wisconsin will know what they need to do before even taking the field, which can be both a blessing and a curse. If Iowa were to beat Nebraska, the Badgers would clinch before taking the field and Saturday's game would essentially not matter in terms of Big Ten play, but still plays largely in hopes of making the College Football playoff. Either way, Wisconsin Football does not seem to care about others results, as they just go out and play football and hopefully in turn clinch a spot in the Big Ten Title and keep their playoff hopes alive.
Nebraska Cornhuskers
As stated, the Cornhuskers will do battle with Iowa on Friday afternoon instead of Saturday. Nebraska sits behind the 8 ball in terms of clinching the Big Ten West spot. The Huskers sit at 9-2 overall, and 6-2 in the Big Ten. With four teams in the top ten, Nebraska is flying under the radar in the Big Ten conversation. The Huskers could still make the title game, and from there anything is possible if everything falls into play. The Huskers would need a victory on Friday and need the Badgers to fall on Saturday. If both teams win, Wisconsin still would advance as they hold the tiebreaker over Nebraska based on their head to head victory. Nebraska is in a bit of a flux currently, as leader and quarterback Tommy Armstrong is banged up, and they are unsure if he will be able to go on Saturday. With that, and having to travel to Kinnick it seems unlikely that Nebraska jumps back into the title game and playoff picture,  but crazier things have happened.
Michigan Wolverines
Things are much more complicated on the other side of the Big Ten as the East has three teams contending for a spot in the title game. The leader at the moment, is the Michigan Wolverines as they control their own destiny on Saturday. Similarly to Wisconsin, the Wolverines simply need a victory to clinch their spot. With a win they would hand Ohio State their second loss, and essentially knock them out of the Big Ten and National Title conversation. If Michigan and Penn State win, Michigan would still move on as they hold the tiebreaker over the Nittany Lions after an early season blowout win against Penn State. Michigan controls their own destiny but still appears to have the toughest path as they have to travel to Columbus and knock off the 2nd ranked Buckeyes. Michigan has dominated at home, but have one played one true tough game outside of the Big House, which was their loss at Iowa. In addition to that, they will likely be without starting Quarterback Wilton Speight once again. In a game that essentially determines the season for both schools, it appears that Michigan has the lower hand headed into "The Game".
Ohio State Buckeyes
While Saturday's contest with Michigan ultimately keeps one team alive in terms of the playoff, it doesn't settle the Big Ten East completely. Ohio State sits in an odd spot, as a defeat of Michigan does not give them the automatic bid. Penn State handed the Buckeyes their only loss this season, and the Nittany Lions hold the tiebreaker because of it. If the Buckeyes win, they would still need a loss from Penn State to jump into the title game. A win keeps the Buckeyes in the playoff discussion, but they will still need additional help to walk away with a Big Ten Title. The playoff committee seems to lean toward teams that win their conference championship, so Saturday's results could potentially damage Ohio States chances. However, with wins over Oklahoma, Wisconsin, Nebraska, and potentially Michigan it appears that the Buckeyes could jump a team like Washington despite not winning the Big Ten. Ohio State comes off an ugly victory against Michigan State, 17-16, so neither team is playing their best football heading into Saturday.
Penn State Nittany Lions
Penn State has a much easier path to the title, but they still require a bit of help. The Nittany Lions take on Michigan State this Saturday, which is by far the easiest contest out of all the contenders. However, Michigan State did almost play spoiler to Ohio State, and will be hungry to avenge a missed opportunity and knock out Penn State. In order to clinch, Penn State would need a victory and an Ohio State victory, which many think is the most likely situation on Saturday. That likely means it wont happen, but who knows. Penn State was written off early in the season as they lost a heartbreaker to rival Pittsburgh, and got destroyed by Michigan. But the Nittany Lions took a big bounce back as they've rattled off seven wins in a row including the win over Ohio State which put them back in the Big Ten discussion. While Penn State appears to be the weakest of the three on paper, they have played quality football down the stretch. As a Wisconsin fan, many are saying they hope to see the Nittany Lions, but I would not be so fast to jump to that. Any team that has won seven games in a row is doing something right. They're playing the best football of the three, and they've built a large amount of momentum with playoffs on their mind. Don't rule out the ole Blue and White just yet.
More from Badger of Honor
This article originally appeared on