Wisconsin Football: Badgers Dominate on All Sides at MSU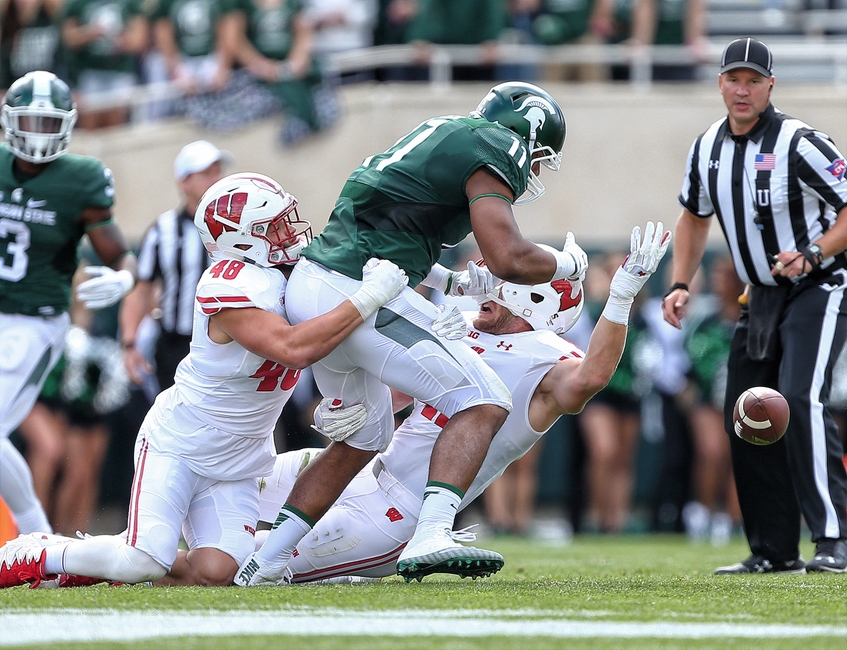 Wisconsin Football Dominates in East Lansing
After a struggle against Georgia State, the Badgers came into East Lansing with many questioning if Wisconsin Football was a real contender. After today's win, there is no more questioning that. The Badgers dominated the Spartans on all sides of the ball, the highlight being the dominating performance from the Badgers defense.
Wisconsin's defense came in looking to prove themselves after what was an underwhelming performance last week. Any Wisconsin insider knows how talented this defense is, and they continued to prove it on Saturday. The usual duo of Vince Biegel and TJ Watt kept Michigan State's quarterback Tyler O'Connor pressured all day, forcing three interceptions. In addition, Wisconsin's D'Cota Dixon continued to impress and he forced a fumble that fellow safety Leo Musso returned for a 63 yard touchdown. The defensive line was impressive as well as they only allowed 75 yards rushing.
On the other side of the ball Wisconsin's Freshman quarterback showed poise and calmness in his first true road test making throw after throw down the field. Hornibrook was 16 for 26 for 195 yards and a touchdown. The accuracy from Hornibrook was something Wisconsin fans haven't seen since Russell Wilson, creating some real excitement for the rest of Hornibrook's career. Hornibrook made throws in clutch situations and remained completely unphased against the Spartan defense.
The running game was the only weak spot for the Badgers offense, but with such a banged up unit, they will be better as they continue to get healthy. Clement had 54 yards and two touchdowns, while Ogunbowale looked impressive averaging 6.1 yards a carry. Chryst kept a good rotation and managed the game really well to keep his backs fresh for the remainder of the schedule.
A truly dominating effort from the Badgers, they roll into Michigan next week coming off an impressive effort on every side of the ball. A 30-6 win gives the Badgers momentum as they continue to grow as a cohesive unit. Overall, you have to be excited about what this team is capable of going forward. They know how to win games, both at home and on the road and they will only continue to get better as they play together.
More from Badger of Honor
This article originally appeared on