NCAA coach describes 'extremely lonely' road Stave faces with Yips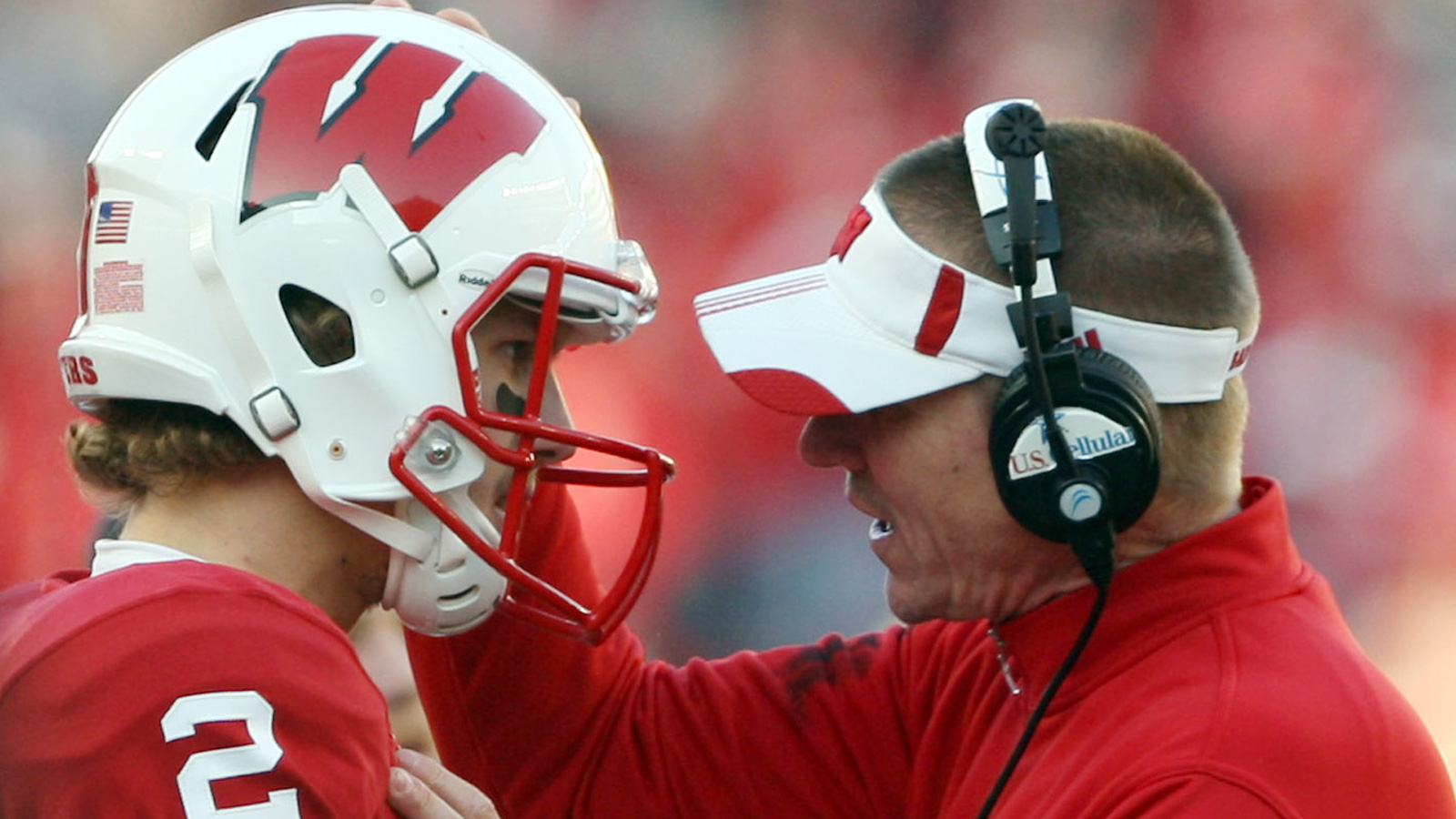 About halfway through Wisconsin's preseason camp, coaches noticed something wrong with quarterback Joel Stave, which was — he could no longer throw a simple pass. He could uncork a 40-yard bomb, no problem, but time and again, he would short-hop a basic 10-yard pass in drills. Stave had suffered a shoulder injury in last January's Capital One Bowl that slowed him in the spring, but this wasn't that. Whether they knew it yet or not, his is an unfortunate case of what baseball players and golfers know as the Yips.
Stave had looked fine as recently as the Badgers' Aug. 18 scrimmage and figured to retain the starting job he'd held for 19 games, but now, with their opener against LSU looming less than two weeks away, there was virtually no chance he'd be ready to play. But coach Gary Andersen was not about to let LSU know that. He would not even confirm an Aug. 22 Milwaukee Journal Sentinel report that he'd named former safety Tanner McEvoy the starter. Thus, fans watching at home were baffled why Andersen didn't turn to Stave with McEvoy struggling through a horrific 8-of-24, 50-yard performance last Saturday.
But a few attentive spectators in the Reliant Stadium stands and press box knew something was up. They couldn't help notice Stave bouncing basic warm-up passes before the game. By early this week Andersen had no choice but to announce that Stave was being "shut down" for the foreseeable future; however, in a confusing sequence of events Tuesday, the school misleadingly announced at first that Stave was injured. Andersen was trying to save the quarterback from embarrassment. After practice that evening, though, Stave went before reporters and described his predicament.
"I'll be throwing it good, throwing it good and then all of a sudden I feel like I hang on to it too long," he said. "One will sail, one will slip and then you start thinking, 'Oh, I've got to hang on to it longer.'
"…On some level I'm kind of a perfectionist. And I think a lot of quarterbacks are. This game is so incredibly important to me that when I maybe miss a throw, miss something like that, then I start to think OK, well what can I do to fix it? Sometimes I maybe tend to overthink things."
Eileen Canney Linnehan knows exactly what Stave is experiencing. A former Big Ten Pitcher of the Year at Northwestern, Linnehan played her entire career unable to make a basic overhand throw to first base. Opposing teams would purposely bunt at her knowing they'd likely beat her underhand toss to the base. "I got the Yips when I was 13," said Linnehan, now an assistant coach at UIC. "Even to this day, I probably wouldn't be able to throw [to first.]"
At last January's World Softball Coaches Convention in Connecticut, Linnehan delivered a presentation entitled "The Yips: When Mind Matters." In it, she shared the results of a survey she'd conducted on the subject. Among 93 high school and college coaches, only 10 of them had not coached a player with the Yips. Collectively they'd coached 364 such athletes.
In other words, Stave's condition is a very real thing.
"It's an event or series of traumatic events that results in a mental block or performance anxiety," said Linnehan, whose own issues began after a coach yelled at her about an error. "The mental block results in the loss of motor skills in what used to be an easily achievable event."
The way Linnehan describes the defining traits of someone with Yips, they eerily mirror many of Stave's own comments. It seems less a surprise that he has it than the fact we don't hear about this sort of thing more often with quarterbacks.
"I've had coaches tell me it's such an easy thing to fix because it's such an easy throw, but the easier throws are harder to fix because the person wants to be perfect," said Linnehan. "Pitchers get it because they have the ball every time and they want to control the situation. It's the same with quarterbacks. I'm sure he's hearing, 'Oh, he can't handle the pressure, he's choking,' and all of that could potentially make it worse. Choking is just kind of on the surface. It happens once in a while, but if it happens more consistently it becomes the Yips category."
Andersen and Stave have not speculated as to a possible trigger, but the most likely causes would be either the bowl injury or the pressure of fighting McEvoy for the job. "It's not a lack of preparation or anything like that," he said. "It's just a matter of getting back to feeling comfortable and feeling like the ball's coming out the way it should."
As of Tuesday, it didn't sound like Stave or his coaches had any handle on how to deal with his predicament. "We've just got to get him back where he needs to be," said Andersen. "I just am going to continue to prepare like I always have," said Stave.
In reality, the first step to overcoming the Yips, said Linnehan, is to admit you have it, and then to feel comfortable talking about it with your teammates.
"It's an extremely lonely feeling, like you're letting everyone down," she said. "The best way for me to manage it was to admit [to the team] that I was struggling with it. Then I knew my teammates still wanted me on their team and I was still worthy of being their teammate.
"It's a very scary thing to be dealing with. As much as he can, just let it go. He has to be OK with it and accept that I might overthrow the ball, I might not be perfect. People that don't have the Yips also have that fear, but they don't let it sink as deep. If you're OK with it, it helps you get thick skin."
Which he's certainly going to need now that the word is out to opposing fans and incoming pass-rushers. What Stave is going through sounds far more excruciating than a shoulder injury, and yet the macho football culture is likely to be far less sympathetic.
Stewart Mandel is a senior college sports columnist for FOXSports.com. He covered college football and basketball for 15 years at Sports Illustrated. His new book, "The Thinking Fan's Guide to the College Football Playoff," is now available on Amazon. You can follow him on Twitter @slmandel. Send emails and Mailbag questions to Stewart.Mandel@fox.com.