Wisconsin Badgers Fail to Capitalize on Michigan Miscues, Fall 14-7 to Wolverines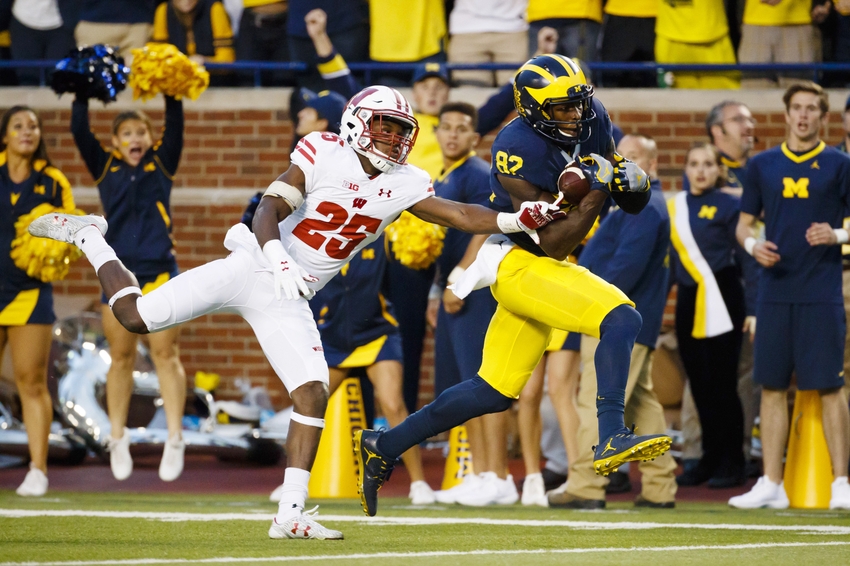 In a classic Big Ten bout, the Wisconsin Badgers failed to take advantage of numerous Michigan Wolverines miscues in a 14-7 defeat.
When you are an underdog on the road looking for an upset and trying to prove you belong with the big boys of college football, you need to capitalize on every opportunity given to you. The Michigan Wolverines handed the Wisconsin Badgers plenty of chances Saturday afternoon but Bucky failed to take advantage of any of them. As a result, the Wolverines remain undefeated as they defeated the Badgers 14-7 at the Big House.
Michigan broke through first, scoring on a methodical drive that featured a mixture of run and pass. Running back Chris Evans broke a 22-yard towards the beginning of the drive that also saw quarterback Wilton Speight hit some nice throws for good chunks of yardage. The 4:41 drive was capped off by a Khalid Hill one yard touchdown run to start the second quarter. The Wolverines did not face one third down play on that 11-play drive either.
It was after that in consecutive drives that the Wolverines gave the Badgers two key opportunities to even the score.
After another 11-play drive that took just over four minutes, Michigan kicker Kenny Allen missed a field goal from 31 yards out. Wisconsin failed to do absolutely anything offensively after taking over on their own 20 yard line. The Badgers went three out quickly, taking up just 95 seconds on the clock and losing a total of eight yards on the play.
But Wisconsin would be gift-wrapped another golden opportunity as once again Michigan's Allen missed a 43 yard field goal towards the end of the 2nd quarter. But again Wisconsin failed to capitalize as their next drive went just six plays for 14 yards and resulted in another punt.
The Badgers were able to turn a Michigan mistake into something positive in the third quarter, however. In Wisconsin territory Speight was intercepted by Derrick Tindal who returned it all the way to the Michigan 31 yard line. Five plays later Alex Hornibrook hit Dare Ogunbowale on an absolute beautiful throw 17 yards to even things up.
On the ensuing Wolverines possession, the Badgers once failed to take advantage of a missed field goal. After another long 11-play drive, Michigan tried a new kicker, sophomore Ryan Tice, who had about as good of luck as Allen and missed a 40 yard field goal that never really had a chance. But again Wisconsin's offense could get nothing going and another quick three and out that went for seven yards and just one minute would be followed by a punt.
Both teams traded punts back and forth before Michigan would break the tie on would be the game-winning touchdown. Speight hit Amara Darboh for a 46 yard touchdown to take the lead halfway through the fourth quarter. The final three possessions for the Badgers were not pretty, a three and out followed by two interceptions would seal the fate for Wisconsin and send them back to Madison with their first loss on the season.
With Vince Biegel out of the lineup, the Badgers defense stepped up to the challenge and played well enough to hold one of college football's most explosive offenses in check. Jack Cichy had 12 total tackles and T.J. Wat added 11 to slow down Michigan's offense for most of the day. Watt, Alec James, and Garrett Dooley all added one sack a piece.
Hornibrook completed just nine passes on 25 attempts for 88 yards and the lone touchdown to Ogunbowale and also three interceptions. The run game did nothing on the ground as Corey Clement led the Badgers with just 68 yards on the afternoon.
Wisconsin heads into a much-needed bye week with a surprising 4-1 record that has seen them defeat two top 10 teams and go toe-to-toe with a third in Michigan. After the bye, Wisconsin faces their fourth top 10 team when they host the Ohio State Buckyes under the lights on October 15th.
More from Badger of Honor
This article originally appeared on