Will Akrum Wadley Finish With the Most Rushing TDs in Iowa History?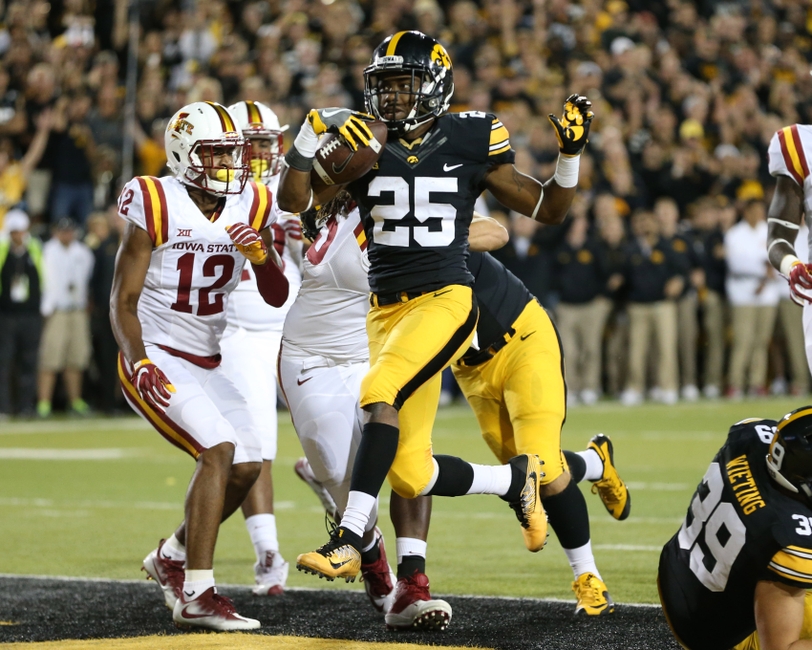 Akrum Wadley has a chance to finish his Iowa career with the most rushing touchdowns in school history
The Iowa Hawkeyes have a long, proud tradition of running the ball. 14 players in school history have at least 2,000 rushing yards, and it's been a staple of Kirk Ferentz's offense since he came to Iowa. Standouts such as Tavian Banks, Mark Weisman and Shonn Greene, just to name a few, have all ran wild at Kinnick Stadium during their Iowa career.
Wisconsin Football: Badgers and Hawkeyes set to battle for Heartland Trophy
Despite the historic names that have graced the backfield, and the numerous of rushing touchdowns scored, Akrum Wadley has a very good chance of scoring the most career rushing touchdowns in school history. Tavian Banks is currently the leader with 33 rushing scores, and Mark Weisman in 2014 came just one shy of tying that mark.
A little more than halfway through his junior season, Wadley has already scored 16 rushing touchdowns in his career — eight in 2016. That makes him tied for 16th in school history and just three more rushing touchdowns in the final five games would put him 10th all-time, leaving him with a manageable 15 scores needed as a senior to break the record.
Just like most running backs, Wadley didn't see a lot of playing time as a freshman. In fact, early in his career, he had fumbling problems so Ferentz almost converted him to a defender, but the injury bug hit and Wadley got another chance at running back.
That being said, Wadley only scored one touchdown on 33 carries as a freshman. If Wadley can even crack the top-five by the end of his career that would be an accomplishment in its own right. Mark Weisman is the only player in the top-five of rushing touchdowns with one or fewer scores as a freshman.
As a sophomore, Wadley found the end zone seven times. Injuries to LeShun Daniels Jr and Jordan Canzeri opened the door for the then-third string running back. In fact, in the only game he saw 20-plus carries in as a sophomore, Wadley rushed for four touchdowns at Northwestern.
Now, in 2016, Wadley has taken his game to the next level as a co-starter with Daniels. He already has eight rushing touchdowns on three fewer carries than a year ago and has shown the ability to score in the red zone and break a big run. In fact, five of his eight rushing touchdowns have come in the red zone, while he also has both a 54-yard and 75-yard touchdown.
Wadley won't be a Heisman candidate this year or next, and no one considers him one of the elite runners in the nation, although, he has an innate ability to find the end zone from anywhere on the field. It's a rare feat that not even every great running back has.
Barring a surprise entry to the NFL, Wadley will be the unquestioned starting running back in the backfield next season with Daniels graduating. Sure, Derrick Mitchell Jr and incoming freshman Eno Benjamin might steal some carries, but he won't be on a timeshare like he is this year with Daniels. That means he'll get more carries and in turn more yards and touchdowns since he won't have to share red zone touches.
Looking at Wadley's chances statistically, he is averaging 0.8 touchdowns per game in his career. Assuming Iowa makes a bowl game in 2016 and 2017, Wadley is on pace for 15 more touchdowns. That would put him at 31 career rushing touchdowns, tied for third with Sedrick Shaw.
However, considering Wadley had a minimal role as a freshman and sophomore, Wadley's 1.1 touchdowns per game in 2016 is more likely how he will finish his career. Therefore, Wadley would finish with 21 more rushing touchdowns, giving him 37 in his career. In that case, Wadley would finish with four more rushing touchdowns than Tavian Banks.
A lot can happen between now and then. Wadley could suffer an injury, leave for the NFL after his junior season or simply stop finding the end zone. Barring any of those things happening, it's hard not to like Wadley's chances.
The fact of the matter is, with potentially 19 games left in his career, Wadley needs just 18 touchdowns to break the school record for the most rushing touchdowns in a career. It's fitting that the  5-11, 191 pound, two-star recruit running back has a good chance of making history during his senior season, considering how crazy his Iowa career has been up to this point.
This article originally appeared on