Will Adoree' Jackson Declare for the 2017 NFL Draft?
Michael Castillo/FanSided via Reign of Troy

Fansided
Monday January 16th marks the final day for draft-eligible juniors to declare for the 2017 NFL Draft. USC's Adoree' Jackson remains undecided. What gives?
Much like he got to Troy, USC football's do-everything superstar Adoree' Jackson has waited until the end to make his decision on whether to return for his senior season or enter the 2017 NFL Draft.
Today, January 16th, is the official deadline for draft-eligible juniors to make their intentions known, a decision already made by Trojan wide receiver JuJu Smith-Schuster and offensive guard Damien Mama.
Will Jackson follow suit? We'll have to wait and see. In the meantime, here's some whys and whats…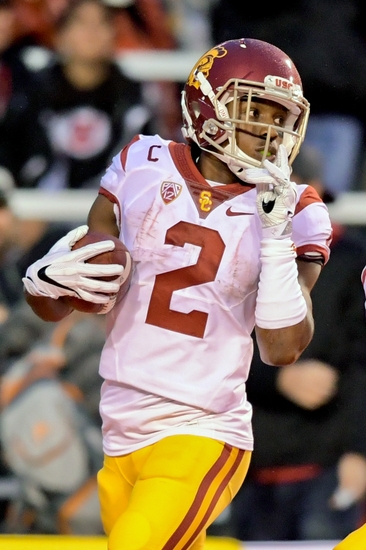 The case for coming back to USC:
Despite winning the Thorpe Award, Jackson isn't the perfect defensive back. (Who is?) He was beaten for touchdowns seven times in 2016, a step back from his freshman season, when he surrendered just one. It's part of the reason why he's no longer considered a lock for the first round.
In November, an anonymous scout told NFL.com that Jackson appears to be a second rounder, a sentiment echoed by recent mock drafts from Walter Football (36th) and SB Nation (53rd), while a December USA Today mock draft didn't even have him in the first three rounds.
If he returns to the Trojans, Jackson can either devote himself to cornerback full-time yet again to fine tune his technique, or focus more on offense to make himself attractive as an electrifying playmaker. He saw limited action on offense in 2016.
Internet proof he's coming back to USC:
Jackson sent USC Twitter ablaze last week when he sent several tweets about being in classes to start the spring semester.
In class and my teacher says the first day is not for lectures and for that you will be leaving in 15 minutes pic.twitter.com/Eah83pjq4H

— Adoree' Jackson (@AdoreeKnows) January 9, 2017
Considering that JuJu Smith-Schuster had already declared for the NFL Draft and traveled to New York to sign with Jay-Z's Roc Nation, it's a stark contrast, alluding to a potential return in 2017.
The case for entering the 2017 NFL Draft:
Aside from the ability to get paid for his likeness and make money, Jackson's status on draft boards is notable. While he could certainly climb draft boards with an additional season that sees progression, he arguably has more to lose than gain by coming back.
He already missed the end of the Rose Bowl due to an ankle injury, and considering he's had a predominantly healthy career at USC, that could be enough to scare Jackson into striking while it's hot and going pro now.
Internet proof he's entering the 2017 NFL Draft:
The day before the deadline to declare for the NFL Draft, Adoree' Jackson appears to have been at AT&T Stadium for the playoff game between the Dallas Cowboys and Green Bay Packers.
He was photographed along with LSU wide receiver Malachi Dupre by Dominique Penn, the wife of Oakland Raiders offensive lineman Donald Penn.
In the caption, she specifically mentions the players are "coming for that #NFLDraft2017". While Dupre has already announced he's forgoing his senior season, does this mean Jackson's gone?
No.
TRENDING: 25 Biggest NFL Draft Busts From USC
Nothing is certain until he officially announces his intentions. Although, you can read the tea leaves as you wish.
For now, we wait.
This article originally appeared on