Why Washington DE/OLB Joe Mathis Will Impress In NFL Draft
Bret Stuter/FanSided via The Husky Haul

Fansided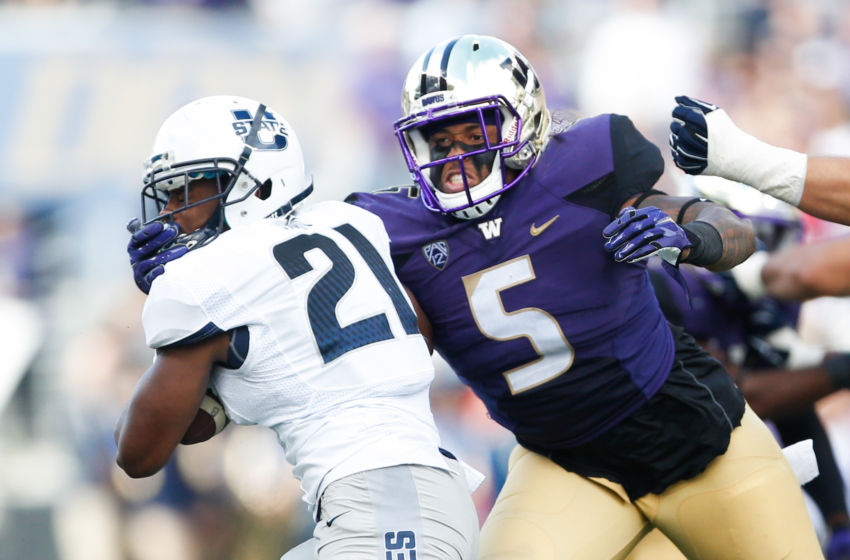 Washington Husky sack master DE/OLB Joe Mathis may not be drafted in day one of the 2017 NFL Draft. But the team who chooses him will be very glad they did.
Washington defensive end Joe Mathis was deeply disappointed in the 2016 NCAA football season. He is a pass rush specialist, a "tweener" guy who is a lightning fast defensive end or a hard impacting outside linebacker in a 3-4 defense.
In the NFL, either way he is projected, he's good, he's rare, and he's projected to be a huge upside for the NFL team that takes him.
Why?
There simply is not as much film on Joe Mathis as other top prospects in the nation.
So Close.. And yet So Far
He is a young incredibly talented young man who was truly on the cusp of a breakout year in 2016. He joined the team following successful recruiting by the former head coach Steve Sarkisian. In fact, Sports Illustrated reported in November 2016 that Mathis had some doubts about his fit with new head coach Chris Petersen. Per that same Sports Illustrated report, Mathis was having an incredible start to the 2016 season. He was already the team leader with quarterback pressure with five sacks in his first six games. In fact, per Pro Football Focus,
Washington's Joe Mathis is reportedly out for the year. He leads the *nation* in pass-rush productivity by an edge defender. pic.twitter.com/ZJ3OoI0xFy

— PFF College Football (@PFF_College) November 7, 2016
Mathis led the nation in pass-rush productivity by an edge defender until he fell to injury.
Mathis' Injury Hurts UW Defense
Joe Mathis was coming of age. While the team began to rock offensively, both the strong running game and the blazing speed of WR John Ross III had taken it up a notch. Joe Mathis had done so on the defensive side of the ball.
His season was a microcosm of the team's fortunes. Through the first six games, that is.
"Mathis' injury is a huge blow to a defense that has been having a standout season. (He) led Washington with five sacks and was particularly disruptive in two of the Huskies' more impressive victories, against Stanford and Oregon. Mathis had two sacks against the Cardinal and had three tackles for loss against the Ducks. But the lasting image of Mathis' season may have been his pass rush against Stanford that knocked over right tackle Casey Tucker."
Unfortunately, Mathis injured his foot .
When non-surgical options failed to restore his foot, the team shut him down and scheduled surgery to repair his foot. Mathis played in just six games for the Washington Huskies in 2016. As stated, he had five sacks, including two key sacks in a win against Stanford University, 25 tackles, and one pass defense.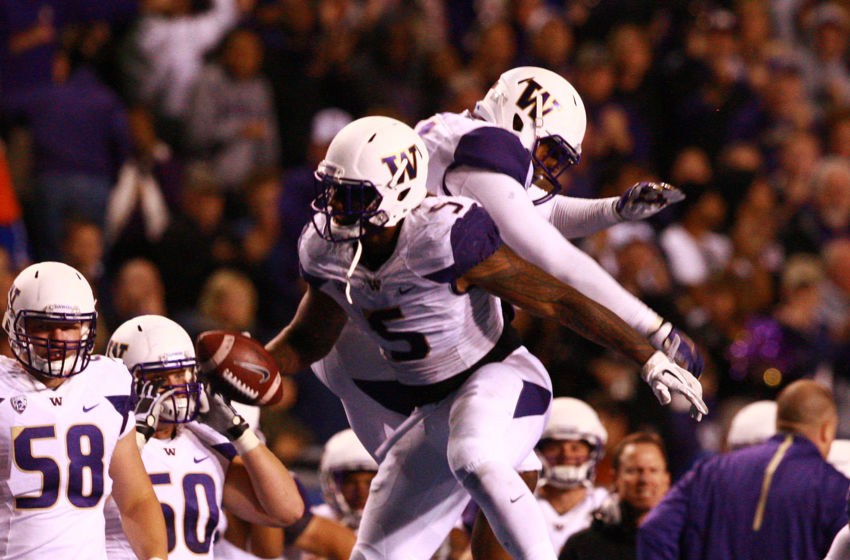 Team Suffered His Absence
Following his injury, the team only managed 12 sacks for the remaining seven games, including six sacks against Arizona State University.. In the first six games of the season, the team managed 24 sacks. The Huskies did manage three sacks in the NCAA playoff contest against the Alabama Crimson Tide in a losing effort.
He started for the Huskies as a true freshman, and his UW career stats include 78 tackles, 15.5 tackles for a loss, and nine sacks. However, his career with the Huskies ended when he suffered a torn ligament.
He did update fans on Instagram
But he did not appear in the Peach Bowl. In fact his absence was a huge blow to the blow of the Huskies fans.
The only 3-4 OLB with a higher pass rushing productivity than Alabama's Tim Williams this year? UW's Joe Mathis. Big absence in Peach Bowl

— Gordon McGuinness (@PFF_Gordon) December 28, 2016
And with all these accolades, this young man could slip to day three of the NFL Draft? What am I missing? Or rather, what are the NFL scouts missing?
Joe Mathis Scouting Report
Joe Mathis brings maturity, power, and a sense of quiet confidence that is tough to dispute. While his six game senior season will likely take his name off the first films viewed by NFL scouts, he will eventually be scouted heavily by NFL teams in deed of a pass-rusher. (Hint: All NFL Teams could use a good pass-rusher)
Mathis is quick, but has incredible control of his body and his play awareness at all times. He is strong enough to stand up the offensive tackle, hold the edge, and drive the running play back to the inside. But he also has another gear, and if he sees a path to the quarterback, he kicks in and slashes so quickly that even running backs in protection are surprised.
Check out the links provided directly below. Read up on the underrated Husky.
DE
Joe
Mathis
6-foot-2 255 pounds,

Upland, CA ★Projected 2-6th Round★
* Highlights
* Inside The Pylon Profile
* Bleacher Report Profile
* Sports-Reference Stats
* BehindSteelCurtain Interview
Joe Maturity
Mathis play's hard. Very hard. But he has the maturity to understand the value, and the limits, to football. Mason Kelly of GoHuskies.com had an insightful article about the off field life of Joe Mathis. And so, Joe Mathis is a father to newborn son Joe Sahil Mathis IV. His son was born on July 27, and as a result, Mathis has had a new set of priorities. He is married to his lovely wife Savitri, and together they are forging a life together for their first born. That future dimmed ever so slightly when Mathis fell to injury. But the light, like his hopes for an NFL career, get brighter every day.
MUST READ: 2017 NFL Draft Big Night For Washington Huskies
You see, setbacks merely place a person on the right path. Now, with a family and an NFL future before him, Joe Mathis knows that work, and not reputation, is needed. On one hand, he is more than a gym rat. On the other hand, he is even more than a "combine specialist", although he is peaking for the NFL combine. He is a young man with a supporting family who is preparing to provide for those he loves. That's serious motivation.
Joe Mathis just said he's already at 40 reps on the bench press (225lbs). Wants to hit 50 at the combine. Record I think is 51

— Dave Softy Mahler (@Softykjr) January 28, 2017
In summary, he is a dedicated husband, a devoted father, and a courageous young man who has given all he could on the football field.
NFL Combine
Now he awaits the NFL Draft entrance exam: The NFL Combine. That is something Joe Mathis is taking very seriously.
Joe Joe Mathis taking care of business before the NFL combine . Great cardio session today at WCA , we continue to challenge our athletes pic.twitter.com/rIhNOS27SO

— JORDAN CAMPBELL WCA (@J_campbell_COS) December 13, 2016
And for good reason. He is not only competing against other college players hoping to be chosen by an NFL team. He is also fighting a perception that he was injured, and must now prove his health to teams as well.
The good news is that surgeries to repair soft tissues in the toe have great results. In fact, the discipline of Mathis in training and rehabbing after the surgery should result in a full recovery.
Joe Mathis is not the talk of the NFL Draft yet, but he soon will be. Word is beginning to spread. Both Behind the Steel Curtain and Inside the Pylon have great scouting reports on on this young man. In fact, read up on him. He is an ideal prospect for a team that loves hybrid edge defenders.
This article originally appeared on