Why LSU's loss to Alabama doesn't feel like the others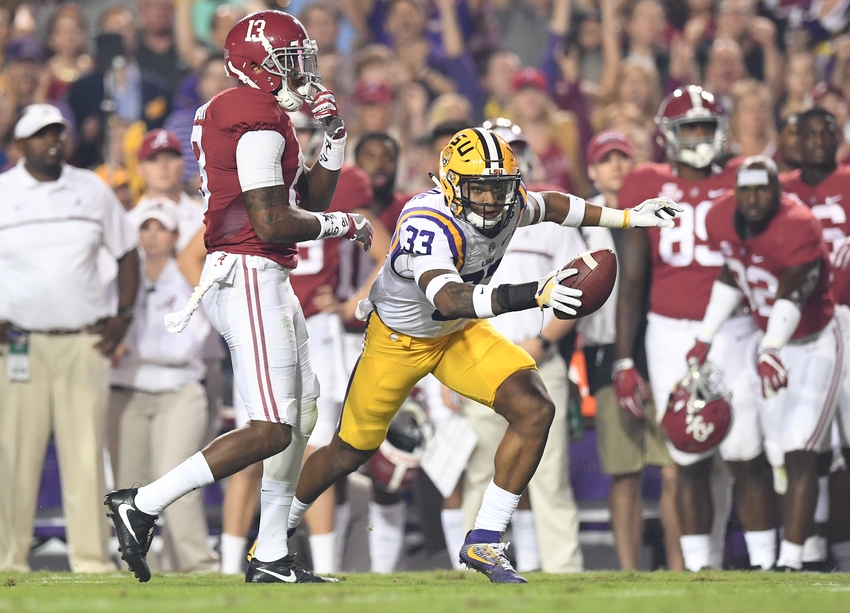 The LSU Tigers lost an absolutely heartbreaking game last night to the Alabama Crimson Tide in Death Valley. A lot went wrong, and we got a real gut check in a game that was so important going forward. Let's look several aspects of the teams performance, and why this one was different.

Defense
Coach Aranda and his unit were lights out tonight!  The tone was set early in the game, when Jamal Adams picked off Jalen Hurts 3 plays into the opening drive.  The next turnover happened late in the 3rd quarter; via sack/fumble by Frank Herron, and a recovery by Arden Key.  Aranda's Defense also held Alabama scoreless for 3 quarters; until fatigue set in, and Jalen Hurts ran in for a 21 yard touchdown scamper early in the 4th quarter.
During the game, the announcers made the comment about how LSU has only given up 8 TD's in 7 games this season, and were close to shutting out the number one team in the country tonight!  After putting together the best blue print anyone has done against Coach Saban this season, I'm sure Coach Aranda's Agent has been getting inundated with calls!
If we are able to retain him for next season, I can see this defense becoming more stout than they already are so far.  And if he can get a little more help from the offensive side of the ball, this defense could potential hold opponents to under a touchdown per game.
OFFENSIVE LINE
Unfortunately the Defense is the only bright spot that we can take away from tonight's game.  Alabama, once again, came into Tiger Stadium with a lauded defense.  Chief among them was their stand out DL Jonathan Allan; but it was their front 7 as a whole who won the day.  Etling dropped back to pass over 20 times tonight, 24 attempts went down in the official column; but he either ran for a few yards, or was sacked on unrecorded attempts.
In total, Etling was hurried 20 or more times, and hit 10 or more.  One of those hits led to a deflating interception late in the 4th quarter.  And the Tigers didn't fare any better on the ground either; rushing the ball 27 times for a woeful 33 yards!
QUARTERBACK
It's hard to give a fair assessment of how Etling played this game tonight, given his offensive line's short comings.  However, on some of the passes where he wasn't pressured to throw the ball, Etling missed his targets badly.  There was a deep play to Chark early on in the 2nd quarter that he missed by throwing him two steps out of bounds.  Later on in the 3rd quarter he missed on another deep throw to Chark; this time about 5 yards deeper and to his inside.  There was another pass that he missed Malachi Dupre on late in the 2nd quarter; where he tried to thread the needle between two defenders, but threw it behind him.
If he wasn't being hurried out of the pocket, or rushed to making bad throws, the thought of the pass rush go into his head and he started to rush the action on his own.  Again, given the OL play and the opponent, I can't say that Etling played horrible; but it wasn't a great game for him tonight.
COACHING
All of the talking leading up to this game revolved around, if Coach Orgeron could beat Alabama this week, would LSU give him the job full-time?  I would like to think that yes – if Coach O would've beaten Bama tonight, he would've had the interim tag removed from his name before the post game press conference!
However, just like winning this game could have gotten him his dream job coaching LSU, this loss may have cost him a chance at the dream as well.  And not so much the fact that he lost, it was how he lost the game as well.  Some of the clock management issues that game up during the game were reminiscent of Coach Miles' Tenure.  The other thing that hurt his cause tonight was the lack of creativity on the offensive side of the ball.  Not only did the offense fail to properly showcase their NFL Caliber RB tonight, they only gained a total of 125 yards of offense – at home!
Next up are the Arkansas Razorbacks.  If Coach O and his staff can rebound from this loss and finish up the season strong, I believe he can still lay claim to being LSU's next head coach.
More from Death Valley Voice
This article originally appeared on