Why it Doesn't Matter Who Plays QB for Auburn in Iron Bowl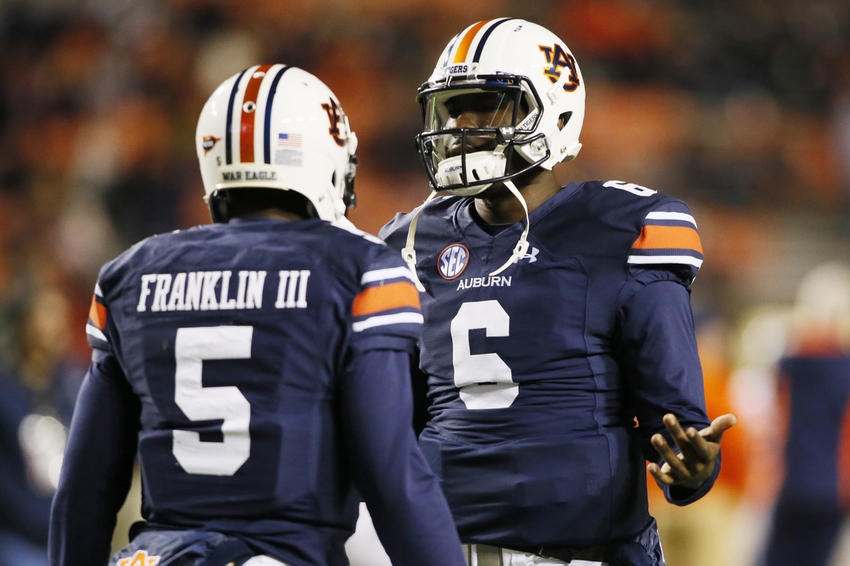 Here we explain why it really doesn't matter who starts at quarter for Auburn football against Alabama in the Iron Bowl this weekend.
The majority of the talk this week will be about who will start at quarterback for Auburn football this weekend in the Iron Bowl.
Just like the end of last season, Sean White is dealing with an injury and Jeremy Johnson is trying to replace him at quarterback.
However, there are three reasons why it really doesn't matter who starts at quarterback for Auburn.
First, Jeremy Johnson started at quarterback in the Iron Bowl last year and gave Auburn a chance to win.
Some people forget that it was just a six point game heading into the fourth quarter last year in the Iron Bowl with Jeremy Johnson at quarterback.
A lot of his success came from a 77-yard touchdown pass to Jason Smith, which kept Auburn in the game for a little longer.
With the defense, and improved running game, that Auburn has in 2016, I think most fans would be happy to be within a touchdown going into the fourth quarter.
Jeremy Johnson has proven he can do that, and I'm sure Sean White – or even John Franklin III – are just as capable of keeping Auburn in the game.
Secondly, the Auburn quarterback will not be the reason the Tigers win on Saturday.
If Auburn does pull off the upset on Saturday, it won't have anything to do with the play at quarterback. The quarterback for Auburn can only lose this game by making poor decisions.
The Tigers will win this game if they're able to have success running the football with a healthy Kamryn Pettway, and if they score on defense or special teams.
Lastly, we're probably going to see multiple quarterbacks any way.
Even if Sean White is healthy, we will most likely still see John Franklin III in this game at some point. There is a good chance that our offense is bottled up even with Sean White at quarterback.
If that's the case, then the coaching staff will need to try and mix things up with John Franklin III coming in for some packages to see if they can catch the Alabama defense off balance.
If Jeremey Johnson gets the start, then I can almost guarantee you that we'll see John Franklin III in the game at some point.
I don't think it will be quite like the Clemson game, but more like an elimination baseball game. If one quarterback isn't getting the job done, they'll have a short leash before the next one comes in.
So don't get caught up this week on who is going to get the start at quarterback for Auburn, because in the grand scheme of things it will be insignificant to the Tigers winning the 2016 Iron Bowl.
This article originally appeared on